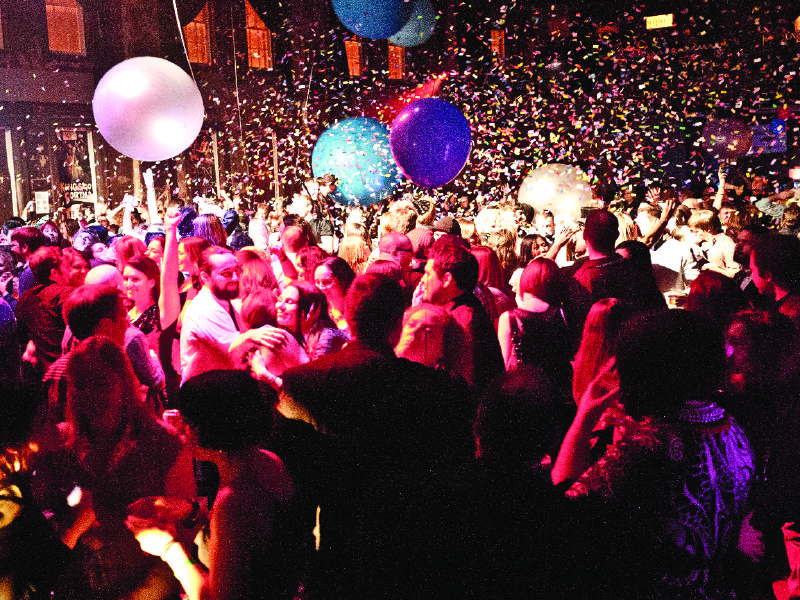 The Get Down gets into the New Year's groove
After well more than a decade of collecting and listening to rare 45 rpm records, Andy Noble – one member of the DJ trio behind The Get Down, a monthly Milwaukee dance party fueled by soul and funk – has a good idea of what he wants to hear in a dance-worthy track.
"A lot of the same things a good DJ will say about a record are the same thing(s) a record producer would probably say," Noble said. "For a soul record to function well, it doesn't have to be any kind of masterpiece of modern art. It shouldn't be too long, no matter how good it is. I think should have a great intro, and when I hear the vocal come in, I want to hear a great singer, and I want to hear their voice really come through the mix."
There's one element, however, that the time-tested songs all have for Noble.
"Just because it's funky music and rhythm-based music, I still really want it to be a really good song," Noble said. "At the end of the day, people love dancing to a great beat, but they're going to fall in love with it if it has a great song on top."
For the past ten years, Milwaukeeans looking for a fun place to party and dance with a grooving soundtrack have fallen in love with The Get Down. On the second Saturday of every month, Noble, Brent Goodsell and Opiated Black host a big stylin' soirée at The Mad Planet.
On New Year's Eve for the past several years, however, the party has kissed the old year goodbye and dropped the ball – and the beat – at Turner Hall Ballroom. And 2013 will be no different, with the funk-filled festivities starting at 9 p.m.
Noble was introduced to music, namely soul and funk, at a young age thanks to his parents, who were art dealers. Over the years, he learned more and more about music until he eventually found himself playing bass for groups and bands, writing and creating music of his own.
"I was increasingly looked at as someone who was writing and arranging for groups," Noble recalled. "I just wanted to basically intake as much source material as I could. I wanted to listen as many records as I could to steal ideas basically."
As a part of his young musical education, Noble tried to listen to and collect as many records as he could get his hands on. The Internet wasn't around yet – and if it was, it was a fledgling place with no YouTube or Candy Crush – so you couldn't just search an artist or song that caught your ear. Instead, records were the best place to find and discover inspiration.
"Now when people look at the vinyl resurgence, there's a lot of focus on sound quality and objectification," Noble said. "Those things are a factor, but at that time – and to a certain extent, to this day – vinyl records were just a really easy and cheap way to get a lot of music.
Eventually, Noble had amassed a fairly significant record collection, and the next logical step from there was to start spinning some parties. He and his brother Tom would host parties, spinning records on their single turntable. With this new passion came a new perspective when shopping for records at places like Mean Mountain Music, no longer looking solely for source material but for good, catchy, danceable hits.
Soon, Noble was deeply entrenched in the world of 45s, which opened the door even more for old, underground soul and funk tracks from the '60s and '70s to get into his collection. As he kept digging through dollar racks and bins, he learned more about the music and discovered many hidden dance floor gems, many of them from small, local recording sessions.
"A lot of times, maybe they would make up for not having strings and the bells and whistles that you might hear on a New York or Philadelphia produced record with a heavier rhythm track," Noble said. "Turn the drums up in the mix, turn the bass up a little higher and suddenly you have records that are a bit more danceable. I mean, a record produced by a label like Stax didn't have the goal of having record collectors 35 years later buying a release so they could play it at a house party. They're goal was to get something on the radio. Local records were making up for what they didn't have."
After gathering a hefty collection of records, spanning multiple genres and many cultures of music, Noble decided to turn his love and knowledge of 45s into a business. He opened a store, Lotus Land Records out in Riverwest (which unfortunately closed back in 2010), and a label of the same name. Then, in 2003, a few years after opening the store, they had their first Get Down night, playing a disparate mix of Brazilian, funk, Latin, jazz and much more. Though the music was diverse, the goal was all the same.
"Coming out of the '90s, DJs were very focused on mixing, scratching and other technical aspects," Noble said. "We knew we weren't good at that part of it; we also had no interest in that part of it. We were interested in having people dance at good parties with an unpretentious atmosphere. Everybody was just trying to be so cool that it was hard to just have fun dancing. So we were trying to bring the emphasis back to the tracks themselves as opposed to how you mixed the music together."
Ten years later, after several venue changes – from Quarter's to Riverhorse to Red Light to now Mad Planet – and a little bit of focus to their musical selection, The Get Down has transformed into one of the city's most popular parties, cranking out a catchy collection of deep funk and soul cuts.
"The discoveries come a lot slower these days for sure, but the pool of really great black funk/soul/dance music from the '60s, '70s and early '80s is pretty deep," Noble said. "We'll haven't heard a song for five years, and somebody brings it one night, and we'll hear it and it's like, 'Ah, that one's so good; I forgot about that one!'"
Tuesday night, Noble and the rest of The Get Down plan to keep the party going all the way into 2014. But they plan to keep The Get Down going much further than that. Noble said that he personally hopes that their monthly parties turn into "an institution." He'd also like to start expanding its reach, perhaps bringing their funky dance sessions over to Madison, the south side or to the suburbs every couple of months.
"I still love that music," Noble said. "I have very pure motivations for doing the night still to this day. It hasn't become a grind for me. For me, I make the kind of night I want to go to. So it makes sense that I'd want to go to it more."
And Noble and the rest of the Get Down DJs are perfectly fine with handing the spotlight over to the real star of the evening.
"We're a conduit. The main thing is that the music is just really, really great. I would chalk up the success of the nights to the mass appeal that the music has. It's one thing everybody can agree on. You can put something out there right now that a 65-year-old black woman and a 21-year-old white man can both agree on and want to dance to. There's not a million genres of music that you can say that about. And honestly, who can argue that Milwaukee doesn't need more things like that."
Facebook Comments
Disclaimer: Please note that Facebook comments are posted through Facebook and cannot be approved, edited or declined by OnMilwaukee.com. The opinions expressed in Facebook comments do not necessarily reflect those of OnMilwaukee.com or its staff.