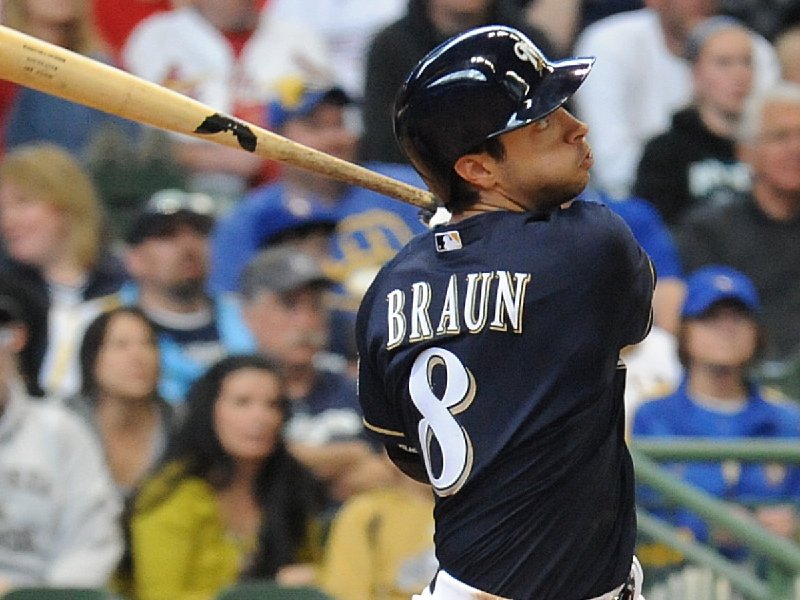 Braun speaking would be a good start for 2014 Brewers
So, I guess Major League Baseball does have a mercy rule after all.
The rule says teams will play only 162 games. The Milwaukee Brewers took advantage of it over the weekend when they played their 162nd game.
The overwhelming reaction in Brewers nation must have been "Thank God."
What has been a tumultuous and glaringly disappointing season has ended and eyes have already turned to next season. We wonder what has to be done to improve.
The answer that question is "a lot."
Lets take a look at just a few numbers comparing this edition to the one over the past five years.
The team batting average of .252 is the lowest in that stretch. The winning percentage (.457) is the worst, by far, of the last five years. So were the 23 games out of first place in the National League Central.
Interestingly, except for 2011, the Brewers have never really been in the divisional race over the last five years.
In order to confuse things a little more, the team earned run average was 3.84, the lowest in the last five years. What do we make of that?
Maybe it's something in the water, but the Brewers, like the Green Bay Packers, suffered an inordinate numbers of injuries. Maybe they need to light incense to voodoo dolls to improve their luck.
And then there is Ryan Braun. The best player on the team. The guy who sets the pace.
He has to overcome the shame of his use of banned substances and subsequent suspension.
Gimmicks, like personal calls to a few season ticket holders, an appearance at fan day or a seat on Oprah's couch are not the answer.
There is one way for Braun to make himself whole:
Get a bunch of sportswriters, local and national, put them in a room with Braun, turn on the cameras and let the questions fly. And he's got to answer every single one of them. He can't say it's "private" or "irrelevant." He's got to answer all of them and then it's likely that we all, fans and teammates, may well forgive him.
If Mark Attanasio is serious about helping Braun heal things, he ought to sit his golden boy down and explain the facts of life and urge Braun to do the right thing.
I remember when Andy Pettite admitted using human growth hormone. He held a news conference and sat there until there were no more questions. He answered everything. Braun could well learn from that.
It is within their power to help restore Braun, and then the Brewers can move on to the rest of the stuff.
They need pitching. They need a first baseman. They need to figure out if Rickie Weeks is really worth $11 million a year. They need some optimism.
If the team was as good as the fans, we'd all be in fat city. Over 2.5 million fans went to Miller Park this season. That's a lot, but it's the lowest tally in the past five years.
If hope truly lives and is realized and comes around again we will all be much, much happier.
Facebook Comments
Disclaimer: Please note that Facebook comments are posted through Facebook and cannot be approved, edited or declined by OnMilwaukee.com. The opinions expressed in Facebook comments do not necessarily reflect those of OnMilwaukee.com or its staff.