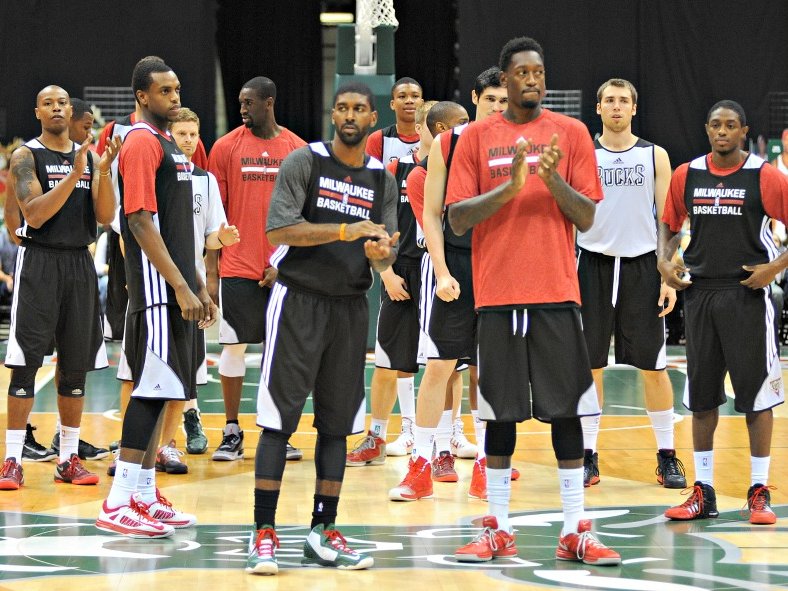 Attention: The Bucks did blow it up
The first sporting event I ever covered was a 131-101 victory by the Milwaukee Bucks over the Buffalo Braves.
It was five days before Christmas and the game was at the Milwaukee Arena. The year was 1970. The Braves eventually became what is now the Los Angeles Clippers. Buffalo lost a basketball team and never got one back.
In all of those years covering sports have never, ever seen anything like what the Bucks have done this off season.
They have an all new coach, all new assistant coaches, a new floor and enough new players to demand that everyone who follows the team gets a program.
Only four of the players who were on the roster last year are back this season.
When you read a lot of the national writers and bloggers preseason predictions, many of them blame Herb Kohl and John Hammond for being unwilling to "blow things up and start over."
It makes me wonder what the more the Bucks could have done to "blow things up."
Kill off Bango? Make the dance team wear snuggies? Get rid of bratwurst?
This is an extreme makeover, no matter how you slice it. For all of those critics who have been asking for a massive alteration of this basketball team, you can now sit back, satisfied.
They did it. Cleaned house. Got rid of the bad eggs. Said goodbye to some good eggs.
Now it's time to make an omelet.
There are four eggs left from last year, Ersan Ilyasova, Larry Sanders, John Henson and Ekpe Udoh.
What Hammond and Kohl obviously decided to do is put the word "character" at the head of the list they wanted in all their players.
Last year they went through a dysfunctional group of guys who just couldn't seem to get along.
The thinking now goes that the Bucks have a team of players who e enjoy passing the ball fighting for rebounds, playing stingy defense and rejoice in the success of teammates. What a refreshing change for this team.
Nobody knows if this new 2.0 version of the Bucks will be any better than last year's team.
But there are a couple of truths that are virtually undeniable.
For the critics, the Bucks did blow things up and have virtually a whole new team.
They should definitely bring more excitement to the Bradley Center and provide much more lively entertainment for the fans.
They are going to win some games with hustle and desire and strong defense.
They will have a better coach.
And they will undoubtedly have some new additions at the concession stands.
I've got a list of the big timers who cried woe because they thought the Bucks didn't "blow things up enough." When the season is over, I plan on writing each of them a letter, on real paper with real ink, asking them if that was enough of a blow up for them.
Talkbacks
AndrewJ | Oct. 15, 2013 at 2:59 p.m. (report)
Dave, I think you're (intentionally, so as to give yourself something to write about) missing the point that's meant by fans when they say "blow it up". The translation would be: "tank a season or two and draft some star players". We're talking a 10 win season, a top 3 draft pick, and a prayer John Hammond picks the right guy. Simply removing all the average players and then replacing them with more average players won't do the trick. What your version of "blow it up" will accomplish is another 35-45 win team that will muddle around for a 6-8th seed in the East. Not good enough.
Photodavie | Oct. 15, 2013 at 12:20 p.m. (report)
Dave, nothing was "blown -up" (can you use that for a 30th time in this column). Every player that wanted more money than the Bucks could pay left. The Bucks then hired the second best option to replace said players. There is no difference in team composition except they have more "heart" and "will to win". That is not going to make us a contender. We will forever be a 7/8 play-off team at best until Herb or a new owner takes a chance (like Antonassio and the Brewers) and they drop some serious money on one or more marquee players. And that won't happen w/o a new arena. (don't get me wrong, I don't want a new arena).
Facebook Comments
Disclaimer: Please note that Facebook comments are posted through Facebook and cannot be approved, edited or declined by OnMilwaukee.com. The opinions expressed in Facebook comments do not necessarily reflect those of OnMilwaukee.com or its staff.