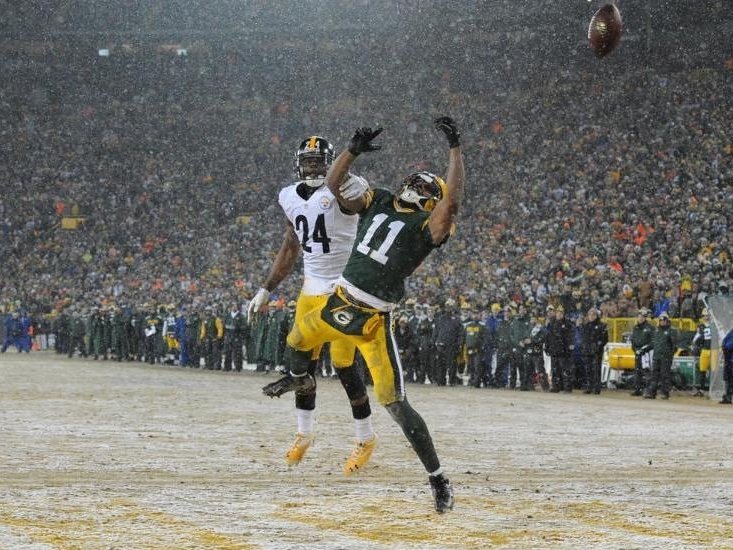 Packers and Bears stumble, stagger toward playoffs
You've seen bumper stickers on the cars of religious zealots with the letters WWJD. They stand for What Would Jesus Do?
I'm not sure exactly what that means, but as I look at the Green Bay Packers and their beleaguered football season, I'm tempted to say WWST.
What Would Santa Think?
As hard as it might be for any football fan to imagine, the Packers and the Chicago Bears, of all teams, will play for the title in the NFC North Sunday in Chicago.
Although we love our Packers and we hate dem Bears, it stretches credulity to think that one of these two teams is going to be a division champion and will host a first-round playoff game.
If these two teams were race cars, the black flag would be flying and flapping in the wind as they stumble past the inspection stand.
This comes from the explanation of the black flag:
When the black flag is used for disciplinary reasons, a driver is required to sit out for a time or maybe even for the entire race, a sanction known as "parking." A car may be black-flagged for failing to maintain a safe minimum speed, even if no apparent damage or mechanical failure is present. If the driver can't maintain the minimum speed, the driver may be required to park for the remainder of the race.
If there were ever two teams that didn't seem able to keep up with the rest of the divisional leaders in the league, it would be these two (as well as Dallas and Philadelphia).
It's as if they are leaking oil or they've got bad tires or they've blown a gasket.
Based on the 16th week of football, either team's defense can stop anything. Pittsburgh scored 38 points against Green Bay and Philadelphia scored 54 against Chicago. The Packers are vulnerable to the run. The Bears are vulnerable to the pass, the run and probably the Statue of Liberty play.
The Packer offense is stuck in second gear. Matt Flynn, after yet another brief fling at respectability, has crashed back to the spot on art reserved for backups who may be heard but should not be seen. I will forever hold the image of his errant toss to a covered Jarrett Boykin while a wide open Jordy Nelson stood about 15 feet away, wide open.
In that moment, in that situation, a starting quarterback for the Green Bay Packers does not throw to the wrong receiver when the right receiver is just about 15 feet away.
Without a high level functioning quarterback (think Aaron Rodgers), this Packer team needs to play mistake free football just to have a chance. No illegal motion penalties. No bumping into the quarterback when he's trying to throw. No not being able to hear the quarterback so you don't bother to snap the ball when everyone else is moving. None of that.
Of course Rodgers could come back, but the idea that he is immediately going to be what he was before he got hurt in November, seems just a bit farfetched. No athlete takes two months off and then steps right back at full speed and full effectiveness.
But 50 percent of Rodgers is still more than 100 percent of Flynn. Both in ability and in the confidence it gives the rest of the team. If there was ever a perfect time for Rodgers to come back, this is it.
Under the rules of the NFL, somebody has to win the NFC North division. We can't abdicate. We can't say "if elected we will not serve."
So we might as well cross our fingers, hold our noses and shut our eyes and hope, not that the best team wins, but that the worst of these two bad choices loses.
Talkbacks
TosaJim | Dec. 24, 2013 at 2:29 p.m. (report)
Photodavie...the day before Christmas....can't you be a little nicer? Remember...Santa is watching. Merry Christmas. And Dave, Happy Holidays to you.
Photodavie | Dec. 23, 2013 at 1:14 p.m. (report)
Another insightful piece Dave. At 70 you can't tell me you aren't totally sure what WWJD really means. I'm agnostic, and I understand it's meaning. And the Bears/Packers are the best in the NFC North this year in spite of double digit injury lists for both teams including their starting QBs being out for 4+ games. Stick to reviewing plays no one wants to see and leave the rest of the reporting to the real jounalists at OMC.
Facebook Comments
Disclaimer: Please note that Facebook comments are posted through Facebook and cannot be approved, edited or declined by OnMilwaukee.com. The opinions expressed in Facebook comments do not necessarily reflect those of OnMilwaukee.com or its staff.