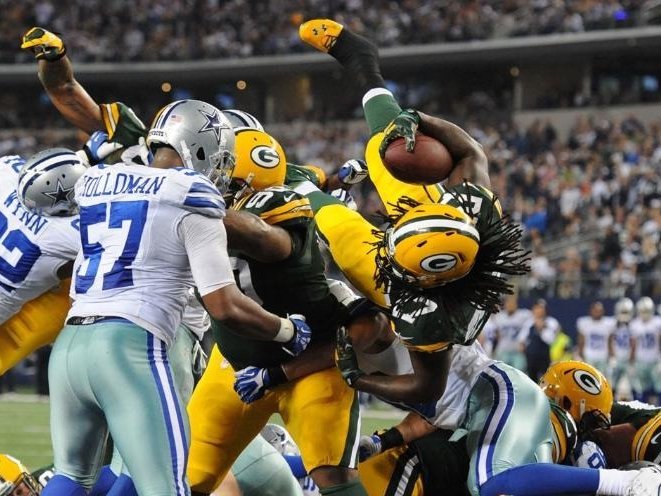 Packers win a prime example of NFL popularity
There is nothing quite like the National Football League and because of that, it is overwhelmingly the most popular sport in America.
And everything that goes into making it such a juggernaut was on display in the Green Bay Packers' remarkable and thrilling victory over the Dallas Cowboys in the palace that Jerry built in Texas as well as the rest of the league in week 15.
First of all, they only play 16 games in the NFL, so every game is crucial. In baseball and basketball they play so many games that a single game does not have the same potential for dramatic impact on the standings.
The Packers game Sunday points to the vital nature of each game. The Packers were hanging on to their playoff hopes by a thread. Lose Sunday and they were most likely going home during the playoffs. Dallas was in a tight race with Philadelphia for the crown in the NFC East.
An NFL game also offers both quick-strike turnarounds and momentum-changing, inexorable marches down the field.
Sunday, Dallas was quick to strike, especially in the first half, when they built a 26-3 lead at and seemed to have sent the Packers to an early grave. But, the Packers got momentum in the second half and you could sense the inevitable drive toward victory by the boys from Green Bay.
The NFL also offers weekly surprises, something no other sports seems to have.
On Sunday, Pittsburgh beat Cincinnati, Miami beat New England, the St. Louis Rams beat the New Orleans Saints and incredibly, Minnesota beat Philadelphia. On Thursday, San Diego upset Denver. And even though the game was considered a toss-up I think that the Packers win qualifies as at least a minor upset.
What part of this shows is that anyone who bets on NFL games has got to be crazy. If I gambled, I would take every dog every week and I suspect that at the end of the year I'd be a winner.
Another thing about football is that it seems overly difficult to have incredible plays. Home runs in baseball are a dime a dozen. Flying dunks or a barrage of 3-pointers in basketball do not have a huge surprise element. But in football, when an interception or a kick return or a fumble recovery is returned for a touchdown, it's a rare and surprising event.
The one thing that the NBA has over all the other sports, including football, is the intimate viewing of perhaps the best athletes on earth. These guys need strength, speed, brains and toughness and to be able to watch them up close is a unique thrill in the world of spectator sports.
But there are so many reasons why so many people absolutely love the National Football League.
Take the Packers on Sunday.
Monday dawned a little brighter for everyone. As we gathered for coffee or meetings or even breakfast with our kids, we smiled as we talked about Sunday's game. In no other sport does one game, a single dot on the schedule, stimulate such depth of feeling, such an emotional connection and such a fearsome protective love.
And that's why nobody can really touch the NFL. Or the Packers, for that matter.
Facebook Comments
Disclaimer: Please note that Facebook comments are posted through Facebook and cannot be approved, edited or declined by OnMilwaukee.com. The opinions expressed in Facebook comments do not necessarily reflect those of OnMilwaukee.com or its staff.