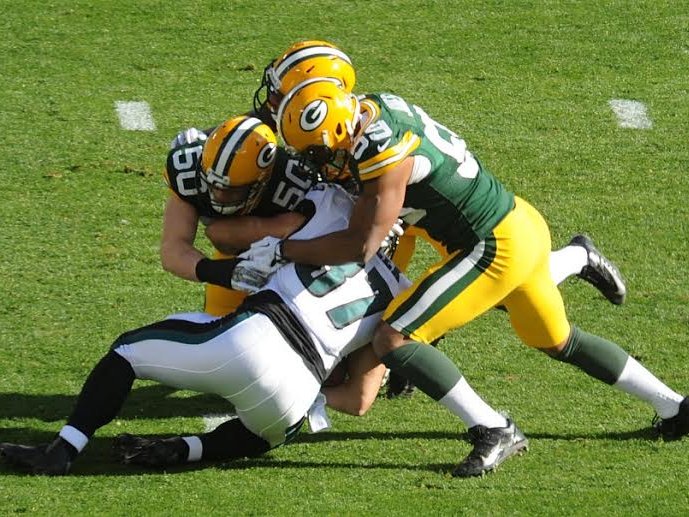 Packers without Rodgers create a sick feeling
I am still sick to my stomach from Thanksgiving.
It has nothing to do with turkey or green bean casserole or pumpkin pie.
It has to do with 40-10. The Lions from Detroit, 40. The Packers from Green Bay, 10.
This reminded me of the awful days of Forrest Gregg, Bart Starr and Lindy Infante. This football team was just horrible. Demoralized. Fearful. Indecisive. Outsmarted. Everything bad.
Embarrassing. That's the word. They embarrassed themselves. And they embarrassed me and all the other Packers fans.
And it could easily get much worse. The Packers have games against the Atlanta Falcons, Dallas Cowboys, Pittsburgh Steelers and Chicago Bears left. If something miraculous doesn't happen I could easily see them losing all four games and finishing the season 5-10-1.
And we were supposed to be a lock to win our division.
Has football changed so much that when your starting quarterback goes down you might as well toss your chips on the felt and walk away from the table?
Aaron Rodgers has been out and for some reason, this team has played like a pickup football team playing flag football on an asphalt field.
Say what you will, but these are supposed to be professional football players. The team is supposed to be bigger than any one man, even the quarterback. But these Packers are a small football team.
There was a flurry of activity over the weekend when there were reports that the team had decided to sit Rodgers for the rest of the season and stumble home with Matt Flynn or Scott Tolzien. Rodgers denied the reports, but we'll see what this week brings.
Of course, the issue is whether the Packers should sit him down, even if he gets cleared to play by the medical staff.
I think there is no question. If he can play, he plays.
If it's true that the only reason this team looks so bad is because Rodgers is out, let's put him in. If we can turn this around and win the remaining four games, it's possible we could win the division.
Detroit has games left against Philadelphia, Baltimore, the New York Giants and Minnesota. Let's say they split those game and finish with a 9-7 record. If the Packers win out they'd have a 9-6-1 and win their division. I'm discounting the Bears because even if they win three of their last four, they'd be 9-7 like the Lions.
But you have to ask yourself whether the Packers, even with Rodgers back at the helm, have the stuff to run the table. These players have certainly not distinguished themselves while their signal caller has been gone.
But football is an emotional game. If he returns and that does stimulate an emotional spark in this team, then we may get rid of this nauseating feeling in our stomachs.
Facebook Comments
Disclaimer: Please note that Facebook comments are posted through Facebook and cannot be approved, edited or declined by OnMilwaukee.com. The opinions expressed in Facebook comments do not necessarily reflect those of OnMilwaukee.com or its staff.