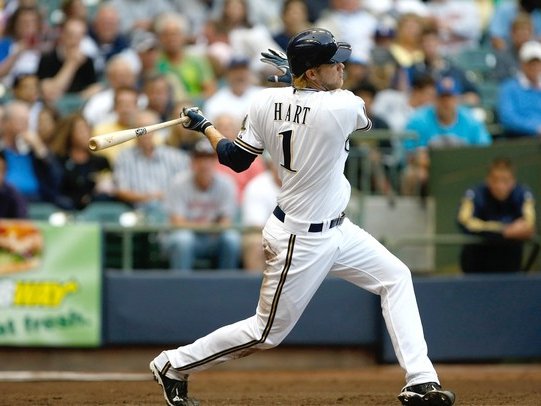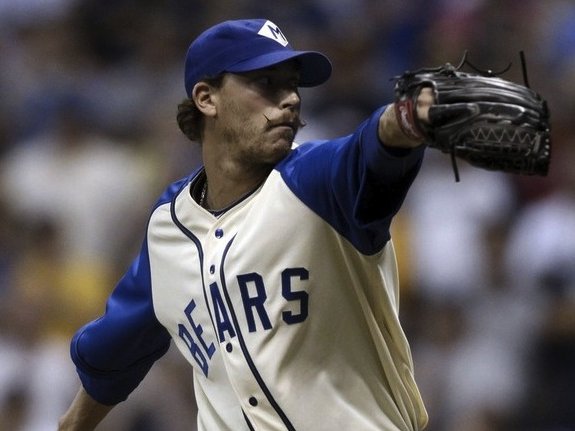 Brewers Notebook: Hart finishes strong
It has been a surreal week for Corey Hart who, by all accounts, has had a surreal season.
Last Sunday, he learned that he'd been named to the National League All-Star team. Seven days later, he found out he'd be starting in the All-Star Game, taking the place of injured Atlanta outfielder Jason Heyward.
If that wasn't enough, Hart also polished off a three-game sweep of the Pirates with a walk-off home run Sunday afternoon at Miller Park.
"It's unbelievable," said Hart, of his second career walk-off homer. "Anytime you see your team waiting there to pound you, it's a good feeling."
Hart enters the break batting .288 and leads in home runs (21), RBI (65), total bases (174) and slugging percentage (.569). Since May 15, he leads the majors with 18 homers and 53 RBI.
"That's a nice ending to the first half," said manager Ken Macha. "He's earned it for how hard he's worked."
Because of his first half numbers, Hart has found himself the subject of growing trade rumors. San Francisco general manager Brian Sabean was in town last week with the Giants, supposedly with the hopes of landing Hart in a deal.
Were it up to him, Hart would prefer to stay with the Brewers, who selected him in the 11th round of the 2000 draft. Still, he knows that at the end of the day, baseball is a business and isn't focused on whether or not he's walked out of Miller Park for the last time.
"You hear so much about trades and stuff," Hart said. "I've always told them I wanted to be here and stay as long as they'll let me."

In the meantime, Hart heads to Anaheim where he'll participate in the All-Star Home Run Derby Monday night.
"I just want to get one and see what happens," Hart said.
Braun snaps out of slump: Hart's All-Star teammate, Ryan Braun, was given the day off Thursday.
He'd been mired in a lengthy slump and was hitless in his previous 19 at-bats.
It's a small sample size -- and against the Pirates -- but it looks like Braun may have found his stroke. His 10th-inning single beat Pittsburgh Friday night -- his second hit of the day.
He followed that with a homer, double and three runs Saturday and homered again on Sunday, and heads into the break hitting .292.
"We've shown up every day hoping that was the day we figured it out," Braun said. "There's still a lot of season left to have a decent year. The goal is to put ourselves in a position to win every day and sometimes an emotional victory can put you on a nice little steak."
The Gomez dilemma: The Brewers are just the latest franchise to figure out whether or not Carlos Gomez will ever realize his potential.
The speedy centerfielder has all the natural ability in the world but hasn't been able to harness that talent to make himself a productive major leaguer.
Acquired in the J.J. Hardy trade last winter, Gomez is hitting just .229 with a paltry .282 on-base percentage. That inability to get on base has forced Macha to move Gomez down the lineup, somewhat nullifying his speed.
"He's got some obvious positives, but he's a little bit undisciplined at the plate," Macha said. "He's just, let's say, full of vim and vigor and needs to get toned down a little bit and get more focused on getting the ball in the strike zone."
Surprises in the pen: As the Brewers fumbled to find reliable pitching early in the season, two minor league call-ups have played a big role in stabilizing things.
Righty John Axford stepped into the closers role after Trevor Hoffman struggled out of the gate and has been nothing short of amazing since, converting all 10 save opportunities while striking out 32 in 25 innings of work.
"Who knew he was going to come and do this?" manager Ken Macha said of Axford, who signed with the organization as a minor league free agent before the 2008 season.
Now 5-1 with a 3.12 ERA, Axford allowed his first home run of the season Saturday night to Pittsburgh's Ryan Doumit.
"It was going to happen at some point or another if I want to keep going in this game, obviously," Axford said. "It'd probably be a miracle if I didn't give up one if I kept playing."

Zack Braddock has been good in relief, too. He's held opponents scoreless in 16 of 19 appearances since being called up in May and has allowed just five of 13 inherited runners to score.
Macha mentioned Braddock and another reliever, Kameron Loe, as "pleasant surprises" before Sunday's game. Loe has 1.22 ERA with 18 strikeouts in 22 innings.
"He's been in some games where he's done extremely well," Macha said. "He's gotten hit hard here, too. Kameron Loe, he's an invitee to Major League camp and then he comes in and has the impact he's had. I'd say that's a bigger surprise."
The waiting game: While Axford continues to shine, Trevor Hoffman keeps waiting for his moment.
The all-time saves leader (holding at 596) lost the job after blowing five of his first 10 save opportunities. The future Hall of Famer is 2-4 this year with an 8.33 ERA in 28 appearances.
Hoffman's kept the opponent off the board in eight of his last 10 outings but batters are still hitting .306 (34-for-111) with eight home runs off him.
Hoffman has been a professional about the situation, but it's hard to move Axford out of the position with the way he's handled the job thus far.
"You want me to walk out to the mound and have people throwing stuff at me if I don't bring Axford in?" Macha said. "I'd have to put a helmet on.
"I can see that sign out there and I'd certainly like Hoffman to get to 600 and that's his goal. But it's hard for me to take somebody out that's been perfect."
Lies, damn lies and statistics: In 17 starts (18 appearances), Dave Bush is 4-6 with a 4.14 ERA. Not exactly Cy Young caliber numbers, but at the same time, they're not awful stats, considering how bad Brewers pitching has been this season.
Still, the numbers aren't exactly painting an accurate picture of Bush's performance this season. The veteran right-hander was knocked around twice, allowing nine runs in 3 2/3 innings against the Cubs in April then getting tagged for seven in one-third of an inning at Minnesota in May.
Take those two nightmares out of the equation, and Bush is looking at a 2.96 ERA. He's been especially good his last five outings, recording quality starts each time and posting a 3-1 record with a 2.27 ERA during that stretch.
Quick hits: Hart is the only player in franchise history with multiple hitting streaks of 20 games or more. He hit in 22 straight in 2007 ... Chris Narveson has a 13.50 ERA in the first inning this season ... The Brewers are 12-22 in day games this season ... Jonathan Lucroy was married on Wednesday. He missed the last four games of the first half with a sore right hand ... Rickie Weeks has been hit by a pitch 17 times ... The Brewers have 19 come-from-behind this season ... Hart has two of the the team's three walk-off homers this season; Casey McGehee has one, as well ... Prince Fielder has played in 274 consecutive games, the longest active streak in baseball and ties him with Robin Yount for the all-time franchise record ... C George Kottaras threw Buster Posey out Thursday, snapping a string of 31 consecutive stolen bases against Kottaras.
Injury report: RHP LaTroy Hawkins threw a simulated game Saturday and will pitch one inning with the Brewers' Arizona Rookie League team on Thursday. Should that go well, Hawkins will be sent to Class AAA Nashville for a rehab appearance. ... Yovani Gallardo is undergoing treatment for a strained oblique but could come off the disabled list in time for a July 20 start.
On the farm: Class A Wisconsin RHP Maverick Lasker was named Minor League Pitcher of the Month. IF Brett Lawrie, from Class AA Huntsville, took player of the month honors ... C Ben Johnson was activated from the disabled list and rejoined Class AAA Nashville ... The Brewers will host an open tryout July 22 at Historic Greer Stadium in Nashville.
By the numbers: Overall record -- 40-49; Home -- 20-26; Road -- 20-23; Roof/panels open -- 13-10; Roof/panels closed -- 5-10; Roof open/panels closed -- 1-4; Roof closed/panels open -- 1-2. Wearing white uniforms -- 7-18; gray uniforms -- 15-11; blue "Brewers" uniforms -- 9-6; blue "Milwaukee" uniforms -- 4-12; retro alternate jerseys -- 2-1; other uniforms -- 3-1.
He said it: "I'll try and deck myself out in orange best I can, even all the way down to the boxers." -- Reliever John Axford, who was rooting for The Netherlands Sunday in the World Cup Final.
This week: A much-needed break for the Brewers -- except for the three All-Stars -- before returning to action Thursday in Atlanta.
Attendance (through 47 home dates): Total -- 1,586,182; Average -- 33,748; Sellouts -- 7.
NL Central standings (through games Sunday): 1, Cincinnati, 49-41; 2, St. Louis, 47-41 (-1); 3, Milwaukee, 40-49 (-8.5); 4, Chicago, 39-49 (-9); 5, Houston, 36-53 (-12.5); 6, Pittsburgh, 30-58 (-18).
Talkbacks
bradlill | July 12, 2010 at 8:26 p.m. (report)
Dude, the Brewers are 9 games under .500. Come on!
Facebook Comments
Disclaimer: Please note that Facebook comments are posted through Facebook and cannot be approved, edited or declined by OnMilwaukee.com. The opinions expressed in Facebook comments do not necessarily reflect those of OnMilwaukee.com or its staff.