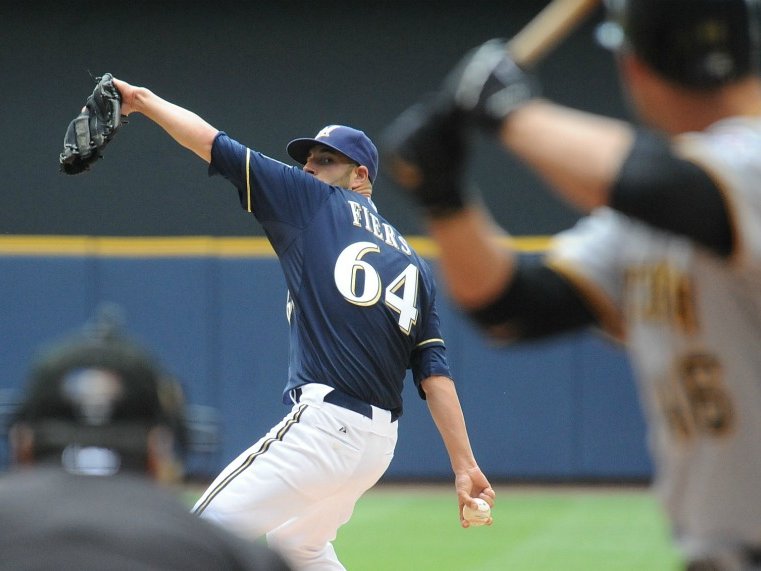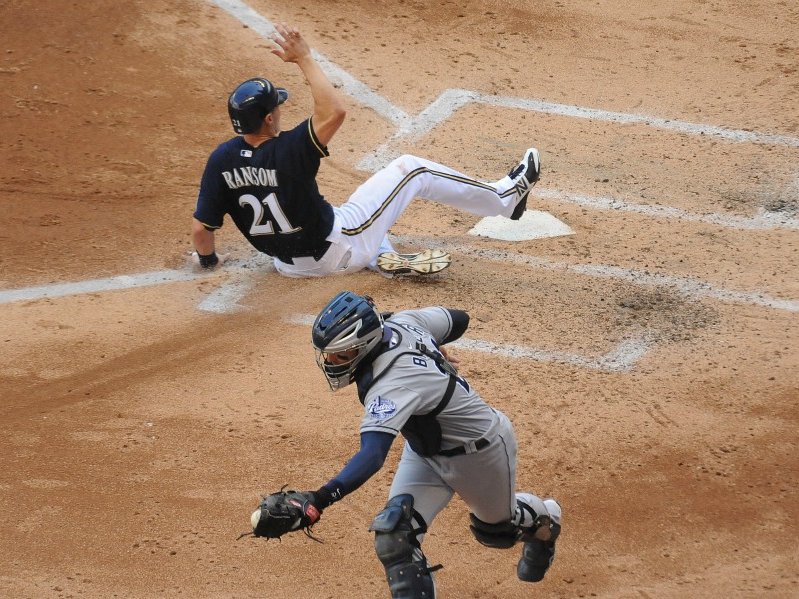 The Call-Up Crew: Reserves playing key role for Brewers
The Milwaukee Brewers are nearing the 70-game mark of the season, most of which has been spent scrambling to not only win games, but find a consistent lineup.
Despite having All-Star caliber seasons turned in by reigning National League Most Valuable Player Ryan Braun, catcher Jonathan Lucroy and starter Zack Greinke, the lasting images to this point are Mat Gamel and Alex Gonzalez writhing in pain from season-ending knee injuries, Marco Estrada, Cesar Izturis and Carlos Gomez limping off the field after pulled muscles, and Chris Narveson in a sling with a torn rotator cuff.
That's not even including the elbow soreness of reliever Kameron Loe, muscle soreness of catcher George Kottaras, third baseman Aramis Ramirez's variety of nicks and scrapes and Lucroy's broken hand.
"It's a unique situation," said infielder Cody Ransom, who has played parts of 10 seasons with six teams. "There are probably more injuries at one time than I've ever seen. You probably see this many injuries and this many transactions over a whole season but it just so happens they all came at the same time."
At the end of the Brewers last homestand, the clubhouse looked like it was late September after the rosters expand, packed to near capacity with players. Only this time the healthy players had to be on the lookout for those on crutches and heavy wrapping.
The result has been the call-up of a variety of players from the Brewers minor-league system to help stem the tide and keep the team competitive. Position players who have been called up (or signed) to help out include infielders Edwin Maysonet, Cody Ransom, Taylor Green, Brooks Conrad and catcher Martin Maldonado.
Pitchers include Mike Fiers, Mike McClendon, Juan Perez, Vinnie Chulk and Wily Peralta.
Manager Ron Roenicke has tried not to put too much pressure on these players, but as the injuries have piled up there has been little choice but to rely on many of them to produce nearly every day in some capacity, whether it's as a starter, late inning defensive replacement or pinch hitter.
Despite the fact that none of them are regular starters and could be optioned back down to the minors at any point, they realize how important their role is.
"That's where teams stay strong and end up being postseason contenders," Conrad said. "I think we've done a pretty good job of that so far, but we've got to continue to do that, continue to play well off the bench."
It's not easy on them however, since none of them knows when – or if – they'll play at all.
"Welcome to the life of a bench player," Conrad said. "That's been my role, and a lot of these guy's roles. That's basically what you have to be ready for. You have to be ready every time you're called up to do a job. Pinch-hitting is usually your main type role and obviously I need to start doing a better job on that, but filling in starts, you've got to be ready.
"Injuries happen. Throughout the course of a season, it's those times when injuries occur and the guys come off the bench and get the job done to keep winning some games and keep the team going. It's basically the life of the beast and that's the way the game goes."
Roenicke conceded that at this point, several of these players are – Ransom is 36, Conrad is 32 and Maysonet is 30. But, as a collective, he sees some positives out of a group put in a tough situation.
Before leaving for the last road trip, Roenicke broke down his bench:
Ransom: "Definitely, I have never really seen this guy for more than a couple games and defensively I think he's really done a good job for us as third base and at shortstop. I didn't know he was that good defensively. I knew in the past he was pretty good there, and he's gotten some big hits for us."
Green: "Hasn't gotten really enough games to where we really see exactly what we have with him, but his last two pinch hits were pretty impressive. So he's got power and he can drive the ball into gaps and he's versatile. I think that's important for us."
Maysonet: "Has caught everything hit at him. He's done a great job defensively. Gotten a couple of big hits also."
Maldonado: "Great defensively. We knew that coming in, but he's also got a couple big hits."
"The total group – Conrad finally got a couple hits that were big – has done a nice job for us," Roenicke added. "We don't expect them to come in and be as good as the guys that got hurt and are either done for the year or on the DL. But I think they've filled in and done a nice job."
All of these players know they can be sent back to the minors, or designated for assignment, as soon as a regular comes off the disabled list or Roenicke and the front office determines a better option has become available on the market. But for them, it's all about the here and now, and doing what they can to win games.
"When you come up and you get those opportunities, you have to make the most of them," Conrad said. "That's what bench players are all about. You get those opportunities here and there and you get the job done, that's what championship teams are made of."
Talkbacks
TosaJim | June 19, 2012 at 12:03 p.m. (report)
These young guys are all hungry for the majors....they'll play hard and hope to get a promotion with the Brewers or catch the eye of another team. Once a guy gets a big pay day...things change. They certainly want to play well (more money...in a new contract)...but they also know they have lots of money in the bank...a guaranteed contract...and if they stink here for a season or two, some other team will probably pick them up...they loose the "fire in their belly".
Facebook Comments
Disclaimer: Please note that Facebook comments are posted through Facebook and cannot be approved, edited or declined by OnMilwaukee.com. The opinions expressed in Facebook comments do not necessarily reflect those of OnMilwaukee.com or its staff.