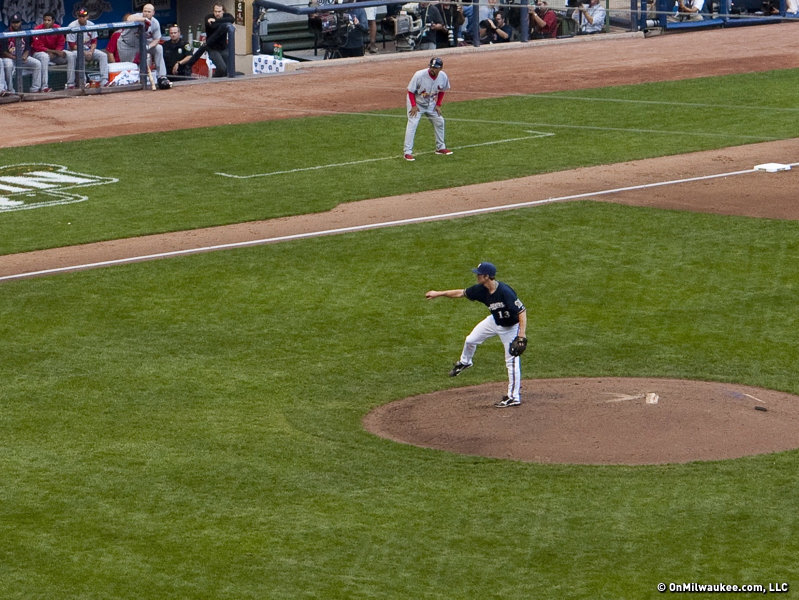 Brewers less than clear about Greinke
It has been a whirlwind 24 hours over at Miller Park, yet the dust hasn't completely settled surrounding the early decision to pull Milwaukee Brewers ace Zack Greinke out of the starting rotation. Speculation remains rampant, answers muddied.
Here is a timeline of events:
At about 10:45 a.m. Monday, Brewers director of media relations Mike Vassallo tweets the following: "Now starting Wednesday vs. StL for the #Brewers will be Tyler Thornburg. Ron will address later. Greinke had been listed."
About an hour after that, FoxSports baseball insider Ken Rosenthal gets some information out of Brewers general manager Doug Melvin: "#Brewers GM Melvin: Nothing physically wrong with Greinke. Just pushing him back. 'Recharging his batteries.'"
Instant speculation was that Greinke was in the process of being traded, but the math didn't add up. There was no reason to announce a full two days before his start that he was being skipped.
A second thought, which I initially believed, was that Melvin was being truthful; that a player who has a well-documented history with anxiety just needed to get away.
Honestly, I felt the only reason to announce this was because Greinke would be AWOL when the clubhouse opened Monday evening.
Nope.
There he was, and as one writer noted – in interesting company.
Zack Greinke recharging by playing catch in outfield. Tossing softly with trainer watching.

— Dennis Punzel (@DennisPunzelWSJ) July 16, 2012
Shortly thereafter, Brewers manager Ron Roenicke told the assembled media nothing new than what he said Friday following Greinke's fourth straight poor outing in July.
"I don't think he was right," Roenicke said about Greinke's second start in Houston. "And (Friday) I think he was a little bit off again. I don't think its pressing. I think he's had some unusual things happen to him."
He elaborated a touch further Monday, saying Greinke was fatigued. It was a term the right-hander wouldn't repeat. He would only say he would go along with whatever his manager said. Roenicke was also quick to squash any thought that Greinke was losing focus – or interest – in this team, much like he admitted to doing in Kansas City in 2010.
The fact that Greinke was in the building Monday, along with the fact that he wasn't too happy with the decision, rules out mental fatigue in my book. Greinke's the type of guy who would say that's what he needed.
He may have told Roenicke he was a bit more sore than usual over the weekend, causing Melvin to pull the plug. Yet Melvin says it wasn't physical and Roenicke insisted it wasn't mental.
Well, which is it? Which batteries need to be recharged?
Greinke's trade value is already lowered thanks to the new collective bargaining agreement and how late it is in the season, so an injury – or any type of fatigue – doesn't help matters.
In sports, honesty is not always the best policy. You need to do what's best for your organization – even if it means fibbing a bit to the media and fans. That's OK. People get that. But over the last 24 hours the Brewers have sent so many mixed messages that it makes you wonder if even they know what is going on.
Facebook Comments
Disclaimer: Please note that Facebook comments are posted through Facebook and cannot be approved, edited or declined by OnMilwaukee.com. The opinions expressed in Facebook comments do not necessarily reflect those of OnMilwaukee.com or its staff.