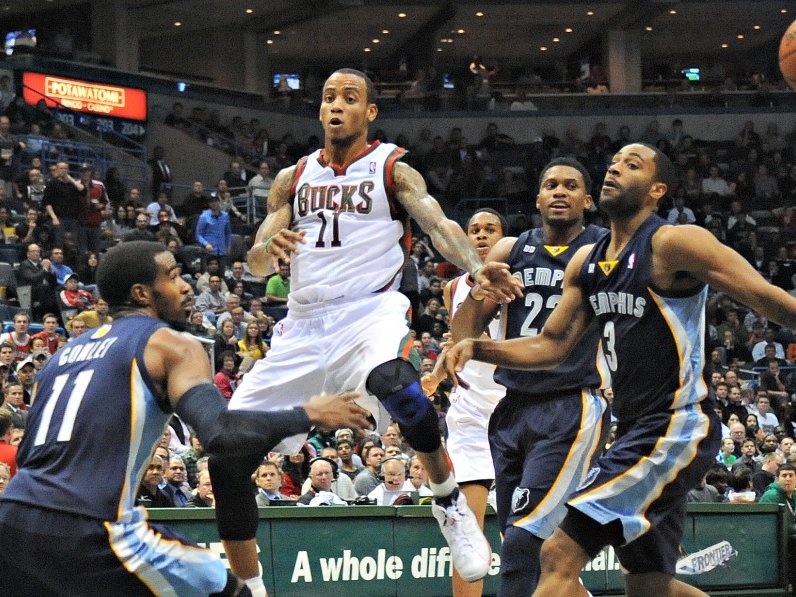 Ellis has returned to form since All-Star break
More than 60 games and 2,300 minutes into the NBA season, and apparently Milwaukee Bucks guard Monta Ellis is just now discovering an extra bounce in his step.
For the first time since arriving in Milwaukee about a year ago, the 27-year-old has been performing like the marquee offensive player general manager John Hammond traded Andrew Bogut for last season.
The Bucks have played 12 games since the All-Star break and his production has been all that was advertised heading into his debut last season.
Since the All-Star break in mid-February, stretch of 12 games in which Ellis has already earned one Eastern Conference Player of the Week award, he is scoring 23.9 points per game, handing out 7.5 assists and shooting 49 percent from the field. In his previous 51 games Ellis was averaging 18.4 points, 5.5 assists while shooting 40 percent.
"To me, his legs look better than they did early in the season," Bucks head coach Jim Boylan said. "If you watch his jump shot, his elevation has increased. What do you credit that to? Maybe he's feeling better. I'm not sure exactly what it is, but certainly the last two, three weeks he has looked more energetic out there and is playing with a great burst of speed and a lot of intensity on both ends of the floor. When you do that and have his talent good things are going to happen for you."
Boylan is taking advantage of Ellis' hot hand – and "fresher legs" – by playing him nearly five minutes more per game since the break, though for his part Ellis says his teammates are the reason for that look of buoyancy.
"J.J. (Redick), Mike (Dunleavy), Brandon (Jennings), Ersan (Ilyasova) coming in, hitting shots and opening the floor up," he said. "If we do that as a team it's hard for any team to guard us and I'm just taking what the defense gives me."
There has to be more to this change in play than that though, right?
Well, it's not so much a change as it is a return to form for a player who averaged over 22 points per game on 46 percent shooting from 2007 through 2012.
"He is penetrating more and when he does he's taking it to the basket strong," forward Larry Sanders said. "That's his game. I think at the beginning of the season maybe he tried to conform, to fit in to offense a little bit, but he is the offense. I think he just realized to take the initiative and just go and it's helping all of us out."
You can see that effort in the highlights below from the Bucks overtime win over the Utah Jazz on March 4, a game in which Ellis scored 34 points and shot 71 percent from the field.
Since the break, Ellis is averaging 6.0 free throw attempts per game compared to just 4.6 attempts his first 51 games this season and 4.2 attempts with the Bucks in 21 games last year. When he was operating at his best as a scorer in 2009-10 and 2010-11, he got to the line 5.4 and 6.1 times per game.
When he went home over the break, Ellis determined he had fallen in love with his jump shot – despite the fact he was shooting just 40 percent from the field and a woeful 23 percent from beyond the 3-point line.
That wasn't his game, and he had to come back to who he always was.
"That's one thing I did evaluate when I went back home from the break was I was taking too many jump shots," Ellis admitted "I was settling. I wasn't really driving like I used to. Just trying to get back into it and picking my spots and take the drive and dishing off to the big guys. Larry and those guys, when they're dunking and making shots under there you're either going to get me or you're going to stay on him, so like I said, I'm taking what the defense gives me."
While Ellis' scoring output has skyrocketed over the last dozen games, so has his assist totals, handing out nearly two more per game than the first 51 games and about 3.5 more than his career average in Golden State.
"He's attracting so much attention," Sanders said. "He can pass the ball and find us when he's contested. And then he can dish out for 3's. Just by him penetrating, it does a lot for our offense. A whole lot."
The question now is whether this, new, old version of Ellis is here to stay for the final 19 games of the regular season. The odds are high it does – this is the player he had been for the better part of six and a half years before coming to Milwaukee.
Talkbacks
Photodavie | March 15, 2013 at 12:35 p.m. (report)
An athlete showing extra effort during a contract year?!?!?! What a coincidense! He's getting good just in time for either the Bucks to overpay him or for him to go elsewhere for more money. We really should just rename the team the Milwaukee Stepping-Stones.
Facebook Comments
Disclaimer: Please note that Facebook comments are posted through Facebook and cannot be approved, edited or declined by OnMilwaukee.com. The opinions expressed in Facebook comments do not necessarily reflect those of OnMilwaukee.com or its staff.