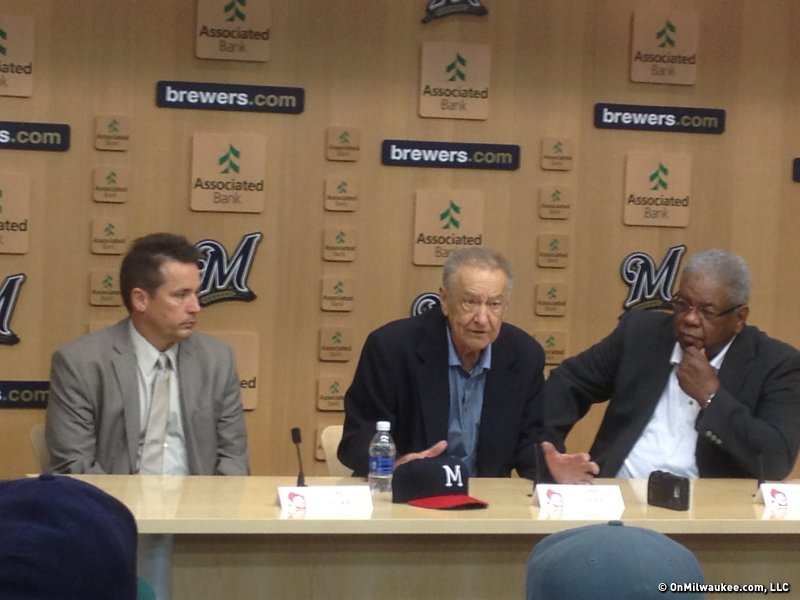 Johnny Logan passes away
Former Milwaukee Braves All-Star shortstop and Milwaukee Brewers scout Johnny Logan passed away tonight at the Clement J. Zablocki VA Medical Center in Milwaukee. He was 86.
The following statement was issued by the Club:
"Johnny Logan was a longtime friend to Milwaukee baseball. His connection to both the Brewers and the Braves and the Milwaukee community was very strong. Virtually every person associated with the Milwaukee Brewers has been touched by Johnny through his many visits to the ballpark and terrific stories about his time in the game. We will miss Johnny deeply and will never forget his colorful character and personality."
Logan was honored by the Milwaukee Brewers last month with the unveiling of his plaque on the Miller Park "Walk of Fame."
He played in Milwaukee from 1953 to 1961 and appeared in four All-Star Games as a member of the Braves. For his 13 year career, Logan hit .268 with 93 home runs and 547 RBI.
He was a member of the Braves World Series Championship team in 1957 and the National League Championship team in 1958. Logan was signed by the Boston Braves in 1947 and made his Major League debut with Boston in 1951. After playing in Milwaukee, he played three seasons with the Pittsburgh Pirates. Following his playing career, Logan served as an area scout for the Milwaukee Brewers.
Memorial services for Logan will be announced at a later date.
Talkbacks
TosaJim | Aug. 10, 2013 at 11:12 a.m. (report)
Johnny was old school...a great player and he was always available to the fans. I belonged to the Knothole Club....$2.25...ticket in the bleachers...a bus ride...hot dog and a soda (I'm old) :) Johnny and the other Braves would sign autographs...shake hands...laugh and tell stores before and after the game...some of the players lived in my neighborhood...was a fun time....unlike the over-paid...fan non-friendly....won't do or go anywhere unless they get paid...players we have today. I know...not all the players are like this...but most of them are. We'll miss you Johnny! :(
Facebook Comments
Disclaimer: Please note that Facebook comments are posted through Facebook and cannot be approved, edited or declined by OnMilwaukee.com. The opinions expressed in Facebook comments do not necessarily reflect those of OnMilwaukee.com or its staff.