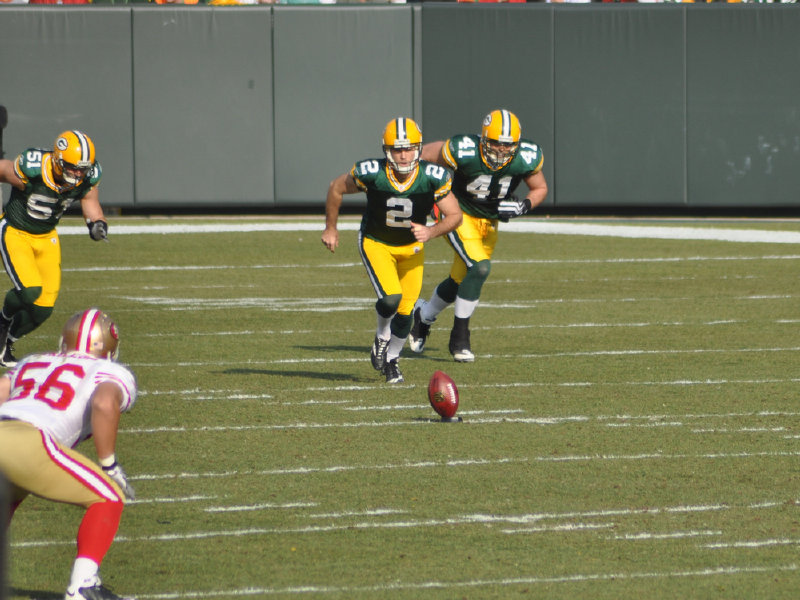 Final preseason game means a lot to some on Packers roster
The four-game NFL exhibition comes to a close for the Green Bay Packers tonight in Kansas City, a slate of games that often don't mean much for those who buy the tickets, or for many in the Milwaukee area, twist the rabbit ears on television to watch.
We know this. But, nearly 150,000 people filled Lambeau Field for the Packers' two home games against Arizona and Seattle anyway, and what they were able to witness were 12 Aaron Rodgers passes and no first team offensive touchdowns.
They did get to see Clay Matthews register a sack against Seahawks' quarterback Russell Wilson and Casey Hayward pick off a pass, but for the most part the games were opportunities for fans to see the new renovations in the south end zone.
Of the four games, this final one is usually given the tag of "least important."
The starters will not (or should not) play at all and it the goal is get on the team plane with everyone healthy.
That's all well and good and accurate – but tonight's game does matter for a couple dozen players in uniform.
The roster sits at 75 players and will be reduced to the final 53 on Saturday evening (eight players can then be moved the practice squad on Sunday). Running down that list, I ticked off a quick 48 that should make the team. The Packers probably have that number at 50 or 51. So tonight could be about five roster spot openings at the back ends of the depth chart, but these guys aren't just throwaways.
As the Packers learned all last season, and were reminded of again this training camp, football is a game of near constant attrition and that 53rd man just might end up your nickelback or starting outside linebacker or catching a touchdown in a playoff game.
The Packers head into this last preseason game already without one starting offensive lineman (Bryan Bulaga) and running back (DuJuan Harris). Three starters in the defensive backfield (Morgan Burnett, Tramon Williams, Hayward), one starting linebacker (Brad Jones) and two starting wide receivers (Jordy Nelson and Randall Cobb) have already missed significant chunks of time due to a variety of maladies.
This has created opportunities for rookies Micah Hyde and Chris Banjo in the secondary and undrafted rookie receiver Tyrone Walker, among others. Those three players are among many vying for those final spots on the roster, and tonight's game is important for them to once again show the Packers coaching staff they have a grasp on the systems and can separate themselves from others vying for the same spots.
Of course, 22 players will be cut over the weekend by every team, meaning the Packers may be waiting to scoop up a project or talented underachiever off another roster. It's another reason why this game matters for those seeing significant time – you're on the field, and therefore you're on film. You may not fit in Green Bay, but you may fit elsewhere, like Graham Harrell in New York or Gilbert Pena in New England.
So while many of the players you see (or hear about on the radio) may not be with the team come Monday afternoon as the team readies for San Francisco, there is more inherent drama in these 60 minutes than the previous three games combined.
Facebook Comments
Disclaimer: Please note that Facebook comments are posted through Facebook and cannot be approved, edited or declined by OnMilwaukee.com. The opinions expressed in Facebook comments do not necessarily reflect those of OnMilwaukee.com or its staff.