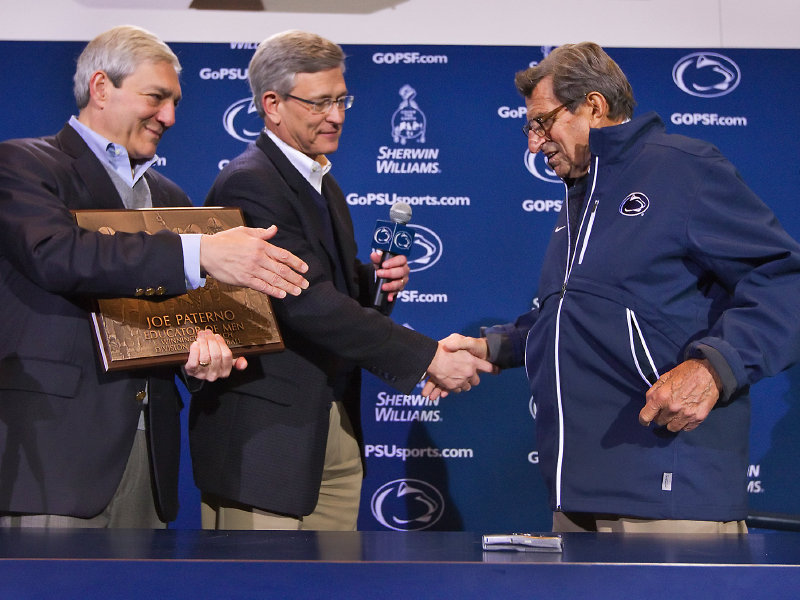 Thou shalt not kill
It was a heinous, legacy altering scandal that should never be forgotten or swept under the rug.
One year ago, Joe Paterno was among the most respected figures in sports. Sure, the game may have passed the old man by, but he stood for loyalty, playing by the rules, and life being bigger than the final score at the end of 60 minutes of play.
Except that was a terrible illusion; a persona coldly crafted through decades of lies, manipulations, and power plays. And while it is true that Paterno was not a deity but rather a mere mortal, the unprecedented fall from grace since last November has been nothing short of breathtaking. And not in a good way.
What we had all suspected back in November became cold, hard, sickening reality last week when former FBI Director Louis Freeh released an exhaustive 267 page report blowing the lid off of Penn State University's dirty little secret of who covered up what in the Sandusky scandal, and why.
The summary read, in part:
The evidence shows that these four men also knew about a 1998 criminal investigation of Sandusky relating to suspected sexual misconduct with a young boy in a Penn State football locker room shower. Again, they showed no concern about that victim. The evidence shows that Mr. Paterno was made aware of the 1998 investigation of Sandusky, followed it closely, but failed to take any action, even though Sandusky had been a key member of his coaching staff for almost 30 years, and had an office just steps away from Mr. Paterno's.
At the very least, Mr. Paterno could have alerted the entire football staff, in order to prevent Sandusky from bringing another child into the Lasch Building. Messrs. Spanier, Schultz, Paterno and Curley also failed to alert the Board of Trustees about the 1998 investigation or take any further action against Mr. Sandusky. None of them even spoke to Sandusky about his conduct. In short, nothing was done and Sandusky was allowed to continue with impunity.
In two paragraphs a legend was shattered. For those holding out hope that the speculation surrounding Paterno was nothing but hearsay saw their hopes and dreams evaporate in an instant.
"Our most saddening and sobering finding is the total disregard for the safety and welfare of Sandusky's child victims by the most senior leaders at Penn State," Freeh said at a news conference upon the release of the report. "The most powerful men at Penn State failed to take any steps for 14 years to protect the children who Sandusky victimized."
Now the sudden retirement of Sandusky in 1999 is suspicious at best; the first major step in a criminal cover-up at worst. Was he told to retire (with a golden parachute) so as not to still be on the University staff as he waded through the lobby of The Second Mile stalking his next victim?
We may never know.
But the Freeh Report does beg the question of how, knowing what the Dirty Four (Paterno, Spanier, Curley, and Schultz) knew about Sandusky's kiddie raping hobby, did they still allow him unfettered access to the football program's facilities? How did the Dirty Four allow this personification of pure evil even in their sight?
The finger-pointing and playing of the blame game is likely to go on for some time, but in the wake of the devastation there have been many loud voices demanding that Penn State not be allowed to have a football program any longer.
NCAA President Mark Emmert was dripping with disgust when he told PBS' Tavis Smiley that he has "never seen anything as egregious as this in terms of just overall conduct and behavior inside a university and hope to never see it again."
Emmert also kept the door open to the NCAA's Death Penalty, which has only been implemented five times at all levels of collegiate athletics. The most famous instance was in 1987 when SMU was not allowed to field a football team for two seasons after rampant and demonstrative improper benefits were lavished upon student-athletes.
Since the Mustangs' reinstatement in 1989, they have had only three winning seasons, two of them in the last three years. As it turned out, the NCAA's two-year ban morphed into a generation of complete irrelevance on the football field.
As it concerns Penn State, society's anger is both palpable and understandable. Terrible things were allowed to happen for terrible reasons. Justice, as much as it is possible, has to be served.
But justice is not served by killing off Penn State football.
In no small measure, State College, PA is on the map because of college football. It is their autumn industry; their very identity. And while the highest concentration of Paternoids reside in Happy Valley, on some level, their disbelief is understandable. After all, for many of them, their entire lives they have lived with the knowledge that Joseph Vincent Paterno personified all that was right and just in the world. Joe Paterno brought their tiny burg into the national spotlight for the first time and kept it there for more than 40 years.
And then, in the blink of an eye early last November, everything that Centre County thought they knew came crashing down like a tidal wave upon their reality. Some have at least come to terms with the truth. Many others have not.
The good (despite many misguided) folks that inhabit State College do not deserve to have their only identifiable commerce shut down because of the sins of others. And while sports may have been the backdrop for Sandusky's depravity, sports did not cause it. Football does not cause evil. Evil causes evil.
But moreover, shutting down Penn State football effectively kills all of the school's other teams as well. Non-revenue sports rely on the dollars that the football program brings in. This is universal throughout the country.
Killing Penn State football means that instantly hundreds of educational opportunities are gone and vanished into thin air. Because while the perception of football players is that they are nothing more than dumb jocks taking remedial classes just to stay eligible, that is simply not the case among the vast majority of scholarship athletes. The basketball, cross country, fencing, field hockey, soccer, and wrestling team members are not playing their sports as a means to make millions, but rather for the education they otherwise might not be able to afford.
Athletics is an avenue to education for these kids. How does taking away their chance to go to college serve justice? How does punishing kids that had absolutely nothing to do with Sandusky's sickening perversion set the ledger back to even?
As for the notion that "they can just transfer elsewhere," then someone else gets their education taken away at another school.
Anyone who had any hand in Penn State's sins of the past should be expelled immediately. Many already have, including the Dirty Four. Paterno's statue, along with the laughable inscription "Educator – Coach – Humanitarian" must come down as soon as the school can get a bulldozer and chain over to Beaver Stadium.
The NCAA at its core is a student-athlete advocacy organization. In order to fulfill that mission, sometimes hard decisions have to be made. What happened at Penn State was unprecedented, abhorrent, and nauseating. Jerry Sandusky's insidious acts can never be forgotten and must be held up to the rest of the nation as an example of how no one, even Joe Paterno, is above the law.
But in justice's quest for righting the wrongs of the past, we must realize that the symbolic devastation of a football program will not bring back the destroyed childhoods of the victims of Sandusky's wicked acts. It might make some feel better about what they may perceive justice to be, but what happened to these boys, now men, cannot be erased no matter what the NCAA does.
The Dirty Four have been fired. One of them is dead, his once sterling legacy tattered in ruins forever. Two others face criminal prosecution. Sandusky will rot away in prison for whatever is left of his pathetic life. As much as it is possible, justice has been meted out for those that deserve her wrath.
But don't punish the innocent. That has already happened enough for several lifetimes in State College.
Talkbacks
quickened | July 19, 2012 at 8:04 a.m. (report)
Taking away football damages more than just the institution itself. This directly attacks the players that have had no involvement with this terrible crime. Every Penn State football fan, player and anyone directly working with and for them will be negatively affected. For what? I think the guilty should be held responsible but we shouldn't impose actions that have an effect on those not involved. Let's those kids play some football.
TosaJim | July 18, 2012 at 4:17 p.m. (report)
Let them play football...but hurt them where it hurts the most...take the profits from the program and use it for therapy for the victims of Sandusky....take down the Paterno statue and there should be jail time for those who knew what was going on with Sandusky (including his wife)....then the Second Mile should be really investigated...there are people there who either knew of Sandusky's motives or participated themselves.
Facebook Comments
Disclaimer: Please note that Facebook comments are posted through Facebook and cannot be approved, edited or declined by OnMilwaukee.com. The opinions expressed in Facebook comments do not necessarily reflect those of OnMilwaukee.com or its staff.