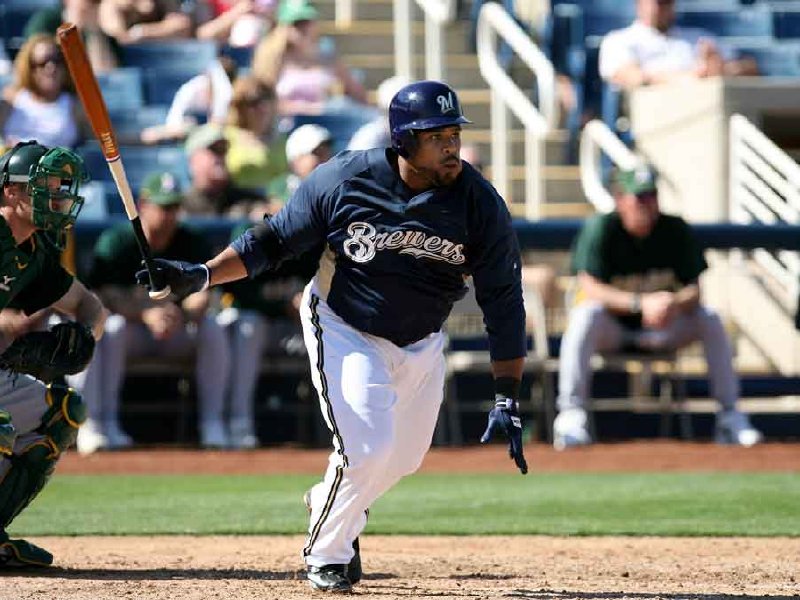 Brewers' Fielder displays appetite for success
PHOENIX - Prince Fielder has been around clubhouses long enough to know that players -- whether they are superstars or scrubs -- should be cautious around visitors carrying notebooks, tape recorders, microphones, cameras and recipes.
Wait a minute ...
Recipes?
After leaving a game last week at Maryvale Baseball Park, the Brewers all-star first baseman was approached by a reporter from a national sports Web site who wanted to talk about Fielder's well-publicized decision to become a vegetarian.
"Can this be my LAST vegetarian interview?" Fielder asked, rolling his eyes and feigning exasperation that turned into resignation. "
"Oh, well," he said. "I guess it's better than talking about my dad."
The national reporter had written an item about Fielder's decision and was surprised by the number of readers who responded with supportive e-mails and recipes, a handful of which the writer shared with Fielder.
As is usually the case, Fielder was open and funny with his responses.
Pesto pasta toss? "I like pasta," Fielder said. "I'll even substitute wheat pasta in there and make it more healthy."
White bean, tomato and goat cheese pizza? "I'm not eating that. I know I'm a vegetarian, but when you start mixing the goat cheese in there and stuff ... I'm just down with the regular cheese. I don't like to make it too fancy."
The next dish was a roasted ratatouille with basil. "I've seen the movie, but I've never ate it. I've always wondered what it was," Fielder said. "I'd probably try it, although I'm not sure about the eggplant.
"I don't like the eggplant. I like the taste, but then I get that saliva throw-up aftertaste in my mouth."
Since Fielder went public with his decision to give up meat, his diet has been a hot topic in the clubhouse -- and the public.
"People try to give me zucchini sandwiches," Fielder said. "I wouldn't eat that."
Page 1 of 2 (view all on one page)
Next >>
Facebook Comments
Disclaimer: Please note that Facebook comments are posted through Facebook and cannot be approved, edited or declined by OnMilwaukee.com. The opinions expressed in Facebook comments do not necessarily reflect those of OnMilwaukee.com or its staff.