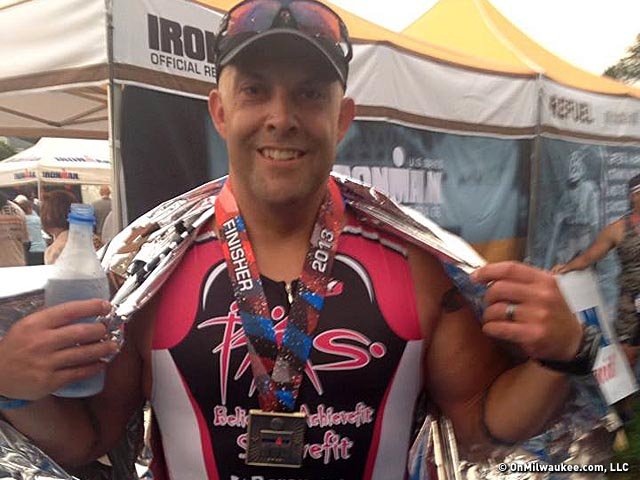 Surviving and thriving after cancer, Strutz inspired to tackle Ironman Wisconsin
In one of my first encounters with Laura Strutz, we were paired as partners in a training session at Wild Workouts & Wellness in Bay View, and she kept sliding more heavy plates on the barbell we were using for squats.
"This is one tough broad," I thought then of the powerful 50-year-old.
Her strength, I learned later, went well beyond the pounds she lifted that evening.
Strutz is a 15-year breast cancer survivor, a marathon runner, an ambassador of encouragement, an energetic advocate for others battling cancer and a soon-to-be Ironman.
Mike Wilkerson explains it best: "She's larger than life. In the best way, she's a caricature of someone who has this unwavering positive energy. It affects everybody she comes in contact with. She's a very lovely human being. In a world that tends to be very tragic and disparaging at times, she's a breath of fresh air."
Wilkerson, the sales director for Buffalo-based kitchen and bathware company Berenson Corp., met Strutz during the launch of a line of fixtures based on the stories of breast cancer survivors.
"Her design became something that was strong, but at the same time it has an elegance, a subtle sophistication," he said.
They talked during a trade show in Chicago and bonded over their passion for triathlons and the cause of helping those affected by cancer.
At the time, Strutz talked about taking a shot at Ironman Wisconsin and Wilkerson offered to support her, both professionally and personally. His company sponsored her entry fee, and he plans to swim, bike and run with her over the 140.6 miles around Madison on Sept. 8.
"I want to see somebody celebrating their 50th birthday and 15 years as a survivor, kicking the crap out of cancer with an Ironman medal around her neck," he said. "I'm excited to see her cross the finish line. That's what this is all about."
It's also about raising money for the After Breast Cancer Diagnosis charity, which provides counseling and support to cancer victims and their families. Partnered with the Ironman Foundation, Strutz has raised more than $4,000 and well surpassed her goal of $3,500. She also coordinates a Boot Camp for Boobies that raised money last month for a young woman disabled by an aneurysm.
As I've gotten to know Strutz, I've formed one other impression: tinges of anger mix with her positive, supportive attitude.
Understandably.
The mastectomy and TRAM flap reconstruction she underwent in 1998 left her with a scar running from hip to hip, a misaligned right shoulder and a loss of abdominal muscle. Beyond the physical pain, she carries the emotional scars of what cancer has done to her family.
Her mother died of lung cancer. Her older sister died of ovarian cancer. A brother has battled prostate cancer and another sister has fought lung cancer.
"That's a lot to bear," she said. "It's hard to think about, and wrap your head around. I need to sit down and process all of that."
Getting up, not sitting down, has been the best cure so far.
Before Strutz started on the path to Ironman Wisconsin, and nearly a decade after her mastectomy, she was in what she describes as a "dark place."
She'd gone through a couple marriages, four jobs in five years and still felt sick. She believes the effects of chemotherapy linger long after the powerful chemicals have stopped flowing into a cancer patient's veins, and the emotional trauma is equally devastating and persistent. She calls it collateral damage.
"People think, 'well, you survived, you should be happy,'" she said. "It's not that easy. It's not all 'happy skippy.'
"I was floundering; drinking too much."
Connecting with Wild Workouts owner Amber Budahn and a group of women who trained with her helped her feel better, physically and emotionally. She described them as average women with average lives who provided the kind of support she's offering to others now.
The workouts led to a half marathon, then the Chicago Marathon in 2011 and 2012, and a clarity and passion that had been missing for many years.
"She's a tough lady, big time," Budahn said. "But she worked hard to change herself. She's ambitious. Motivated. She's a whole new person and she's going to be strong and great wherever she is."
Budahn has no doubt that Strutz will succeed in her first Ironman attempt and the larger pursuit as an inspiration and role model.
The story that helped launch her own line of strong but sophisticated hardware carries her message, one that will be amplified after 140 miles: "I am not simply surviving…. I am living. I have found a way to give back, to help, and really help. I continue to share my story and to add new chapters. Breast cancer may win some battles but it doesn't have to win the game. The fire that it has unleashed in my belly to fight, for others and myself, is something that the disease cannot take away."
You can pledge donations to Team Strutz-Wilkerson as they take on the 140-mile Ironman here.
Talkbacks
BrewCityAllstar | Sept. 2, 2013 at 12:05 a.m. (report)
I work out at Wild, and have worked out with Laura. She is TOUGH!! and someone that motivates everyone else in the workouts to work hard. Much love for her and Wild. If you're looking to get in shape, this is the place to go.
Facebook Comments
Disclaimer: Please note that Facebook comments are posted through Facebook and cannot be approved, edited or declined by OnMilwaukee.com. The opinions expressed in Facebook comments do not necessarily reflect those of OnMilwaukee.com or its staff.