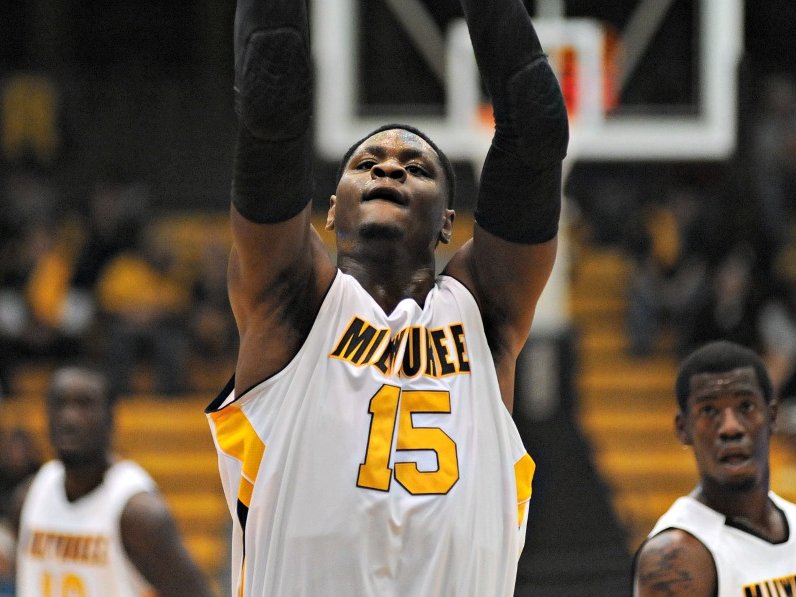 Panthers look for special night at Horizon League Tournament
Rob Jeter rubbed his hands together in the lobby of the Milwaukee Athletic Club. He didn't look tired or won, but he wasn't exactly the definition of exuberance. Perhaps it was the "right" look for a coach coming off a disappointing eight win regular season.
Yet in college basketball, there is a second season to prepare for and for the Panthers that's all that matters this week as Horizon League Tournament play begins.
"We're coming from more of an underdog position so we really don't have a lot to lose," Jeter said. "The other guys are more in a position where OK, we're trying not to be upset. Pressure, I don't know if there's much pressure on us but we want to win.
"Once we hit that point in the season where we knew it was going to be really difficult to recover from we've had a lot of pressure on us because we've been a program that's very proud, very successful. And I think what you've seen in the last couple weeks is OK, alright, now we just have to figure out ways to be better this game and get better each time out. That's why we're looking forward to the next opportunity."
Jeter leaned forward on his knees, and a little smile crept across his face.
"We've shown some consistency and if we can rebound and just have one of those special nights on the offensive end, we've proven we can play with a lot of teams up until a point," he said. "Now we've got to put 40 minutes together."
That next opportunity is Tuesday when UWM travels to the University of Wisconsin-Green Bay for the opening of the league tournament. It's another chance for Jeter and his basketball team to have that special night and create chaos for the upper half of the Horizon League.
"Every game we go into we think we're going to win regardless of our record," redshirt freshman J.J. Panoske said. "We think we're going to win every game. Now that it's tournament time, we also understand that anything can happen. March is a scary time for a lot of teams who are up top so we're going to just try knocking someone off each game at a time."
After struggling mightily through most of the season, the Panthers have played their most consistent basketball of the season the last several weeks in finishing the regular season 3-3.
"We've been playing a lot more consistent on the offensive end," Jeter said. "Earlier in the season it was offense and defense. We really couldn't really score and defensively we were really having issues trying to rebound the ball. Well, the defensive issues are still the same. We're still having a hard time rebounding the basketball but offensively we've been a lot more efficient."
The Panthers head into the tournament hoping to avoid – and learn from - the disappointment of the78-61 regular season finale loss to Green Bay on Feb. 26. It was a five point game with just over six minutes left before the Phoenix went on a 15-1 run to blow it open.
"For us it's focusing on putting 40 minutes of basketball together because there only a number of games this year where - I think we count on one hand - where we've put 40 minutes of great basketball together," Panoske said. "The biggest thing is making sure each one of our guys is ready when we go out there. And, at the same time, we just have to play basketball and we can't think about it too much."
It was a familiar story for the Panthers. There was the early seven-point loss at South Carolina, a five-point loss to Jacksonville in Mexico, a two-point loss to Wright State, a three-point loss to Youngstown State and numerous other games where a breakdown wiped out previous good play.
"The difficulty is having the right habits to get it done," Jeter said of getting over the hump. "That's the issue. It's never been an issue for teams to 'Let's go' and get 'em fired up, but they have to have the correct habits. Being as inexperienced as we are, and young, they don't quite have the right habits. We don't have the right habits to win, and as a result you see the rollercoaster we have in games where we play well for six minutes and then we end up losing a game by 17."
Jeter and Panoske allowed for the fact that the team will be able to draw some extra energy from the knowledge that their season now comes down to one game, but they are at a disadvantage without injured players James Haarsma and Thierno Niang.
Jeter also said Kyle Kelm has never been quite right since returning from his own injury and the team's overall ability to rebound on the defensive end continues to be a weakness.
Despite not being completely healthy, Panoske feels that there has been room for the Panthers to improve between that regular season loss and the start of the Horizon League Tournament.
"We all have to do things a little bit better and a little bit more non-habit like with our bad habits," he said. "There are little things that we'll do that other teams aren't doing and that's the thin line that's separating a loss from a win."
Facebook Comments
Disclaimer: Please note that Facebook comments are posted through Facebook and cannot be approved, edited or declined by OnMilwaukee.com. The opinions expressed in Facebook comments do not necessarily reflect those of OnMilwaukee.com or its staff.