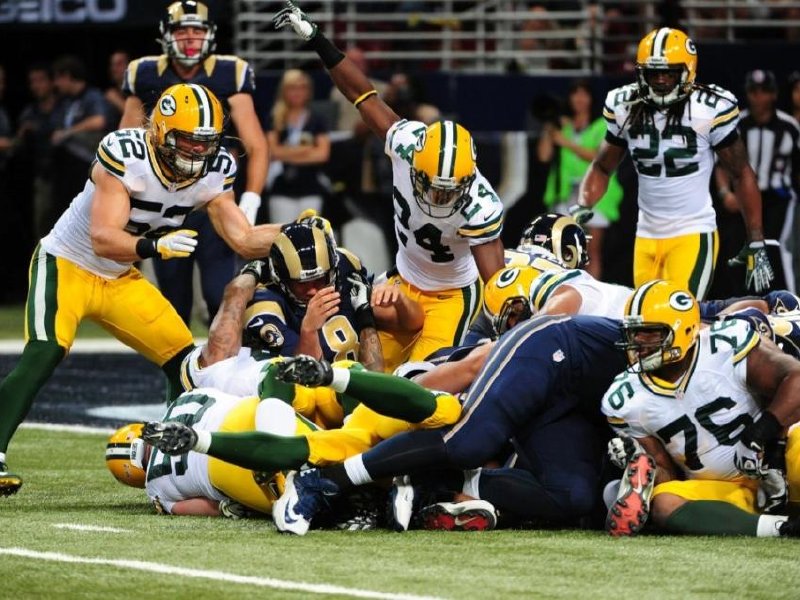 What we learned about the Packers in the preseason
After months of non-stop football shoved down our throats, the stuff that matters is actually here – Week 1 of the 2013 regular season.
The Packers begin their season for the second straight year with the San Francisco 49ers on Sunday. Due to the limited playing time of many key players during the preseason, there are still some questions to be answered even now, but here are three things we learned about the team through the offseason.
1. There is depth on the defensive line
Last year's second round pick Jerel Worthy was placed on the physically unable to perform (PUP) list to start the season, but the team doesn't seem like they'll miss the kid. With Johnny Jolly back and this year's first round pick Datone Jones showing some aggression, the rotation up front seems to be as strong as its been in a long time. B.J. Raji, C.J. Wilson, Mike Daniels and Ryan Pickett all are healthy, motivated, and playing well – so much so that Mike Neal was moved to linebacker.
2. The secondary is boom or bust
Tramon Williams is the most experienced player in that secondary, and Morgan Burnett is now calling the shots at safety in place of Charles Woodson. Then you've got a bunch of young players like Casey Hayward, Davon House, Sam Shields, M.D. Jennings and Jerron McMillian who seem just as capable of putting on a big hit, forcing a fumble or coming up with an interception as they are giving up big plays due to mental mistakes. This group will need the big boys mentioned above to create pressure as they mature into their roles.
3. There is absolute faith in Aaron Rodgers
How could we just "learn" this in 2013? We all knew Mike McCarthy trusts his quarterback implicitly, but you could say this preseason that was highlighted to the extreme. The former league Most Valuable Player only threw 24 passes (and 45 snaps) in three games and there was no desire by the coaching staff to run him out there just to score a first team touchdown. Jordy Nelson didn't play a game after minor knee surgery. Randall Cobb barely saw any action with a tweaked biceps. Running back Eddie Lacy is still a rookie and tight end Andrew Quarless hasn't played a regular season game since Dec. 4, 2011.
That's a lot of big pieces in this offense that hasn't played much together, so it all falls on No. 12's shoulders this Sunday to not only pull it all together, but put them all in the end zone.
On July 25, I posed a few questions it would've been good to get a feel for by this week. Let's take a quick look at where we stand on those:
1. How quickly will the offensive line flip mesh together?
Unfortunately, it's hard to say. New left tackle Bryan Bulaga blew out a knee on family night, and suddenly a rookie named David Bakhtiari was thrust into the spotlight alongside Josh Sitton. The fourth-round pick out of Colorado has proven to be up to the task, as much as you can prove in just 24 Aaron Rodgers drop backs all preseason – so unfortunately the fearsome pass rush of the 49ers will truly tell us where they stand.
"I think the biggest leap was the first two weeks of training camp but there's still work to be done on that side," Sitton said. "I'm still not 100 percent comfortable. It's different when you get out at game speed, especially with all the no huddle stuff we do. You've got to be able to go out there and play without blinking and you don't have any time to think. It's all muscle memory. We'll get to that. (There) are still things that need to happen and things that I need to work on."
2. What kind of player is Nick Perry?
Perry was more than excited to get back on the field after his rookie season was cut short due to injury, and the second-year linebacker out of USC looked powerful at times and seemed to have a nose for the ball with seven tackles and a pass defense in limited time through the first three preseason games. He's healthy and more comfortable in Dom Capers' 3-4 scheme. With Clay Matthews often commanding double teams, Perry seems like he's ready to make an impact.
3. Can Jeremy Ross be the primary kick returner?
Maybe? Randall Cobb is still listed as the No. 1 kick returner on the depth chart and Johnathan Franklin and Alex Green also got some looks on kickoffs and Micah Hyde and Franklin received punts. Who is fielding kickoffs is less of a concern than punt returns for a variety of reasons, the most important being Cobb's health as perhaps the team's No. 1 receiver. (he injured an ankle late in the season on a punt return last year). But, Ross had a costly fumble in the Packers' playoff loss to the 49ers, so has he done enough through camp to prove he can hang on to the ball in traffic?
4. Will Mason Crosby return to form?
Again, hard to say. He won the camp competition over Georgio Tavecchio (and then, briefly, Zach Ramirez) but his only in-game action before that decision was made was a 3-for-3 performance indoors in St. Louis. Crosby had been fairly reliable since winning the job back in 2007, but we won't really know if he's over the precipitous drop he suffered last year (63.6 percent) until he's faced with regular season pressure.
5. Which running back will emerge?
With an impressive 40-yard performance in Week 2 of the preseason against St. Louis, Lacy capture the imagination of many outside the Packers locker room – but DuJuan Harris always had McCarthy's heart. Unfortunately, Harris re-injured a knee the next week against Seattle and was put on injured reserve.
"It sucks, honestly," Sitton said of losing Harris. "He's a hell of a player and he was going to be a big part of this offense, but you know you've got to move on. We know, I think more than body, you've got to move on fast, so the other guys will step up and play."
Lacy seems to be the guy now, along with veterans Alex Green and James Starks. Rookie Johnathan Franklin didn't show much out of the backfield, so if he's not returning kicks he may be inactive on most game days.
Talkbacks
popegreg | Sept. 2, 2013 at 8:37 p.m. (report)
No mention of Micah Hyde in the secondary? I think he had a standout camp/pre-season and he's the one to watch in that secondary. Also, regarding your last parargraph - Alex Green is now with the Jets, so I doubt he'll get many carries for the Packers. :)
TosaJim | Sept. 2, 2013 at 3:08 p.m. (report)
It will be interesting to see what Crosby does....not that he has incentives to make more money. If the offensive line has a great year..the Pack will be in the Superbowl....they need a strong offensive line...period.
Facebook Comments
Disclaimer: Please note that Facebook comments are posted through Facebook and cannot be approved, edited or declined by OnMilwaukee.com. The opinions expressed in Facebook comments do not necessarily reflect those of OnMilwaukee.com or its staff.