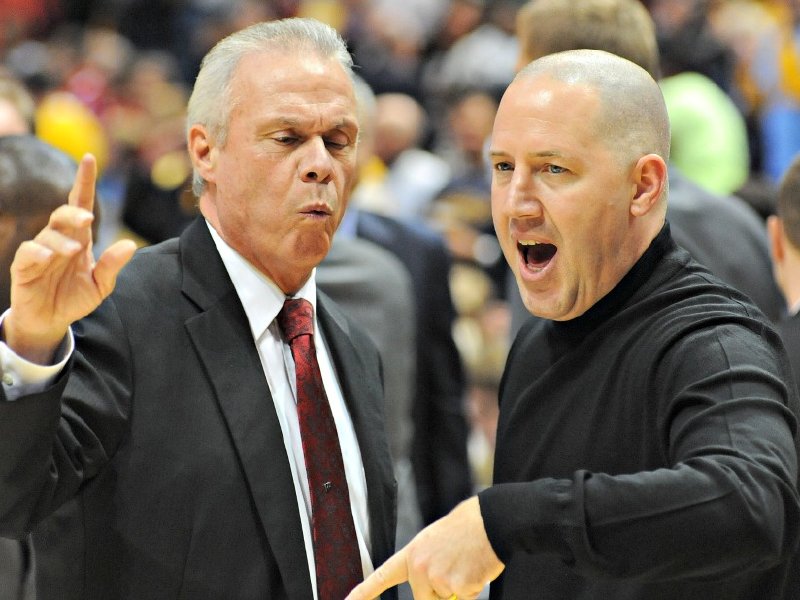 NCAA Tournament: Marquette earns No. 3 seed; Wisconsin No. 5
Sitting together a long table beneath a giant screen at the Marquette University Union Sport Annex, the men's basketball team enjoyed dinner with one another while watching the selection show on CBS slowly unveil the brackets for the 2013 NCAA Tournament.
Big East rival Louisville was named the tournament's top overall seed and was sent to the Midwest Region, and when the four and five seeds of St. Louis and Oklahoma State were announced in that bracket at least one friend of the program shouted "Yes!", knowing the Golden Eagles would not be in the same region as the Cardinals, Duke or Michigan State.
The South Region was unveiled next, and several players expressed some disbelief when Michigan was given the No. 4 seed and sent to nearby Auburn Hills, Mich.
Then, as the East Region was slowly revealed, the room got quiet once Syracuse and UNLV were given the fourth and fifth seeds, respectively – only to be punctuated with a loud roar when Marquette was awarded the No. 3 seed in the bracket.
"We never thought we would get a three seed," senior point guard Junior Cadougan said. "God bless and we just gotta come out and take advantage of that. That's big time."
Head coach Buzz Williams said the high seed was well earned by the Big East regular season champs.
"I think it's deserving," Williams said. "I think that the committee is much more aware and probably paying more attention to out of conference scheduling and I think that in our tenure here, each year we've become more accountable to that. The problem is, is when you go on the road you're probably – at times – going to get smacked like we did at Florida. But in the end it comes back and helps you because it proves to the committee that you were willing to try."
The Golden Eagles will face 14th-seeded Davidson in Lexington, Kentucky.
The Marquette players were happy to see that a potential third round opponent would be Butler, which handed the Golden Eagles a tough loss on a buzzer-beater in the Maui Invitational – though once in front of the cameras Cadougan wouldn't admit as much.
"I'm not worried about that," he said with a little laugh. "I'm worried about Davidson right now."
In order to keep advancing, the Golden Eagles will have their hands full with a potential regional semifinal matchup against either No. 2 Miami or dangerous programs in No. 7 Illinois and No. 10 Colorado.
In order to get to the Final Four, the Golden Eagles may have to face either Syracuse or former Marquette coach Tom Crean and the top-seeded Indiana Hoosiers.
It's a tough road to go, but with a No. 3 seed this year – and coming back-to-back Sweet 16 appearances – there is an expectation that this team takes another step further in the tournament.
"There should be that kind of pressure," forward Jamil Wilson said. "I feel like we've been playing under pressure all year. Since the Big East started they predicted us to be seventh in the league and we actually ended up sharing a piece of it. In the last stretch where we had to depend on other teams beating teams and worry about the teams beating us, so I feel like there's always been pressure on us. But this is amount of pressure, being here, going through this same situation again, I feel like that – I say the pressure has mounted more, I guess. We're just going to have handle it the right way playing as a team."
Wisconsin: Shortly after losing to Ohio State in the Big Ten Tournament championship game, the Badgers (23-11) were awarded the No. 5 seed in the West Region and will face the 12th-seeded University of Mississippi (26-8), the Southeastern Conference Tournament champions.
A third round matchup with No. 4 Kansas State – coached by Milwaukee native University of Wisconsin-Milwaukee alumnus Bruce Weber – looms after that.
The Wildcats fell to Kansas in the Big 12 Tournament championship on Saturday.
"We normally get up for the bigger games," Badgers guard Ryan Evans said. "We've got guys that are ready to play in the bigger games. We took down top seeds all year, so it's a lot to look forward to".
Top seeded Gonzaga or No. 8 Pittsburgh will probably await in the Elite 8. The No. 2 Buckeyes, No. 7 Notre Dame and No. 3 New Mexico would be the favorites in the other half of the West Region.
"We proved in this (Big Ten) tournament that we can make some shots against some pretty good teams," Badgers coach Bo Ryan said.
"Last time I looked, Michigan and Indiana were pretty good: So we're going into the tournament, different opponents, different area probably, whatever. This is when you start practice, you kind of think conference and you think conference tournament, then you hope you're in the NCAA based on what you do during the year. Our guys earned a trip. Let's see what we can do with it".
Facebook Comments
Disclaimer: Please note that Facebook comments are posted through Facebook and cannot be approved, edited or declined by OnMilwaukee.com. The opinions expressed in Facebook comments do not necessarily reflect those of OnMilwaukee.com or its staff.