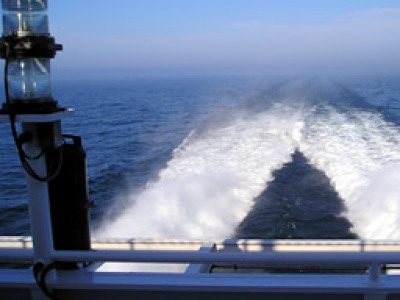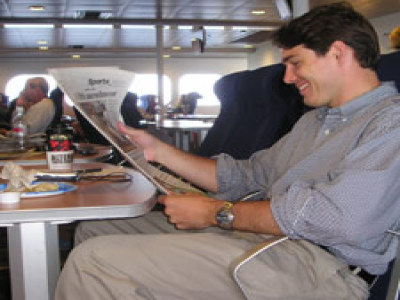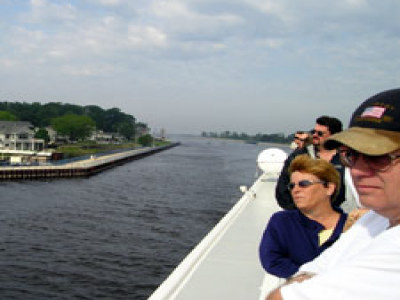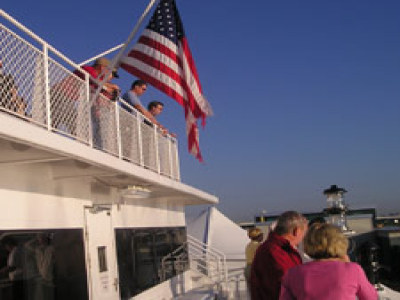 Lake Express offers fast and comfortable cross-lake trip
Before the Lake Express Ferry sailed into service this summer, getting to the western shores of Michigan meant one of three options: a long drive through Chicago; a long drive to Manitowoc and a slow ferry to Ludington aboard the S.S. Badger; or an expensive plane ticket best purchased well in advance.
The easy choice is now the fastest choice: aboard the 192-foot-long high-speed ferry. The whole trip to Muskegon takes only two and a half hours, about the time it takes to drive through Chicago alone. For us, it was a last-minute camping trip in the Upper Peninsula and back to the Michigan coast. But for business travelers and others who want to see the other side of Lake Michigan, the Lake Express is an intriguing alternative to the old stand-bys.
You can order your tickets by phone or online, and though it's not recommended, it's possible to order them at the dock, 2330 S. Lincoln Memorial Drive, in Bay View, as well. Tickets are non-refundable and non-transferable, and there is a $10 fee for any change you may make to your reservation.
The ferry departs at 6:30 a.m., 12:30 p.m. and 6:30 p.m. But suggested arrival is half an hour before departure.
The car loading area is well marked and self-explanatory, and the attendant at the boat entrance points passengers in the right direction. Be prepared for a quick search of your car -- nothing too invasive, just a look in backseats and trunks for something obviously out of whack. The deck can carry 46 cars, and it was completely full on our voyage.
The passenger deck is attractive, with plenty of room for up to 250 people. With no assigned seats, you can choose from chairs that face each other around desk-high tables. Others are arranged more like you would see on a plane or train (all facing one-way), along the windows. The arrangement makes it easy to do whatever you need to do: read the paper, use your laptop, eat some snacks from the snack bar, play cards, write a letter or even take a nap.
You can also use your cell phone -- at least during the first and last 20 minutes of the trip -- depending on the quality of your carrier's service.
A business-class section offers a separate seating area, larger and more spacious seats, as well as AC outlets for laptops, but no Wi-Fi Internet access.
The snack bar offers a wide variety of choices, including made-to-order sandwiches, fresh bagels, juices, sodas and Alterra coffee and bakery.
In terms of on-ship entertainment, the ferry features plasma screen televisions planted in all directions, showing family-friendly movies. But despite the activity, we were impressed by the low noise level aboard the boat. You can actually read the paper, watch a movie or do your work with little distraction. Perhaps it's the lull of the waters, but the ride was smooth and peaceful. There is no smoking on the passenger deck, but people can smoke outside on the stern deck.
Our only negative experience aboard the ferry came before we even set sail, when we encountered a problem bringing our two dogs along.
We learned the hard way that dogs must be kenneled and left on the car deck level. Unfortunately, the ferry staff and the Web site had explained that passengers could leave their dogs in the car with the windows half-way down. Apparently the policy had changed, and dogs could only stay in cars on days that weren't too hot -- and even then, all car windows must be completely rolled up.
But it was a hot day, so after some debate, we put the dogs in the kennels and made our way to the passenger deck. The helpful staff sat with the dogs on the car deck the entire time -- apparently they have a person always on the car deck keeping an eye on the vehicles in case of fire. In fact, an employee even took the time to come upstairs, find us and report that the dogs had stopped crying and were doing fine.
(Incidentally, the Lake Express has updated its site with information on pet policies: it now costs $7.50 per kennel for a one-way trip and $15 for a round trip. Kennels are limited, so be sure to mention you need a kennel when buying your tickets.)
On our trip, the 100 or so passengers seemed about evenly split between business and pleasure. Among the people we talked to, everyone agreed, the trip, while not cheap, is about as easy as it gets.
The cost is $50 per person one-way, or $85 round-trip - business class is $65 and $120. Kids under 4 are free. Kids 5-15 years are $24 one-way, or $40 round-trip. Seniors get a $3 discount.
To bring your car, however, it'll be another $59 one-way, or $119 round-trip. Add a trailer and it's another $50 each way. Motorcycles are $30 each way, and a bike is $7.50 each way.
You decide if it's worth the cost. For us, it was worth the convenience.
To make reservations, call (866) 914-1010 or make them online. The Lake Express Ferry Web site is lake-express.com.
Facebook Comments
Disclaimer: Please note that Facebook comments are posted through Facebook and cannot be approved, edited or declined by OnMilwaukee.com. The opinions expressed in Facebook comments do not necessarily reflect those of OnMilwaukee.com or its staff.