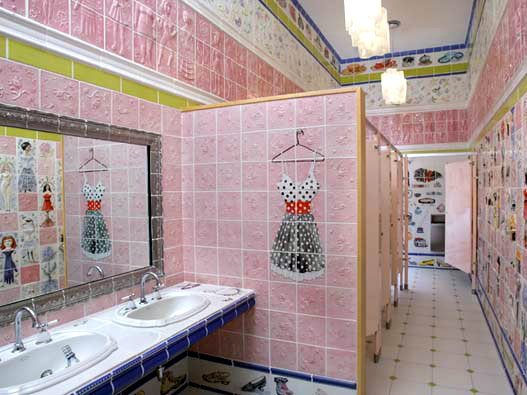 Fall brings beauty through the arts
One could argue that the Wisconsin landscape becomes an artistic canvas in the autumn.
But, several sites around the state of are offering a chance for travelers to catch a glimpse of the work of artist-environment builders this Fall. A long weekend road trip offers the perfect opportunity for the inquisitive to check out these exhibitions, and some of the sites:
John Michael Kohler Arts Center, Sheboygan -- "Sublime Spaces & Visionary Worlds" at the Arts Center is the perfect starting point for this fall driving tour. Visitors can learn about artist-environment builders, and view the 16,000-sq.-ft. exhibition featuring the works of 22 artists who transformed their homes, yards and other available spaces into large-scale, multifaceted works of art.
James Tellen Woodland Sculpture Garden, Black River -- In the lush woods of Black River, James Tellen created a handcrafted log cabin with an array of concrete figures in the yard and woods. The property is still populated with Tellen's renditions of braves and frontiersmen, religious and patriotic icons, and various creatures.
Tellen imaginatively integrated his sculptures into the forest undergrowth, creating poignant, spiritual, and sometimes humorous tableaux among which viewers can stroll. This environment, just south of Sheboygan, is the only intact site that is part of the Arts Center's permanent collection.
The Painted Forest, Valton -- Nestled in the rolling hills of south central Wisconsin in the predominantly Amish village of Valton is the treasure known as The Painted Forest. The captivating murals of itinerant self-taught painter Ernest Hüpeden are housed within a simple white frame building built by the Modern Woodmen of America, a fraternal order.
Hüpeden's images tell the story of the Modern Woodmen rituals. The Painted Forest, preserved by Kohler Foundation, is now part of a study center and home to an artist-in-residence program stewarded by Edgewood College in Madison.
The Forevertron, Baraboo -- Through an elaborately fabricated persona of a late 19th-century scientist and visionary he calls "Dr. Evermor," artist Tom Every created a sculptural environment with proportions as grandiose as his imagination. Every was raised in Madison and nearby Brooklyn, Wis., and inherited a family ethos of "save everything and make-do."
From youth, he learned the value of castoff materials, and an early affinity for recycling charted an artistic course that has culminated in a series of "mechanical fantasies" in North Freedom, Wisconsin, near Baraboo. The grandest of these is Every's legacy: "The Forevertron," a nationally-recognized commanding iron structure that reaches skyward some 50 ft. and spans approximately 7,200 sq. ft.
Grandview, Hollandale -- Nick Engelbert changed his name from Engelbert Koletnik after moving to the United States to start a new life with a new American identity. He settled in Hollandale, Wis., where he was a dairy farmer. There he began to embellish his home and create a concrete art environment on his property, which he dubbed, "Grandview," loving as he did the pastoral Wisconsin landscape.
Mythological figures, political characters, and animals are among the citizens of his sculptural garden. At age 70, physically unable to continue sculpting, Engelbert began work as an oil painter, focusing on everyday narratives.
The Engelbert family gave 74 paintings and four sculptures to the Arts Center for its permanent collection. Engelbert's yard environment was preserved by Kohler Foundation and is now owned and operated on its original site by a local foundation.
Wisconsin Concrete Park, Phillips -- This writer reported about this park in the Northwoods a few years ago. Fred Smith created his amazing Wisconsin Concrete Park with over 200 life-size and large than life-size concrete sculptures. Embellished with paint, glass, and historic farming and logging implements, the figures portray loggers and farmers, native chiefs and a double wedding, figures from art, film, legend, and much more.
Smith blended history and his imagination, giving Paul Bunyan and Sacagawea equal billing. Smith's environment lives on in its original location, cared for by a non-profit group, The Friends of Fred Smith. The Arts Center cares for several works that were either never on the site itself or have been selected for indoor preservation.
In addition to these exhibits and sites, other artistic communities are active in the Fall. During the third weekend in October, Mineral Point, along with Dodgeville, Spring Green and Baraboo, is a picturesque setting with miles and miles of magnificent color, combined with some of Wisconsin's most talented artists.
Approximately 40 artists open their studio doors and demonstrate their craft for visitors on the Fall Tour. Now in its 12th season, the tour celebrates the work and lifestyles of some of Wisconsin's best-known artists, working in unique studios -- an historic brewery, restored downtown buildings, and an old schoolhouse just to name a few. Maps and tour information are available at the Mineral Point tour headquarters, Chamber office, or any participating gallery.
In September, the Sharon Lynne Wilson Center for the Arts of Brookfield hosted the Wisconsin Fall Art Festival. The festival is a new get-away weekend event celebrating Wisconsin culture through the arts hosted by the Wilson Center, the Brookfield Convention and Visitors Center and the city and town of Brookfield. More than 100 Wisconsin artists participated.
Of course, museums in Milwaukee, Madison and other communities around the state also provide access to arts of all kinds, no matter what the time of the year.
Facebook Comments
Disclaimer: Please note that Facebook comments are posted through Facebook and cannot be approved, edited or declined by OnMilwaukee.com. The opinions expressed in Facebook comments do not necessarily reflect those of OnMilwaukee.com or its staff.