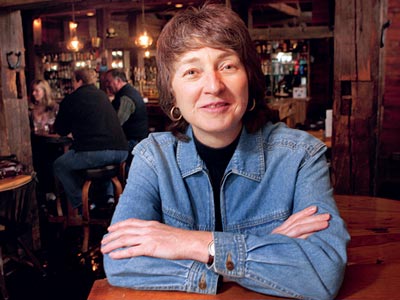 Bergin's book tracks Wisconsin's culinary surprises
Jamaican jerk chicken in Hager City? Turkish food in Hayward? A Czech bakery in Bloomer? We all know Wisconsin is -- like the other 49 states -- a melting pot of immigrant cultures spanning centuries.
But Madison author Mary Bergin -- a Sheboygan County-born journalist -- brings the state's culinary diversity into focus "Hungry for Wisconsin: A Tasty Guide for Travelers," published in paperbacj by Itchy Cat Press.
The book - like its predecessor, 2006's "Sidetracked in Wisconsin" -- grew out of Bergin's syndicated "Roads Traveled" newspaper column about the state's gems.
"Culinary tourism is growing in popularity, for good reason: People eat while traveling, and they've discovered that food can educate and entertain as well as provide sustenance," says Bergin. "I have long loved the stories and trends that are a part of food, and food features ran daily when I was features editor at The Capital Times in Madison.
"So it made sense to put together another book, focusing just on food. I think we have a lot more going on in Wisconsin than the average person realizes.
Bergin says her goal was to shed light on some of the more surprising aspects of culinary Wisconsin.
"My aim was to come up with an eclectic mix of subjects and to break a few stereotypes. Rural Wisconsin, for example, contains great fine dining spots. Some people don't see it that way," she says.
So, while southeast Wisconsin readers may be familiar with her local stops -- Sanford, Three Brothers, George Watts & Son, Penzeys, etc. - featurettes on the cranberry science classes in Pittsville, Mr. Ed's Tee-Pee Supper Club in Tomah and Beef-A-Rama in Minocqua will likely be exciting new finds.
What binds together the restaurants, groceries and markets, artisan food producers and others in "Hungry for Wisconsin" is quality.
"I'd like to think that what everybody in (the book) has in common is integrity of product," says the author, who admits that quality is often in the eye of the beholder.
"Food is such a passionate topic for so many people. The memories and traditions that we associate with food can be just as important as the quality of what we eat. But what we consider 'good food' can be defined so differently, depending on life experiences and the people who have influenced us along the way. I try to respect all of it."
With well over 100 eateries, farms and markets featured in "Hungry for Wisconsin" no reader will be able to resist making a Wisconsin travel "must-see" -- or better yet, "must-taste" -- list.
But certainly the author has a few favorites of her own amid this cornucopia of culinary delights in America's Dairyland ...
"My personal favorites? Dangerous question," she says. "So much depends on my mood, the season, the reason for being out. I had my book picture taken at Quivey's Grove in Madison because it's a personal favorite when I have a birthday, or Christmas rolls around. That said, it's certainly not my only favorite."
And as for the little surprises mentioned back in the first paragraph:
Harbor Restaurant and Bar, owned by Joe Smith, dishes up Caribbean cuisine in Hager City, near Red Wing, Minn.; Marge Gogian -- the daughter of Armenian parents raised in Turkey -- runs the eclectic Turk's Inn in Hayward; and Mike and Sally Hable have been making European treats at Bohemian Ovens in Bloomer for more than a decade.
All three are in the northeastern part of the state.
Facebook Comments
Disclaimer: Please note that Facebook comments are posted through Facebook and cannot be approved, edited or declined by OnMilwaukee.com. The opinions expressed in Facebook comments do not necessarily reflect those of OnMilwaukee.com or its staff.