Every year, Black Friday has become one of the most anticipated days on the beer calendar, with a slew of interesting – and often barrel-aged, boozy or both – brews on tap.
This year, The Explorium Brewpub – with two locations, one Downtown and one in Southridge Mall – is going big.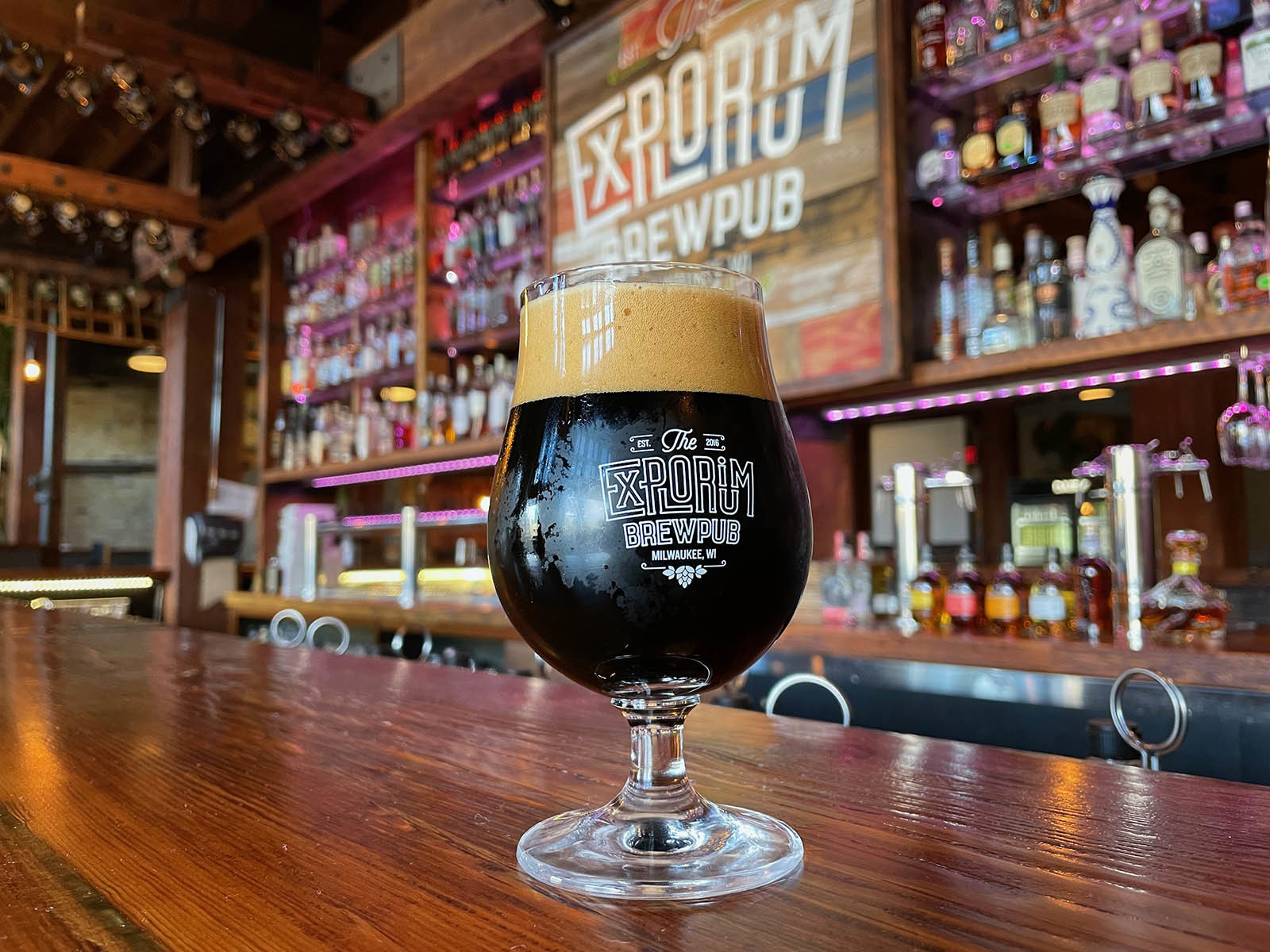 (Scroll down to see a list of Black Friday beers from area breweries.)
For the fourth straight year, The Explorium is releasing its Milwaukee County Stout, but for the first time, it's doing eight variants, each aged in a different whiskey barrel.
The Explorium will release two of the variants and six partners will each get an exclusive to launch on Black Friday.
The partners supplied their own barrels and will each release the resulting brews on their own schedule that day.
The Explorium will release Knob Creek (blue can) and Wheat Whiskey (gold can, the origin of the barrel is unknown beyond that it housed a wheated whiskey) variants at 6 a.m. (Greendale) and 8 a.m. (Downtown) on Friday, Nov, 26.
Both versions will be available at both locations in 16-ounce cans for $12 each. Four-packs with two of each will also be available.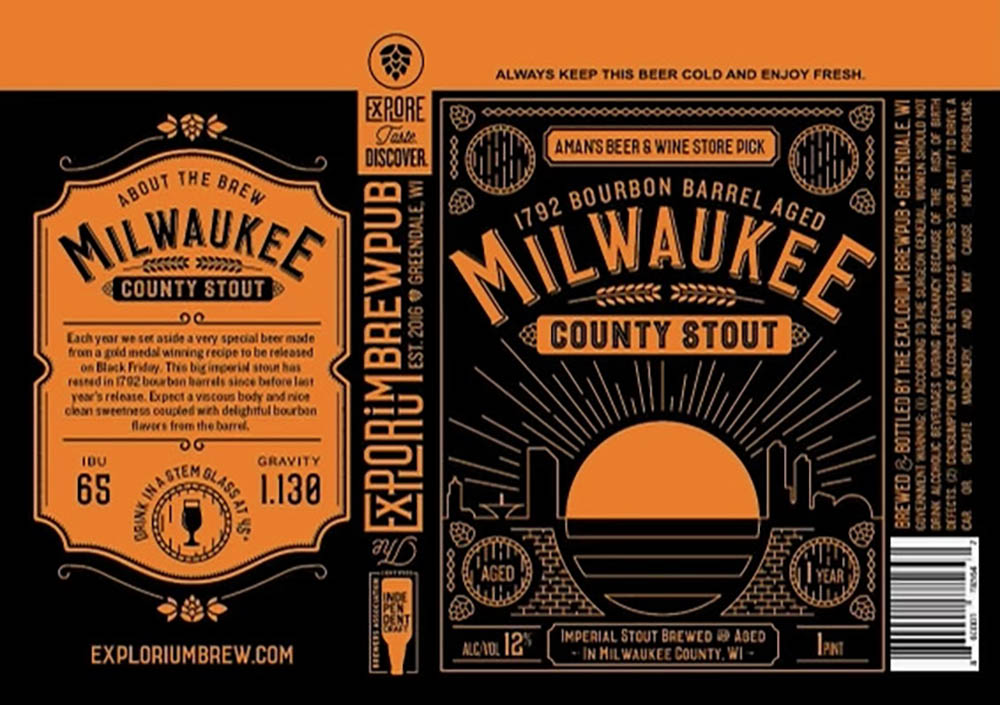 Consumer Beverage in Hales Corners will release a variant aged in a Four Roses barrel (purple), Aman's in Wind Lake (copper) will have beer aged in a Barton 1792 barrel, The Stillery's (Richfield) variant was aged in a Buffalo Trace cask (green), Timer's (Racine) has Eagle Rare-aged stout in a silver can and Total Wine's (Greenfield) version (red) was aged in a Dirty Helen cask from Great Lakes Distillery. Jeff's Spirits on Main (West Bend) also has a Knob Creek variant (blue), but aged in a different barrel.
"Last year we did a test run of a 'store pick' for Total Wine, and it was a huge success," says The Explorium's Doble. "This year we've grown the program to include a bunch of partners in the industry to include in this program."
That first collab was the result of a phone call from Total Wine. They had a Buffalo Trace cask remaining from a barrel buy and offered it to Doble.
"We said, well, 'we have our Milwaukee County Stout coming out and why don't we age some beer in that barrel, then we'll sell you those bottles and you guys can release those at store.'
"They were like, 'Well, that's great. We also have a Maker's Mark barrel. You want that one too?' So we ended up taking two barrels worth – 106 gallons – of Milwaukee County Stout, put it in those two barrels, sold them the bottles and then they released them on Black Friday."
The response was huge, so for this year's release, The Explorium approached a number of regular customers about expanding the program for 2021.
"It was actually about this time last year, we went to them and said, 'Hey listen, we're doing this pilot with Total Wine. We think it's going to turn out pretty well. So as you get single barrels in of stuff that you've bought, if you get us the barrel, we'll age it for you," says Doble.
"When it's all done, we'll let you taste it. If it doesn't turn out or whatever, right? You're not committed to buying it. But if it does turn out, and you want it, there's going to be a minimum buy. And then we will make it known in the market that you are going to have Milwaukee County Stout for sale on Black Friday."
While I didn't get to taste them all, Doble did bring a bottle of last year's and a sample of the Timer's version, aged in an Eagle Rare barrel from Buffalo Trace Distillery.
"I'm very jealous of Timer's getting an Eagle Rare barrel, by the way," says Doble with a laugh. "They managed to convince the liquor rep to sell them a barrel."
You can tell he's especially enamored of this one because it's the one he brought along in a plastic carryout food leftovers container for me to try. And it's easy to see why. It's rich in chocolate notes and although it's got a sweet bourbon edge to it, it's not overpowering.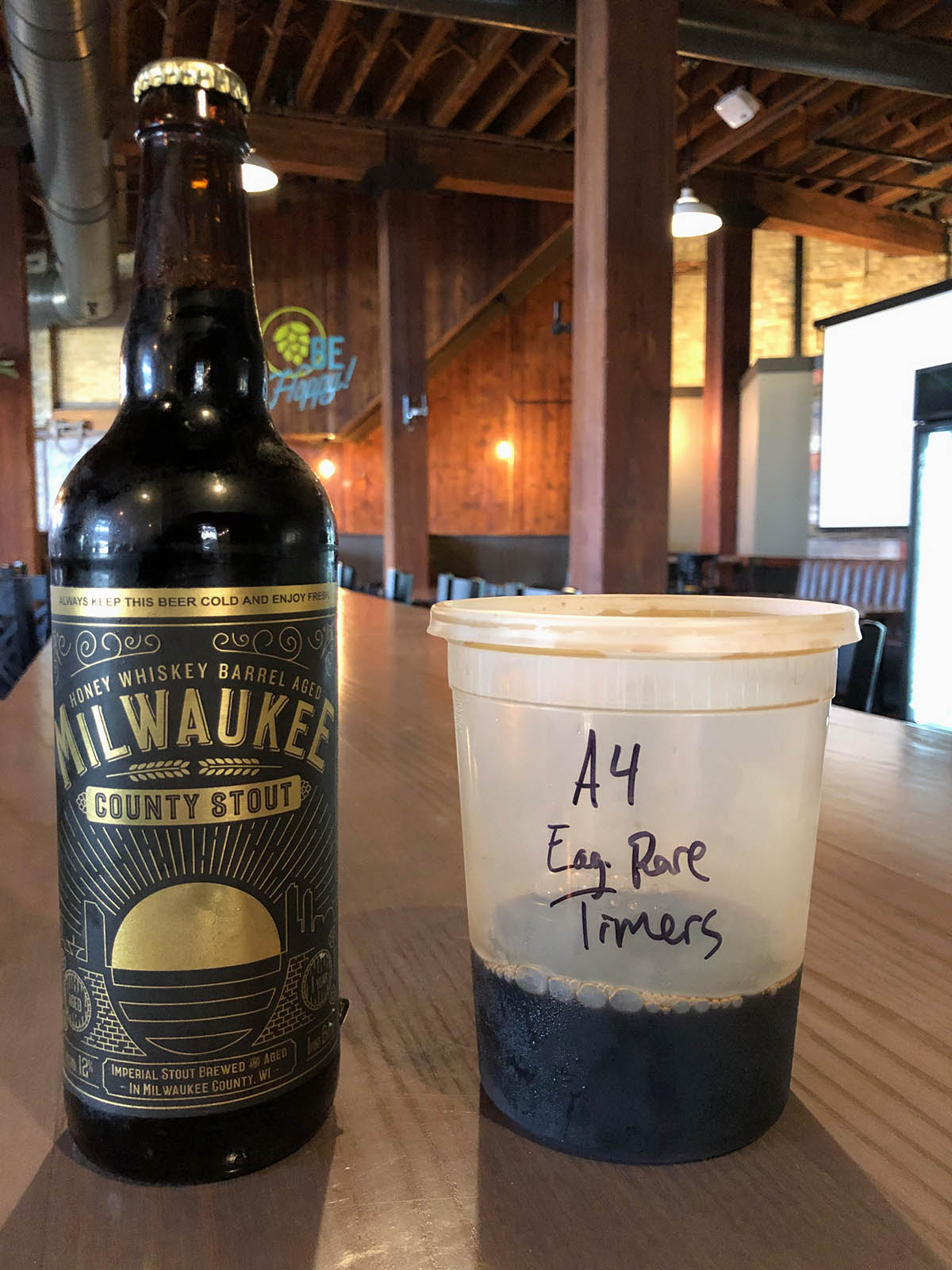 A week later, when Doble told me the Wheat Whiskey variant was his favorite, I said I thought he was partial to the Timer's. He replied with a laugh, "yeah, it's really good, too. Like picking a favorite kid."
"They are all distinctly different," Doble says. "My favorite is the Eagle Rare, it's super nice. It depends on how fresh the barrel was when we filled it and this barrel was super fresh. We had proposed the idea to Timer's and they're like, 'Yeah, we're getting this Eagle Rare barrel any day now, we don't know when.'
"(One day we) had gone to the store, dropped off a delivery, and as we were leaving, about 10 minutes later we get a phone call. 'Hey, our Eagle Rare barrel just arrived. Do you want to turn around and come grab it?' So, it was actually in our truck longer than it was in their store. We grabbed it right away and we actually were able to fill it that week. So, it really captures a lot of the essence."
The original beer is also slightly different than in previous years, says Doble, because with every annual batch they tweak the recipe a bit.
"It takes time to develop a recipe like this," he says, adding that he keeps a few bottles behind each year to be able to compare them and to see how they age over time in the bottle.
"I want to see what the beer does over the course of years," Doble says, "and then based on how it develops, we can change the recipe in future years to develop more positive characteristics. For instance, I think that (last year's) is getting just a touch of astringency. Then we go back and adjust the recipe to try to get more sweetness or to reduce the astringency or whatever."
The results must be good all across the variants because Doble says every participating partner has committed to taking the full stock of their variant.
The Explorium will limit sales to four per customer (two of each variant) and it's not yet clear what sort of limits will be placed on the other variants by their sellers, who have yet to announce details of their releases.
What is clear is that getting all eight won't be easy as no one will be selling any of the other variants. You can get two at The Explorium, but then you'll need to coordinate five more stops if you want the full vertical.
"There's not going to be an easy way," Doble admits. "It is the thrill to chase. But all these guys will probably stage their releases at different times," to make it possible for chasers to nab all the variants.
Also new this year are the cans. Previous years' releases have come in 22-ounce bombers, but the cost and availability of glass has become a challenge, but the result is a net positive, according to Doble.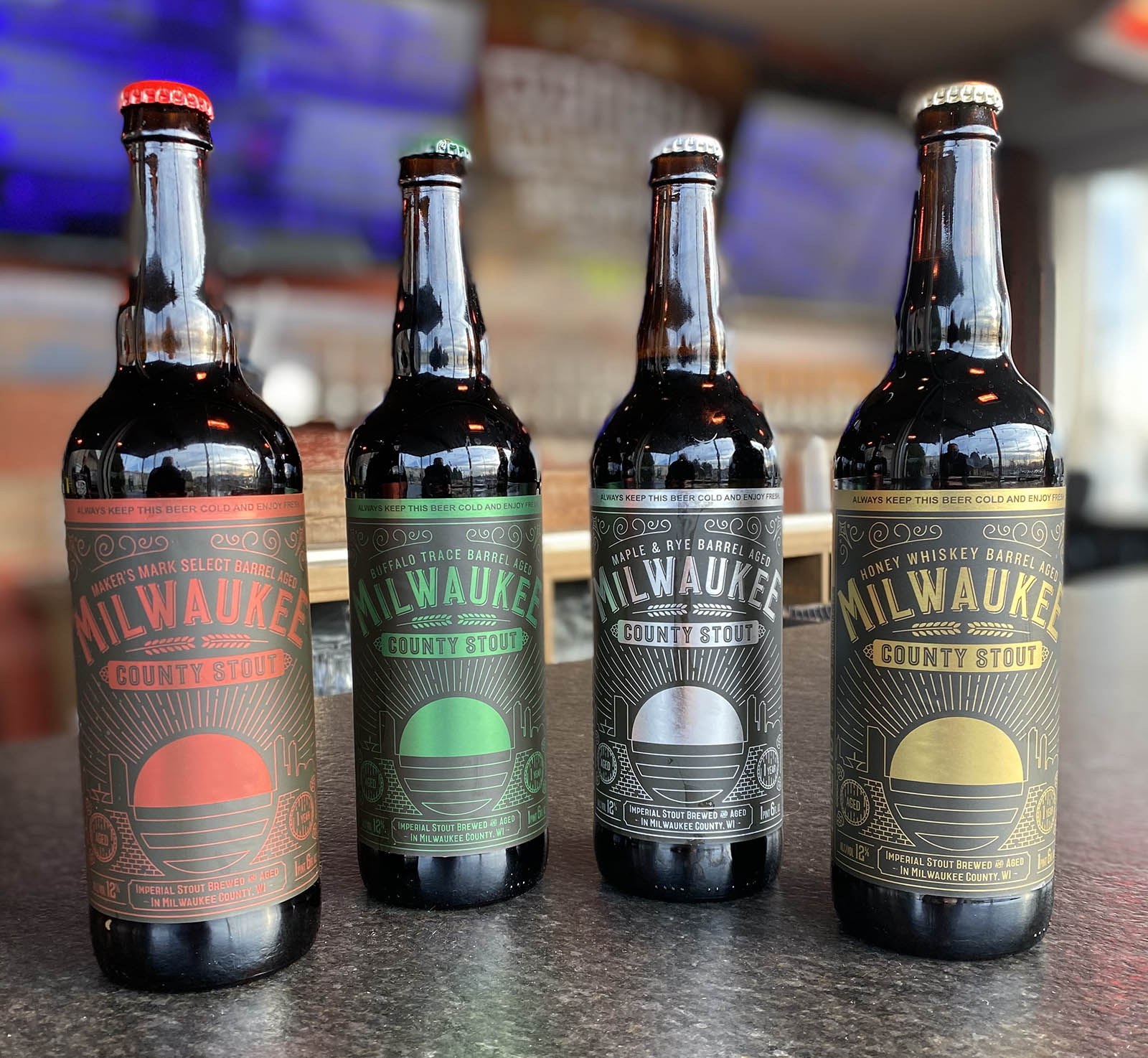 "From an environmental standpoint, the cans are more recyclable," he says. "They're far better. Going to cans was a big move, and it's going to take a little bit to get people used to that. But a far better medium for a beer."
Watch this space for updates on the specific release details at the partner locations, as I'll update this when that info is released.
"It's going to be cool," Doble vows. "I think it's going to be really fun and it's a great beer."
Here's what other area breweries are doing on Black Friday this year:
(Check back because this information will be continually updated until Nov. 26):
"We are celebrating the holiday as we always do, with fruited sours," says brewmaster Kyle Vetter. "On Wednesday for Drinksgiving we will be releasing a bourbon barrel-aged version of Blueberry Rain.
"It's a breakfast sour made with blueberry, maple syrup and cacao nibs which we aged in Central Standard Bourbon barrels."
On Black Friday, 1840 will open at noon to release Plumpy-Black, a naturally soured oat cream ale with blackberry, black currant, black cherry and lactose added.
"New this year, we will be opening up our Burngarten fire pits in Germantown for reservations on Black Friday," Vetter adds. "Normally fire pit reservations are only available on Saturday and Sunday. Reservations for the entire Burngarten season, including Black Friday, open on Nov. 1.
Brewer Tim Eichinger is working on, Ahead of the Pack, a Belgian Quad four-pack of variants that will be released on Wednesday, Nov, 24.
"These are in a half-liter bottles," says Toni Eichinger, "one Belgian Quad, one Belgian Quad blended with 2018 Dopplebock, one Belgian Quad blended with 2017 Smoke Monster and one Belgian Quad blended with 2016 sour 12-Dog, my personal favorite!"
Check back here for more Black Friday and Small Business Saturday release news, too!
The Walker's Point brewery brings back its winter spiced ale, "While We Wait," on Black Friday. The red winter ale will be available on tap and in four-pack cans.
Central Waters' Milwaukee taproom will open at 10 a.m. and will be selling bottles of the much sought-after Black Gold barrel-aged imperial stout, Toppling Waters collab stout with Toppling Goliath and Double Barrel Stout. There's a two-bottle limit. There will also be four-packs on the brand new Birds of a Feather Tiki Sour. Dairlyand will be serving brunch.
Company Brewing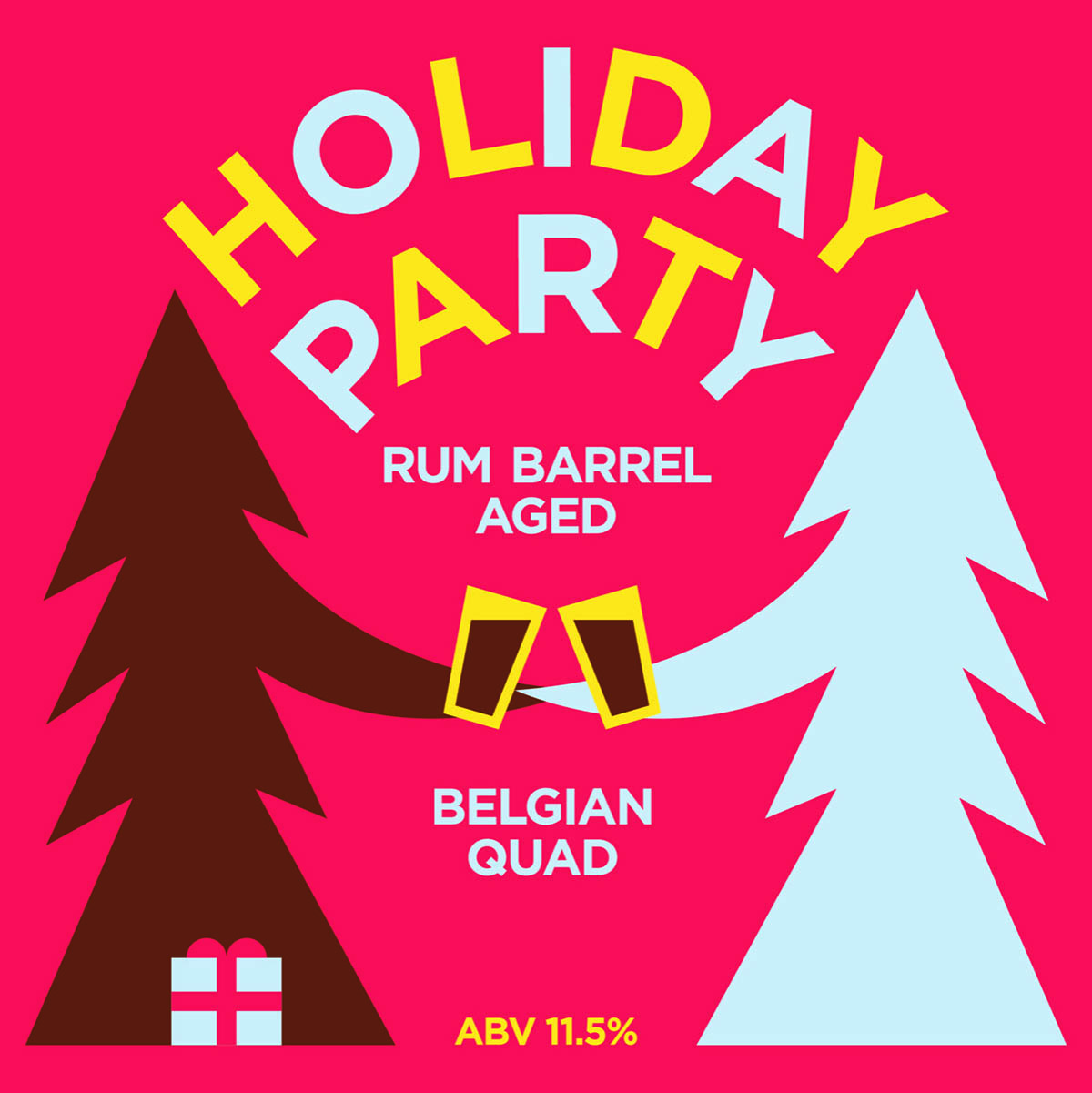 Company releases its Holiday Party on Black Friday for the first time since the 2018. The 11.5 percent ABV Barbadian rum barrel-aged Belgian quad has," says Company's Chris Geick, "aromas of rum-raisin, toffee and vanilla, while the warming sensation from the substantial alcohol content emphasizes flavors of bananas foster, nutmeg and molasses."
The beer will be available on tap at Company and in four-pack 12-ounce cans.
The Elkhorn farm brewery's Black Friday beer will be available beginning at noon on Friday in the taproom. Pre-orders can be picked up beginning at 11 a.m. So, what is it? The Farmer's Flannel Whiskey Scotch Ale. According to the brewery, it, "went through a longer kettle boil to allow the wort to fully caramelize to create a rich, full-bodied ale, bursting with flavor of roasted malts. But we didn't stop there: we then aged it with oak soaked in whiskey scotch to boost up the flavor profile as well as the ABV to finish at 9.5 percent."
Eagle Park Brewing & Distilling
For the second year, Eagle Park has special brews and spirits for Black Friday.
On the brewing side there's The Raspberry Vanilla Cheesecake Incident, a 6 percent ABV collab series brew with Mikerphone Brewing. It's a berliner weisse with raspberry, vanilla, graham cracker & cheesecake flavoring. There's also the 8 percent DDH Bowie's Space Suit: Riwaka New England IPA with Galaxy and Citra hops and double dry hopped with Riwaka hops.
Stir It Up is an 11 percent imperial stout brewed with rare single-origin Jamaican Blue Mountain coffee. "These coffee beans are as rare as they are delicious exhibiting a bright and vibrant yet smooth acidity, a clean taste with virtually no bitterness, and a bold yet sparkling aroma with a profusion of floral notes and sweet herbal and nutty overtones," says Eagle Park's Jake Schinker.
Bourbon Barrel Aged Man Your Battle Stations is a nine-hour boil imperial stout with cacao nibs and vanilla brewed in collaboration brewed with Three Cellars, and the draft-only Stave: Single Barrel 1, about which Schinker says, "Now that the Eagle Park barrel aged beer program has matured in both age and variety, it is finally time to release this special single barrel, hand selected to showcase this one of a kind stout, free of any additional flavor components besides what has been created by the base beer, time and the barrels."
For the barrelheads here are the deets: Bbl# 20-10, Heaven Hill, Stout Base 1, 20 months.
On the spirits side, Eagle Park is releasing an amaro. Eagle Park Fernet is, says Schinker, "a multifaceted treat that is best enjoyed pre or post meal, in a number of classic cocktails, or on it's own. Eagle Park's variety of flavors is a balance between the sweet sippers of Sicily and their bracingly bitter counterparts from the north. We recommend it served at room temperature.
"The complex aromatics start you on an amusing and well balanced carousel of the entire list of botanicals that makeup this treat. The texture of sweet and mellow caramel is followed by an unsoiled minty finish."
Brewer James Larson says, "We are going to target Black Friday/Black Friday weekend as the release of Sustained Thought, our coffee stout, with Valentine Coffee. We didn't get around to brewing it in 2020, so we are all looking forward to having it back in the rotation."
Larson says another series of Rough Draft brews might also be in the works for that day, so stay tuned!
Brewer Nate Fakler says Faklandia will release the first, very limited bottle release Mantaycore Russian imperial stout made with coconut, hazelnut and cinnamon. There will also be a whiskey oaked variant. Both are in bombers.
There will also be a draft-only release of The Wendigo Russian imperial stout brewed with apple pie filling, cinnamon, vanilla, lactose and graham crackers.
The Fermentorium is bringing back Sweater Weather Imperial Milk Stout and three new variants – Blueberry, English Toffee and Chocolate Mint – not on Black Friday, but at a Blackout Wednesday event, Nov. 24.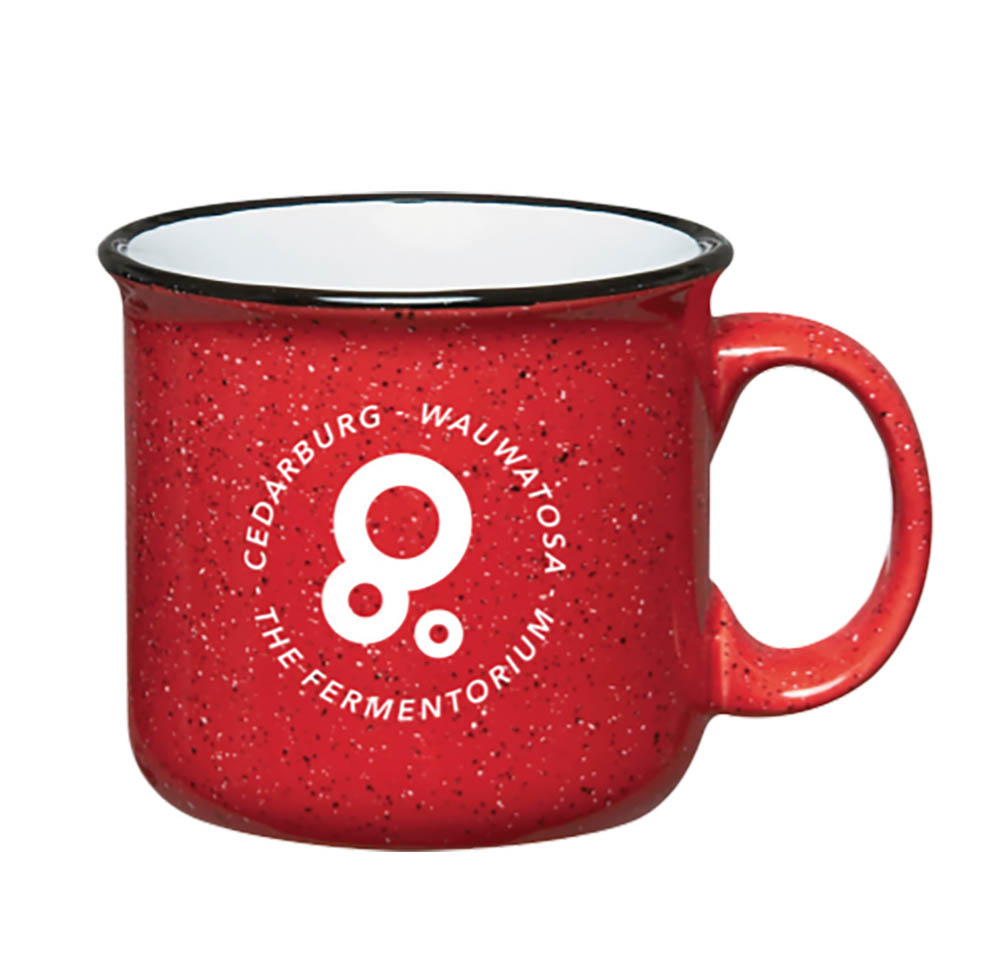 "We will be selling individual four-packs of each variety, as well as mixed four-packs, in both taprooms and only mixed four-packs into the market," says Maggie Skinner. "We're also adding a special campfire mug. Buy a mug and receive a full pour of any Sweater Weather in both taprooms while supplies last!
The Cedarburg taproom will be open noon to 10 p.m. and the Tosa Barrel House will be open noon-midnight.
The owners of some of the best lagering caves around, Foxtown Brewing, in Mequon will release its Reserve Series Barleywine aged in Elijah Craig barrels on Black Friday, according to GM Ryan Smith.
Riverwest's Gathering Place Brewing will have four releases on Black Friday: Black Forest Imperial Stout with cherries and cocoa nibs (9.8 percent); German Chocolate Imperial Stout with vanilla, coconut and cocoa nibs (10); Imperial Pilsner (8.4); and Italian-Style Grape Ale (8.8).
The beers will be available in limited 500mL bottles sold individually and as a bundle (presale opens Nov. 22) and on draft in the taproom on Black Friday.
"I was laying in bed a few months ago thinking about cherries and chocolate and how those flavors pair together," says owner Joe Yeado. "This led me to think about Black Forest cake, a southern German specialty called Schwarzwälder Kirschtorte, and how those flavors could be mimicked in a big imperial stout.
"We like to pair Black Friday beers, so this naturally made us think about German Chocolate Cake and how we could use cacao nibs, vanilla, and coconut to bring out similar flavors in a big stout. We did not actually put cake in either of these beers. Instead we used a combination of ingredients and skill to bring out these bold flavors."
Super interesting are the Imperial Pilsner and the Italian-Style Grape Ale on a day when most brewers are sticking to weighty stouts and hefty barrel-ageds.
"Although we are making two imperial stouts this year, we think that there's too much emphasis on dark beers for Black Friday," says Yeado. "We strive to make strong, flavorful, and unique light-colored beers for the Black Friday release. This is an effort that began last year and continues on with the release of a malty and potent Imperial Pilsner. The Italian Grape Ale pays homage to Italian brewing traditions while pushing the boundaries of what American drinkers think beer is capable of.
Good City will launch a new release: Mocha Milkshake Stout. Plus there will be re-releases of two popular beers: Audacity Belgian Quad aged in port wine and rum and Hidden Meanings IIPA with Riwaka and Nectaron hops. Plus, co-founder David Dupee says more will be announced in coming weeks.
Director of Brewing Operations Matt Sampson says Hacienda will release Velvet Bulldozer, an imperial stout conditioned on vanilla beans, cacao nibs and espresso coffee. "We change up this recipe every year. Last year's was a rye-heavy milk stout conditioned on vanilla beans, cacao and espresso. We loved the interplay of those adjuncts last year, but we wanted to return to a beefy, imperial stout without any lactose or rye this year.
"We are targeting it to be 12 percent. This year we are really focusing on the quality of our grains and adjuncts for this beer to highlight a couple different types of vanilla beans – Madagascar and Ugandan – cacao nibs from Ecuador, and local whole bean espresso from Isely Coffee in Ephraim. It's going to be a killer beer."
There will also be a barrel-aged version that aged for a year in casks from Hatch Distilling in Egg Harbor. It will be the brewery's first bourbon barrel-aged imperial stout for Hacienda and, says Sampson, "the beer is tasting great. We are planning to release this beer on it's own, without any adjuncts, and also release a couple variants. One variant will be the same mix of adjuncts as on the Velvet Bulldozer: vanilla beans, cacao nibs, and espresso. The second variant is a surprise and will be a Hacienda 100 Members only release. The variants will be extremely limited."
Finally, Hacienda is also doing its annual winter saison, L'hiver 2021/2022 (5.7 percent), part of a series of seasonal mixed culture saisons that Sampson says are intended to highlight the seasonality of Door County. "This year's version takes inspiration from L'hiver from two years ago, highlighting foraged spruce tips. It's a blend of foeder fermented saison and a couple barrels of mixed culture saison that we conditioned on foraged spruce tips and fir tips.
"While I was foraging for the spruce tips, I loved the smell of the fir tips that were growing at the same time, so I decided to pick both. The spruce tips have an intense citrus and melon character, and the fir tips are more grapefruit forward, in addition to some resinous pine character in both. The beer also has just a bit of juniper added as well. It's winter in a glass in the form of a funky saison."
All the beers will be available on Nov. 26 at the taprooms, which will have regular hours. "We will also be having pre-sales for all of the beers on Biermi," says Sampson. "I'm guessing the BA Velvet Bulldozer variants will sell out during pre-sale, so people should keep an eye on our social media if they are interested in those."
Indeed will release two bottles on Black Friday: Milwaukee Honey Barleywine (with honey sourced from Kallas Honey Farm) and a Wood Barrel-Aged Sarah Jane's Maple Sticks. Pre-orders are open now for both. Each is $17 for a 750ml bottle.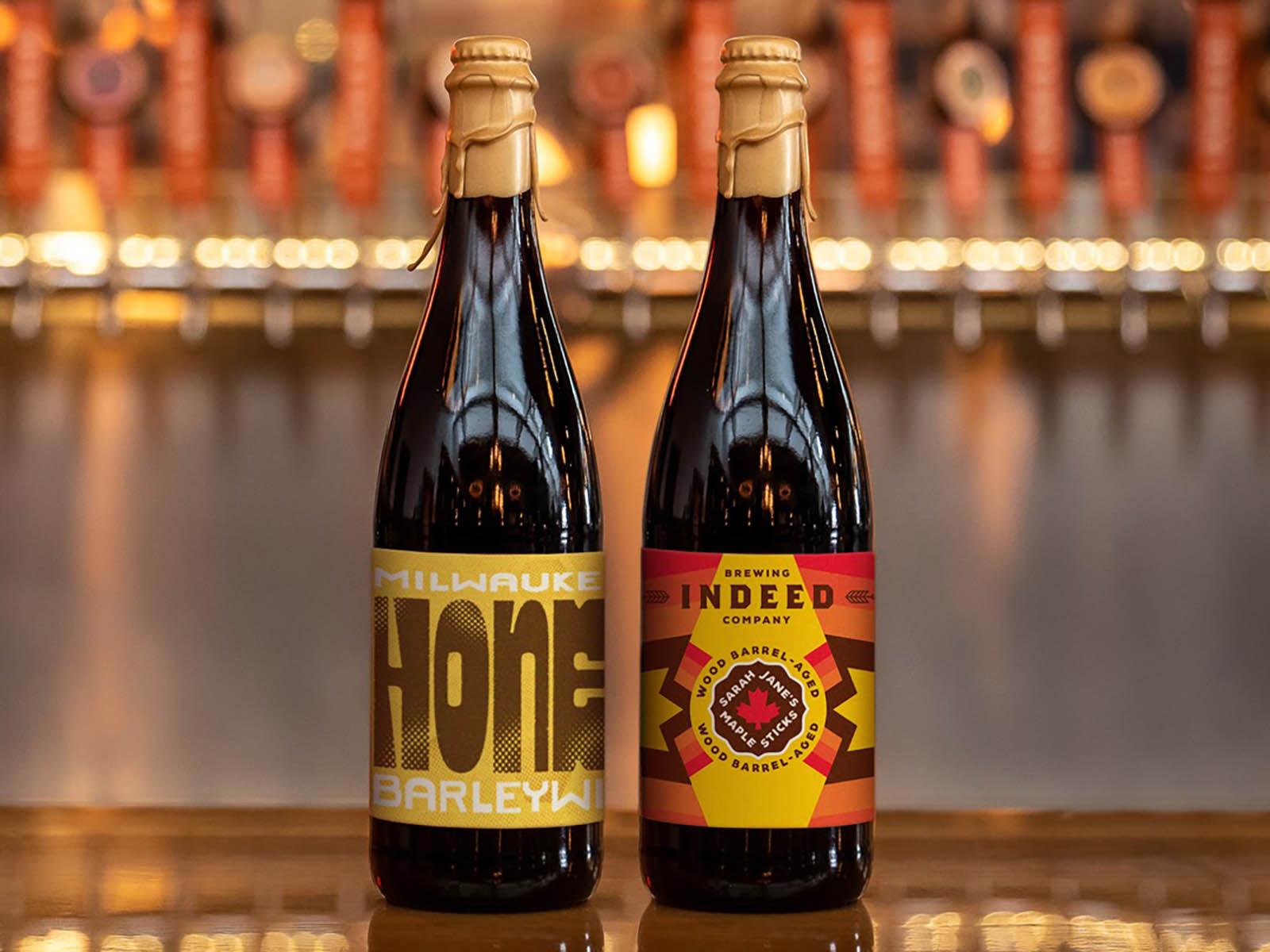 "Last year was the first time we ever released a bottle from our pilot brewery, and we're stoked to offer not one but two bottles this year," says Milwaukee Sales and Market Manager Jeff Gray. "With a slightly lower ABV, Milwaukee Honey Barleywine is back and even better than last year. Sarah Jane's Maple Sticks is a taproom favorite and so we're excited to offer a wood barrel-aged version of this pastry stout."
The Walker's Point taproom will be open on Black Friday from 11 a.m. until midnight with a DJ from 2-6 as well as vendors and food partners to be announced.
After a year of releasing its Black Friday beers at retailers, Lakefront is bringing back its own event on Friday, Nov, 26 at 8 a.m., though the CurdWagon food truck will begin serving at 5:30 a.m. for the eager fans lined up seeking the special beers.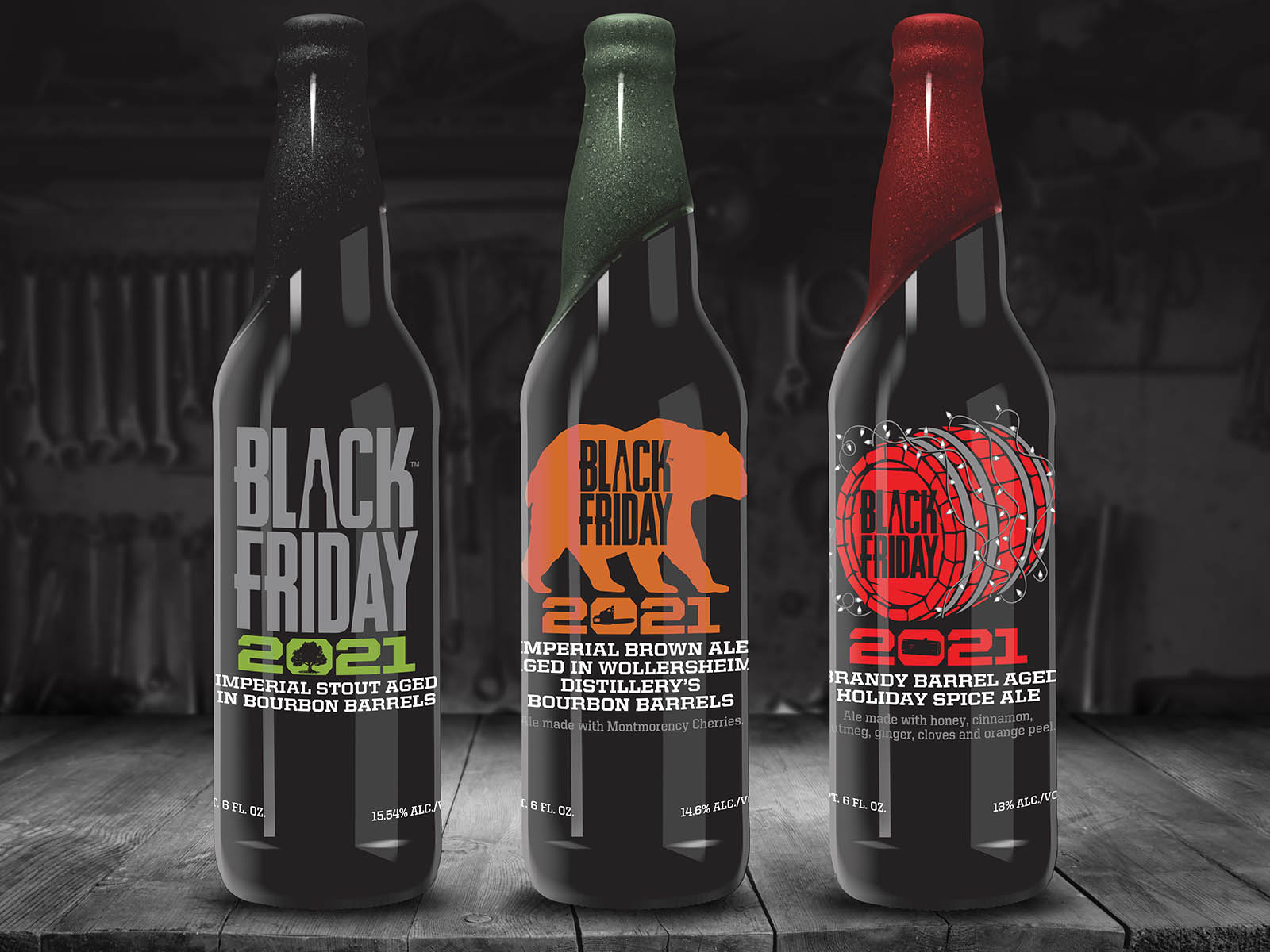 There will be three of them this year (descriptions provided by Lakefront):
2021 Black Friday Imperial Stout – Deep and rich, chocolate and vanilla, with bourbon warmth and American oak notes. This year is smooth, not hot, although is boasts a 15.5 percent alcohol by volume. Less than 4,000 bottles available.
2021 Imperial Brown Ale – This was made with Montmorency cherries and aged in Wollersheim Distillery bourbon barrels. Need a fur coat for the cold? This liquid will do perfectly. 14.6 percent alcohol by volume. Less than 1,000 bottles available.
2021 Holiday Spice Ale – This big ale was brewed with honey, cinnamon, nutmeg, ginger, cloves and orange peel. Aged in brandy barrels, this liquid is 13 percent alcohol by volume. Less than 1,000 bottles available.
They will be available in four-packs with each bottle selling for $20 and there's a limit of 16 bottles per person.
There will also be Black Friday gear: tees, beanies and blankets.
Doors open at 8 and after the bottle purchase, the annual party will be held outside
"We want to avoid a super-crowded Beer Hall," said Lakefront Brand Manager Michael Stodola. "We're still concerned with Covid, so the party will continue outside with food, gear, and Lakefront beer being sold – and over a thousand close friends."
Recombobulation Barrel Aged Russian Imperial Stout,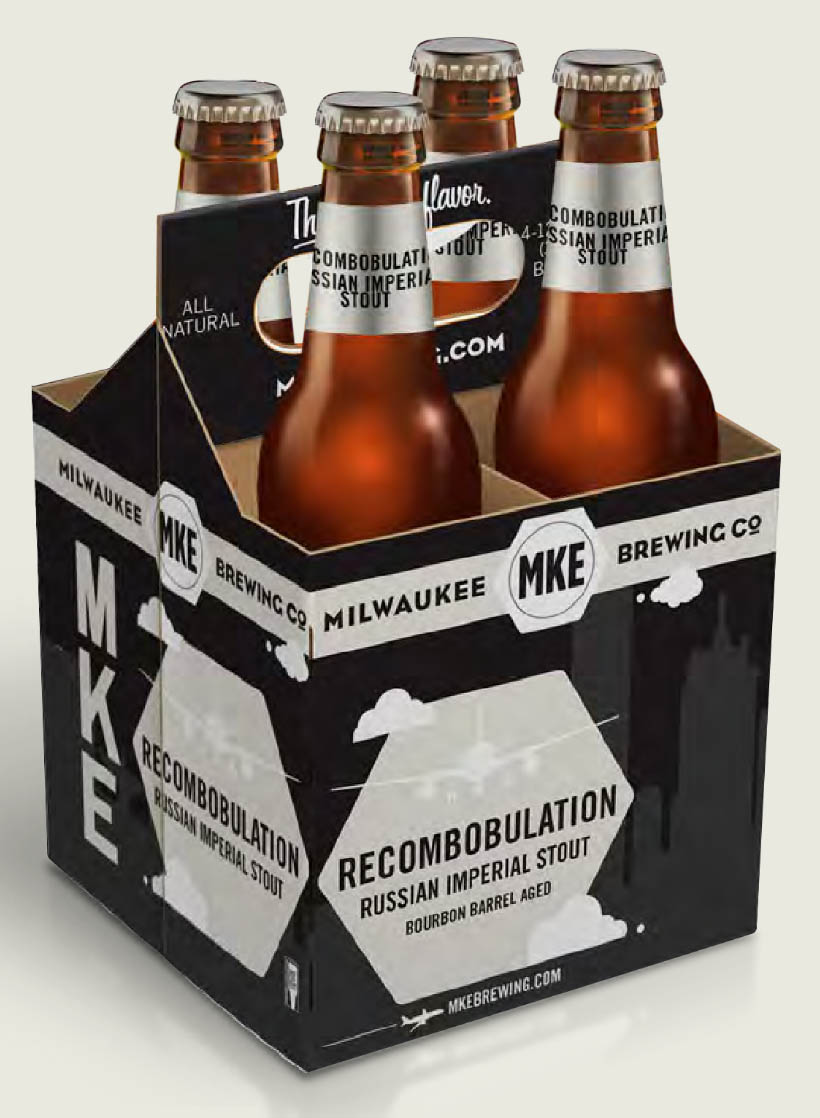 which debuted last year as a limited release, is back this Black Friday, as the taproom opens at 11 a.m.
The 2021 Recombobulation stout has been aging for more than a year in bourbon barrels that previously aged 18-year-old Elijah Craig bourbon, resulting in a rich and malty 12 percent ABV brew with toffee, dark chocolate, coffee and bourbon flavors. This rich and malty stout has a silky mouthfeel with flavors of toffee dark chocolate, coffee with a warm bourbon finish.
The beer will be available in 12-ounce four-pack bottles for $14.99. There will be tours running every half-hour from noon onward and there will also be discounts on merch and beer to-go (though not, of course, on the limited release ... nice try, buster!).
The crowd-sourced brewer will release Kringle Monster, an imperial pastry stout with kringle and raspberries. A whopping 360 pounds of kringle went into this brew!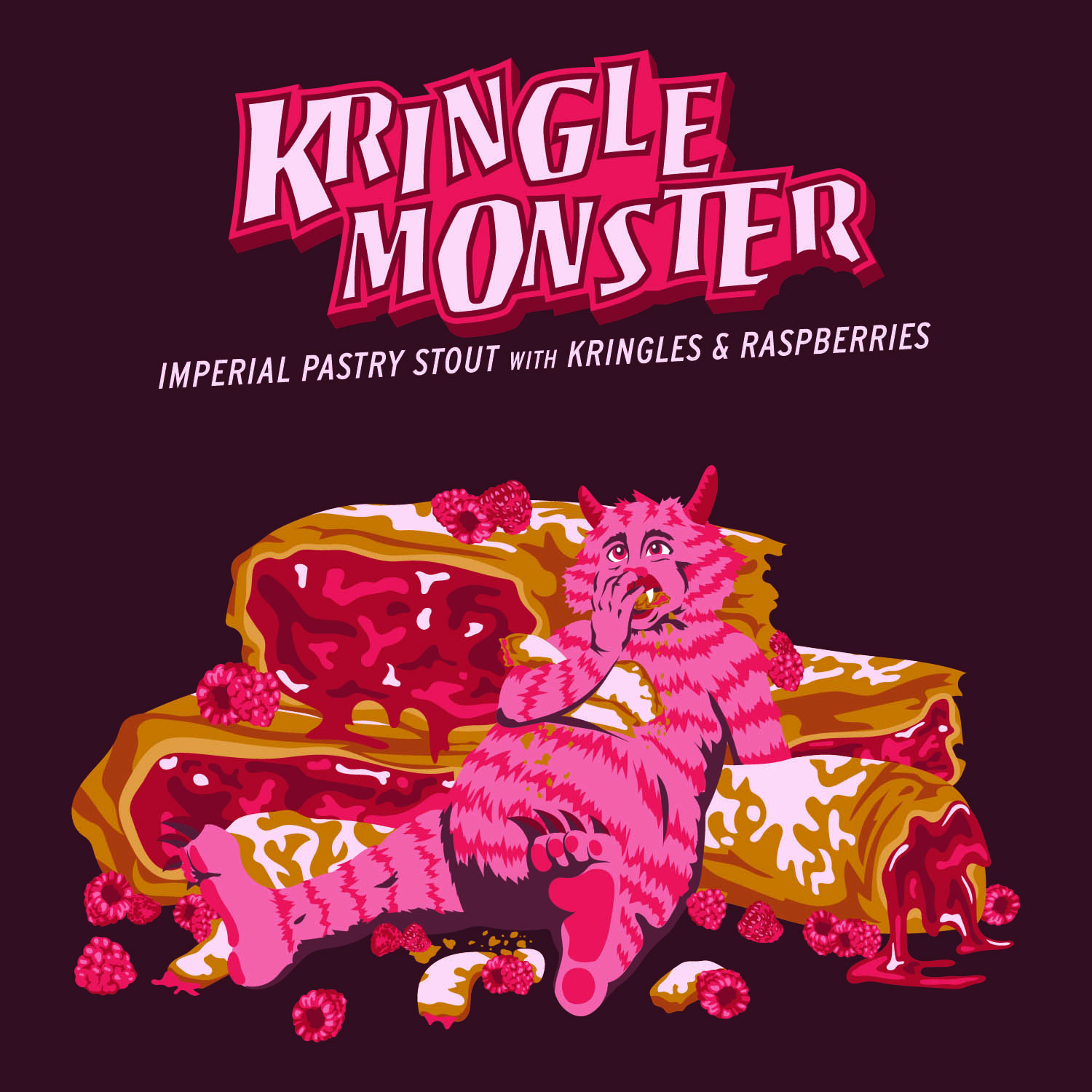 On Saturday, Oct. 23, MobCraft will also release its its Beer Advent Calendar, which starts on Dec. 1: 24 days of beer cheer for $65, including six flagships, 11 limited release beers, four seasonals and three barrel-aged brews.
Founder Henry Schwartz says the anual Padishah Barrel Aged Imperial Stout is also coming back, this year with nine single-barrel variants and a master blend.
The Bay View brewery, which opens at 9 a.m. on Friday, Nov. 26, will release a 10 percent barrel-aged English Barleywine on Black Friday this year. Two variants, each aged a year, are also coming: a whiskey barrel-aged version and a rye barrel-aged version.
"The beer is called Blueprint Barleywine in honor of two member owners, Mark Linser and Dan Schindhelm, who are the architects who helped us draft up early renderings of the taproom," says John Degroote. "Both variants were from the same mash, utilizing an array of caramel malts for a full bodied rich ale, then aged in different barrels."
The Waukesha brewer will release its Santa's Sack Christmas Ale in four-pack 16-ounce cans and a limited release of Bourbon Barrel-Aged Paradocs Red.
Sahale will be open normal hours (3-10) on Black Friday to release Dastardly Oak, a collaboration with Timer's Beverage Center in Racine. "We made a Barleywine and aged it in a special Jesse James Tennessee Whiskey barrel, which is extremely rare – only 20 barrels in the entire U.S.," says owner Matthew Hofmann. "The result is a sweet, slightly boozy 12.2% ABV sipper with notes of graham cracker, toffee, oak and whiskey. We only have one sixth barrel for draft and 100 cans, so the beer is extremely rare."
Sahale will be open from 5 until 11 p.m. on Wednesday, Nov. 24 to release Fantasyland milkshake IPA (11 percent ABV), hopped primarily with BRU-1 and Grungeist hops, both on tap and in cans.
"As a thanks for all of the great support from our customers this year," says Hofmann, "all full draft pours will be $1 off and all four-packs will be $2 off (or get a logoed pint glass instead)," on these two days. Restrictions apply to barrel-aged beers.
The Sprecher taproom in Glendale will be open on Black Friday from 11 a.m. until 9:30 p.m. and there will be several limited edition beers released, including a Bourbon-Barrel Black Bavarian lager variant (on tap only). New growlers can be ordered in advance by calling ahead, (414) 964-7837.
Sprecher will also release a dark milkshake IPA called Black Forest. Brewer Brian Destree says, "It's reminiscent of Black Forest Chocolate Cake and a Chocolate Milkshake, this unique beer is ... bold and celebrates Sprecher's German roots with a contemporary IPA style."
There's a special Mug Club membership drive on Black Friday and in the days leading up to it. There will also be special deals at the adjacent gift shop that day. Details will be on the web site.
In coming weeks, Sprecher will release variants of the Black Bavarian aged in Heaven Hill barrels. One will have rested on Valentine Coffee beans and the other on cocoa nibs. They will be available on tap in the taproom until supplies are gone.
OK, so there's Black Friday special beer, but owner Rob Brennan has a different kind of Black Friday release this year.
"We are launching the first runs of our 'tour' experience we're calling Cellar Sessions," he says. "Tours are something we're asked about regularly, and giving them was always one of my favorite things to do at my last brewery – but similar to Supermoon itself, was something that, if I had the chance to do again, would do slightly differently than the standard."
As you might expect from this barrel-focused brewery, the tours, says, Brennan won't go deep on the actual brewing, but will focus more, "on the nerdy topics of mixed and wild fermentation, intricacies, eccentricities and all right in our barrel cellar. My goal is to peel back – and honestly, probably perpetuate – some of the folklore from these styles of beer for those interested."
Supermoon will do four tour sessions on Black Friday and will potentially add more that weekend and in the future. Info and signup here.
"On Black Friday, we will release the second set of variants in this year's Barrel-Aged Deconstructed Dessert: German Chocolate Cake Series," says co-founder Andy Gehl.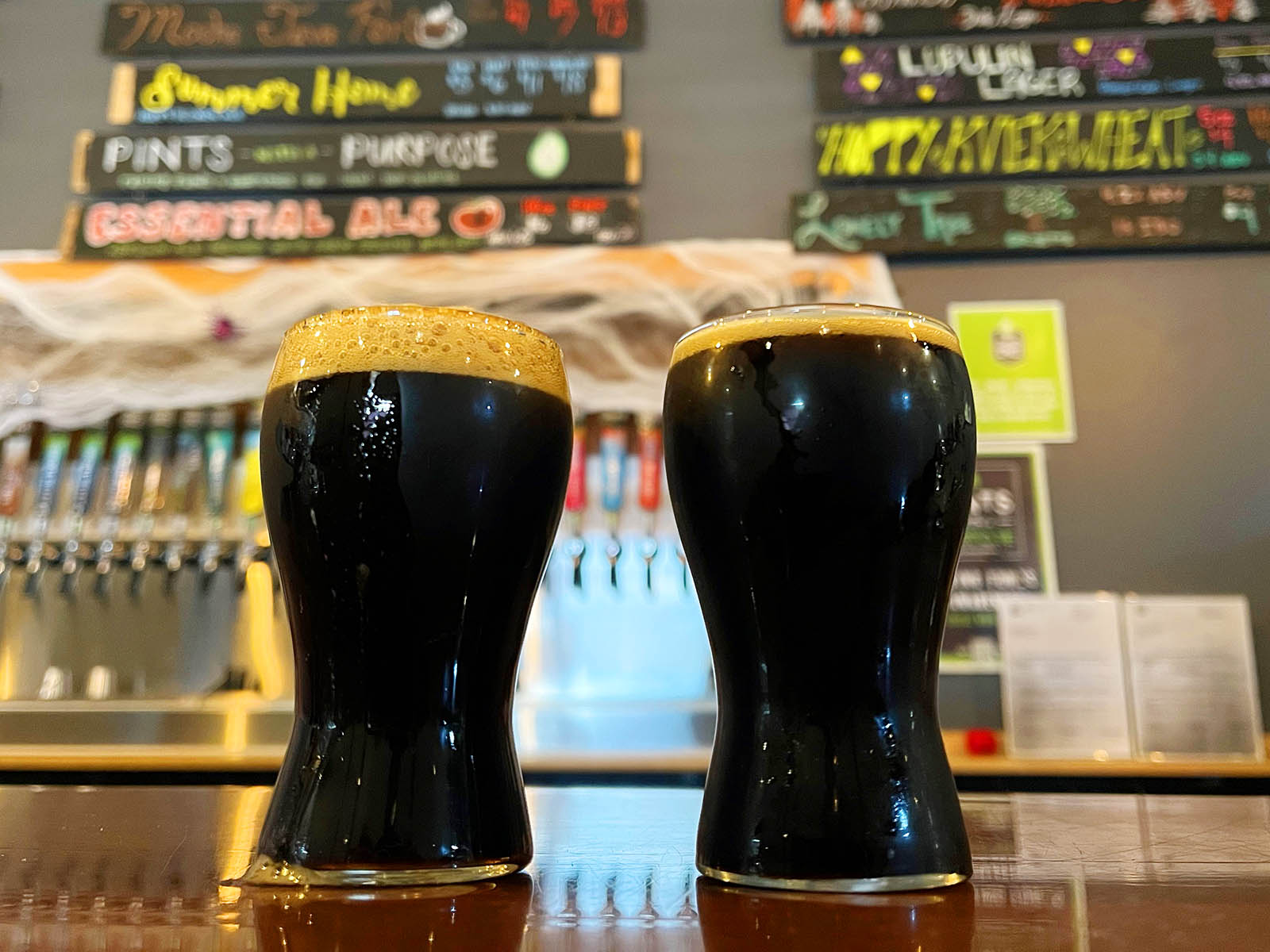 The series consists of six variants of the same bourbon barrel-aged Russian Imperial Stout: The Beer, The Chocolate, The Vanilla, The Coconut, The Pecan and The Cake, which combines them all together into one giant, decadent dessert beer.
"The goal of the series is to show how different additions can affect the flavors of barrel-aged beers. Last year we deconstructed the Mocha Pie and this year we are deconstructing the German Chocolate Cake."
The first two variants – The Beer and The Chocolate – are on sale right now for pick up starting Oct. 30. The Vanilla and The Coconut arrive on Black Friday. The final two will arrive on Saturday, Dec. 18, just in time for Christmas.
The basic recipe is a tweaked version of last year's Mocha Pie and is dark, rich and sweet and the chocolate variant – cacao nibs from Ghana were added to the brite tank – has a nice but not overpowering chocolate flavor.
"That's what (co-founder and head brewer) Kevin (Wright) is all about in his beers: balance," says Gehl.
The variants will all be available for pre-order two weeks prior to release here.
"We will also reward Black Friday beer chasers by putting a few bottles of FIVE, our 5th Anniversary Barrel-Aged Solera, on sale for one day only, in case anyone missed it in September," says Gehl.
"On Black Friday, we will also open early at noon and will likely tap one or two other barrel-aged beers from the archives," Gehl says.
The Walker's Point brewery will tap seven kegs of 2019 Special Release beers, says brewer Steve Pribek: Big Ring Bourbon Red; The Brown Mumbler, a Bourbon Brown Ale; WhiScotchsin, a Whiskey Scotch Ale; Whiskey Porter; Two Naught Naught, a Chocolate Bourbon Espresso Amber; Imperial Chocolate Whiskey Stout and Two Step, a Belgian Dark Strong.
"They will be available for pre-ordering starting at 9 a.m. that day with pick up starting at 11 a.m.," says Pribek. "Orders will be limited to one 16-ounce can of each per customer. If you order all seven, a $10 UHBC gift card will be included.
"When we open at 1 p.m. we will be releasing Duex Stappen, a Belgian Dark Strong with an addition of French Cognac infused oak."
"I don't actually know what the Wednesday before Thanksgiving is called," says Vennture's Simon McConico, "but that's when our new beers are coming out so people can drink them with their meal!"
Those beers are Space Yachts 7 percent juicy IPA with Nelson, Galaxy, and Strata hops, available all day ($18 per four-pack); Pie Curious 6.2 percent apple pie sour with lactose and spices ($18 per four-pack; and Second Helping 8.5% dark saison with Yeast Bay's Amalgamation Brett, Earl Grey and vanilla aged in 2020 Night Crew barrels, releasing at 4 p.m. ($9 a can).
Hatched Pie will be on hand at 5 p.m. to serve its delicious pies.
Brewmaster George Bluvas says that Milwaukee's first brewpub will release the 7 percent Black Forest Cake on Black Friday at its locations (Downtown has not yet reopened, but is expected to in coming months).
"(It's) a beer we usually make for special release at German Fest," says Bluvas. "A dark beer with loads of chocolate malt is further enhanced by being aged on cocoa nibs and cherries."
One keg will be tapped at each location and will be served until it's gone.
The West Allis brewery is releasing The Gobbler imperial brown ale at noon on Friday, and it is the first beer brewed by both owners – Kim and Erik Dorfner– together. The limited release is brewed with four different malts and the Dorfners say it tastes of cinnamon, nutmeg, sweet potato, cranberry, sage, rosemary and thyme.
The Third Ward brewery is planning Swiss Mystic Mexican Hot Chocolate Stout for Black Friday, says owner and brewer Chris Ragaisis.
It'll have, "cinnamon, vanilla, cocoa nibs and a nice variety of chiles," Ragaisis says.
No Black Friday beers
These breweries say they're abstaining from specials this Black Friday:
Component
East Troy
Supermoon
Born in Brooklyn, N.Y., where he lived until he was 17, Bobby received his BA-Mass Communications from UWM in 1989 and has lived in Walker's Point, Bay View, Enderis Park, South Milwaukee and on the East Side.
He has published three non-fiction books in Italy – including one about an event in Milwaukee history, which was published in the U.S. in autumn 2010. Four more books, all about Milwaukee, have been published by The History Press.
With his most recent band, The Yell Leaders, Bobby released four LPs and had a songs featured in episodes of TV's "Party of Five" and "Dawson's Creek," and films in Japan, South America and the U.S. The Yell Leaders were named the best unsigned band in their region by VH-1 as part of its Rock Across America 1998 Tour. Most recently, the band contributed tracks to a UK vinyl/CD tribute to the Redskins and collaborated on a track with Italian novelist Enrico Remmert.
He's produced three installments of the "OMCD" series of local music compilations for OnMilwaukee.com and in 2007 produced a CD of Italian music and poetry.
In 2005, he was awarded the City of Asti's (Italy) Journalism Prize for his work focusing on that area. He has also won awards from the Milwaukee Press Club.
He can be heard weekly on 88Nine Radio Milwaukee talking about his "Urban Spelunking" series of stories.