It's a Monday afternoon and Geoffrey Clark, an Industrial Design student at the Milwaukee Institute of Art and Design (MIAD), 273 N. Erie St., is peacefully watching his batiking machine finish up a four-hour job.
Clark created the machine, a computer controlled system which is basically a 3D printer the size of a kitchen table, to "draw" numerous repetitions of wax illustrations of blue heeler dogs on an entire bolt of batik fabric design. Later, he will dye the fabric and remove the wax which will reveal the un-dyed illustrations and be left with a bolt of batiked fabric.
"This is a traditional art form that, until recently, was only done by hand," says Clark. "This machine is one of two models of its type in the world. And it cost me less than $1,000 to make."
Today, Clark programmed a computer to batik his friends' drawings but soon, he will graduate from MIAD and plans to work for a model-making or prototyping industrial design firm.
There are 25,000,000 Americans who work in art or design fields and Milwaukee continually strives to recruit and retain members of the creative class. Many of these creative class workers in Milwaukee came from MIAD and other art schools in the city. They are sought after by local, national and international businesses because of their talents and — even more so — their ideas.
According to Toronto-based professor Richard Florida, who coined the term "creative class," these people are a driving force for economic development of post-industrial cities. Their primary job is to think, to create new approaches to problems and work both independently and collaboratively.
The creative class is also known for its departure from traditional workplace attire and behavior. They often set their own hours and dress codes in the workplace and are most productive in more relaxed, casual environments.
While many state universities are experiencing a decline in enrollments and eliminating arts and humanities majors, MIAD — like many technical colleges throughout the country — is experiencing an increase in enrollment.
According to Jeff Morin, who has served as the president of MIAD for three years, enrollment has increased at the college by 20 percent since his arrival and many of the students are coming from out of state.
Currently, there are roughly 656 students at MIAD, along with about 100 faculty members. Morin plans to grow the student population by 25 percent in the next five years.
820
enrolled students predicted in the next 5 years
"It's an interesting time. Enrollment is down in a lot of UW campuses and programs like UW-Stevens Point are looking to cut art majors along with 12 other humanities majors, but for some reason, we're doing well," says Morin.
The influx of students also stems from MIAD's concerted recruitment efforts, but the core reason for increased enrollment goes beyond recruitment investment. Many people — from the young to the middle aged — are choosing to study niche areas of expertise as opposed to general liberal arts because they could lead to more opportunities in the workforce.
"MIAD is a single-focus institution that only grants a professional undergraduate degree," says Morin. "Our students come to us already committed to a career in art and design and we start them out fast and on track. We really focus on them graduating in four years and being completely equipped to join the profession."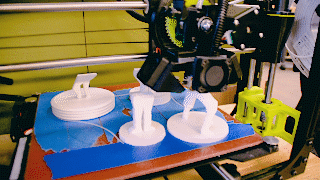 Eighty percent of MIAD graduates stay in Milwaukee for at least their first job and, according to Morin, many MIAD alums return after working in another city for a period of time.
"There are multiple levels to Milwaukee's art scene, including very grassroots facilities, start-up galleries, co-ops and communal spaces for artists. It's not just blue chip galleries or museum culture in this community — there's really some depth."
For Josh Hintz, a MIAD grad and the owner of Var Gallery, Var West Gallery and Hawthorn Contemporary, remaining in Milwaukee was beneficial to his art both personally and professionally despite the lack of local art buyers.
"Milwaukee provides the ideal environment for creatives to thrive," says Hintz. "Say what you will about Milwaukee's semi-volatile art market, but having inexpensive and flexible space to work in and do business offers artists the opportunity to travel and participate in exhibitions and art fairs all around the United States."
50%
of students come from out of state
80%
of graduates stay in Milwaukee for their first job.
In the next year or two, Morin projects there will be more than 50 percent out-of-state students in attendance at MIAD.
"If 80 percent stay local for their first job, we really are adding to the creative workforce in Milwaukee," says Morin.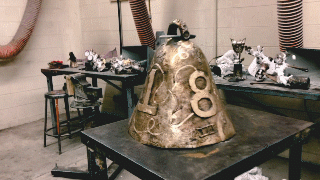 MIAD offers five majors. Communication Design, Industrial Design, fine arts (what MIAD calls "New Studio Practice"), Interior Architecture and Design, and Illustration, which has the highest enrollment.
All first year students go through a shared "first-year experience" (FYE), taking courses in art history, writing and humanities, 2D and 4D digital creation, drawing and fabrication courses. FYE challenges students to question the nature of visual culture, art, design, technology, research, media, materials, influences and process.
"MIAD continues to innovate, recently redefining the First-Year Experience into accelerated learning opportunities for our students to focus on major-specific outcomes," says Communication Design professor Phil Belair. "I'm retiring this year and I can truly say that teaching at MIAD has been the most wonderful experience of my 37-year career in design."
Grads usually go on to work in arts, design, marketing, entrepreneurship, media and communications and education. Local companies that have hired MIAD grads include Kohl's Corporation, The DCI Marketing Group, Harley-Davidson Motor Company, GMR Marketing, the Milwaukee Art Museum and many Wisconsin public and private colleges.
MIAD has always strived to keep pace with current needs and expressions of art and design learners.
"MIAD has always strived to keep pace with current needs and expressions of art and design learners. The school has been consistently ahead of the curve in delivering relevant, quality student-centered art and design education," says Jim Slauson who has worked at MIAD for over 40 years as a professor of art and design history.
Eliseo Carmona, originally from Dixon, Illinois, graduated from MIAD in 2011 with a degree in Industrial Design. After graduation he landed a job at the Betty Brinn Children's Museum and today, he works for TJ Hale in Menomonee Falls as a project manager. Carmona designs retail fixtures for TJ Hale and he also designed a cafe in Waukesha called The Steaming Cup and started a small company, Art Desk, that creates furniture for educational environments.
"MIAD led me to employment as an industrial designer, absolutely, but on a personal level, MIAD helped me to understand who I am and how I work," says Carmona.
MIAD helped me to understand who I am and how I work.
Jason McDowell, OnMilwaukee's creative director who designed and programmed the layout of this article, came to MIAD from central Iowa and remained in Milwaukee after graduation.
"I majored in Illustration with the intent of doing comic work, but the school forced me to experiment with a lot of different media and aspects of the creative field, which allowed me to try web, animation and communication design," says McDowell. "It was that willingness to try anything that set me up for this job, which ranges from advertising to illustration, web to print, video and animation and a whole lot of intense problem solving."
Working as a full-time, freelance artist after art college can be more challenging, but Milwaukee's low cost of living and affordable studio spaces make it plausible.
Melissa Thornton, a 2002 graduate from MIAD, started her career as a graphic designer for William Eisner & Associates, now Nonbox, but eventually started her own line of apparel with a successful business called Milwaukee Home.
"I fell in love with MIAD when I walked in the door," says Thornton. "And because of the connections I made there I was able to have two totally different careers in my field, including one that allows me to work for myself."
Other MIAD grads balance a full-time job — either in their field or not — and continue to work and thrive as an artist, as well.
"For much of my art career, I have had a full time job, usually art-related, and the work ethic that I cultivated at MIAD allowed me to continue making and exhibiting work while often working over 40 hours a week at the day job," says Melissa Dorn Richards, a painter who received an Illustration degree from MIAD in 1996.
Richards — who has a studio in Material Studios + Gallery in the Marshall Building — is represented by Frank Juarez Gallery and has work in many local corporate collections.
"The dedication to art and design that I witnessed from the students and faculty helped form my own dedication, determination and work ethic," says Richards. "These things were especially useful at times where I couldn't get a piece to work or when I was questioning everything I was doing. I just kept working. I knew from experience that I would only solve the questions or problems through the work."
Because of the high cost of an art education at a private college, finding employment after graduation is not optional for most MIAD grads. MIAD's 2018-2019 tuition is $35,950 which doesn't include numerous course fees, student activity fees or student housing which is $7,870 plus a minimum meal plan of $500. However, 98 percent of MIAD students receive financial aid, including scholarships.
But the investment, according to Morin, will pay off.
"We hear what employers are asking for and students who get their education here, regardless of what they major in, learn these things. They leave with strong design, communication, research and presentation skills. They know how to work effectively in teams while being very nimble problem solvers in their own right," says Morin. "And most importantly, they are confident in what they are doing. Anything that we can do to instill confidence in a student will be more important to them and serve them better than anything else."
Anything that we can do to instill confidence in a student will be more important to them and serve them better than anything else.
Rosie Brandenburg, a graduating senior in New Studio Practice at MIAD, came to the college after growing up in Madison. She was accepted at the San Francisco Art Institute but ultimately chose MIAD largely because she received a significant amount of financial aid and she appreciated the tight-knit community.
"I chose MIAD because I thought it was the best fit for me as an artist, but also as a person," says Brandenburg. "I made so many friends and had so much access to my teachers. I know a small school can be trapping, but I find it comfortable and convenient that there are always people around me that I know I can approach. At the same time, I always feel like I can make my own decisions."
MIAD's smaller student population, intimate setting and easy accessibility also factor into its success in attracting and retaining students.
"MIAD is a vertical small town," says Morin. "We have a quarter million square feet of a campus but primarily in one building, so for students looking for that kind of culture and who really want to engage in the community, it's perfect. It's not where someone goes to disappear or be one of 30,000 students."
The location of MIAD, in Milwaukee's vibrant and artistic Third Ward neighborhood, has much to do with student appeal and post-graduate success.
"Being in the Third Ward is a great advantage to us," says Morin. "It's in the proximity of 20 architecture, design, marketing and graphic design firms. We are literally teaching the content that our next door neighbors are interested in."
Morin says the safety of the neighborhood adds to the appeal for many students and their parents.
"Especially for people out of the area who might only be familiar with Milwaukee via the occasional (negative) story in media, it's a safe area and families want to know that," says Morin. "For us, it's not about attracting the student to come here, we want that student to stay here and graduate from here in four years."
MIAD moved to its current location on Erie Street in the fall of 1992, but the college was founded in 1974. For the first two decades, the college — which was known in the 1970s as the Milwaukee School of the Arts — was located at 207 N. Milwaukee St. and at the former Veteran's Administration building at 342 N. Water St.
1920
Layton School of Art opens
1974
Layton School of Art closes and Milwaukee School of the Arts is founded
1992
MIAD moves its current location
The Layton School of Art, MIAD's predecessor, was opened in 1920 by Charlotte Partridge and Miriam Frink in the basement of the Layton Art Gallery which was located on the corner of Jefferson and Mason Streets. In 1951, a new campus was constructed at 1362 N. Prospect Ave. but this building was razed during the Park East Freeway construction in 1970. For a brief time, the college was located at 4650 N. Port Washington Rd.
Layton School of Art is considered to have been one of the most progressive art schools in the country. It was the first professional art school to conduct life drawing classes featuring nude models in front of male and female students in the same room. It was also the first to require a year of foundation courses prior to specialization.
Numerous Layton graduates continue to live and work in Milwaukee as artists and creative class professionals. And many of Layton's practices are in existence at MIAD today.
In 1964, Roy Staab graduated from Layton, as did his father, in the 1930s. Staab worked as a janitor at the college to pay for part of his tuition.
"Layton understood the need for students to spend an incredible amount of time on their art. I had all-day painting sessions on Wednesdays, Thursdays and Fridays," says Staab.
Today, Staab is a full-time sculptor/artist who's installed works in Brazil, Canada, Costa Rica, Finland, France, Italy, Japan, Korea, Taiwan and the United States. He received many awards, grants and fellowships including the Lifetime Achievement Award from the Museum of Wisconsin Art, 2012 Artist of the Year from the Milwaukee Arts Board, Efroymson Fellowship, Joan Mitchell Foundation award, Wisconsin Arts Board Award, Gottlieb Foundation Award, National Endowment for the arts, Japanese Creative Artist Fellowship, Pollack/Krasner Grant, New York State Council on the Arts and New York Foundation for the Arts.
Kurt Vonderburg graduated from Layton School of Art in 1968 and majored in Industrial Design. For 25 years, he worked as a commercial interior designer specializing in the health care field and then taught in the Interior Design program at Milwaukee Area Technical College for 19 years until his retirement in 2012. Today he is a full-time artist and continues to teach art and design courses at the Sharon Lynne Wilson Center for the Arts in Brookfield.
He says his education at Layton prepared him for a variety of creative endeavors and work opportunities.
"I do think that art school is absolutely necessary for an education in the applied arts such as industrial and interior design, graphic design and other multimedia and time-based design disciplines such as web design and animation due to the complex technical aspects of those pursuits," says Vonderburg.
In 1956, Russell Zimmermann left his hometown of Louisville, Kentucky, to attend the Layton School of Art. He admits he chose the school based on the cover of the college's catalog which featured a stunning photo of the college — which was made primarily of glass and steel and concrete — with Lake Michigan and a setting sun behind it.
"I was sold," says Zimmermann, who received a full, four-year scholarship to Layton. "All I could think was 'I want to look out those windows and through the trees at Lake Michigan."
All I could think was 'I want to look out those windows and through the trees at Lake Michigan.'
Zimmermann graduated with a degree in advertising design in 1960 and went on to design illustrations for local and national publications including Fortune Magazine and logos for companies like AO Smith, The Marcus Corp, the Medical College of Milwaukee, the Wisconsin Conservatory of Music and many more.
He also designed an 11-foot-tall chandelier that weighs one ton and hangs in the lobby of the Block Service building, the mosaic floor in the 322 E. Michigan building and the first circus wagon built in America after a 50-year lapse for the Circus Parade. "It has so much gold leaf on it, you almost need sunglasses to look at it in the sunlight," he says.
Zimmermann, who also had a passion for architecture, has designed many rooms and homes including a 13th century French Gothic chateau in Elm Grove and a kitchen in the historic Pritzlaff mansion which he describes as "a spectacular room with a stained glass ceiling."
"I have a lot of fun doing what I'm doing. I'm 80 and I still love designing and being in the middle of the action," says Zimmermann. "I always have."
As for the future of MIAD, Morin has myriad goals beyond attracting and retaining more students. One of his larger planned projects is to develop an "innovation center" at the college.
The innovation center will have primarily two functions: to help students protect and monetize their intellectual property as well as help them take their ideas forward with businesses and not-for-profit organizations.
"Even though they are students in these scenarios they will also be experts," says Morin.
The innovation center will come just a couple of years after the success of the college's Maker Space which integrates technology — from laser cutting to 3D printing — with art and design.
"MIAD will continue to grow its curricular offerings and further integrate beyond our buildings," says Morin. "People often describe MIAD as a jewel and I actually find that frustrating. It makes us seem a little too precious. I see us as active, dynamic problem solvers and a resource that people cannot imagine Milwaukee losing. I want us to be that integral to the community."
Special thanks to Royal Brevväxling, Adjunct Associate Professor of Writing and Humanities at MIAD, for his assistance with photography, interviews, and story guidance.