In this series, we'll be hiking the burger trail to find the latest, greatest and most delicious burgers in Milwaukee. Click here for an explanation of the criteria used to rate each burger. Where have we been? Check out the complete catalog of burger reviews here.
May is National Burger Month. So, there's no better time to survey our top contenders (so far) in the Burger Trail series, which we launched in January of 2017.
In the past five months, we've sampled nearly 20 burgers from restaurants in the Milwaukee metro area (and sometimes slightly beyond). We've explored diners and dive bars as well as some of the city's more high end restaurants. And there are a number of burgers that have stood out along the way.
To rate each of the burgers, we've developed a 50 point scale, with 10 points possible in each of five categories: presentation, bun/bread, burger, toppings and value. So, a burger's overall score is a compilation of ratings in each category.
Eager to try a great burger? Here's the five that top our list (in reverse order).
5. All Purpose 42/50
The All Purpose Cheeseburger is served with Gruyere, caramelized onions, aioli and house-cut fries($15). Read more about it.
4. Cafe Calatrava 42/50
The Sconnie Cheese Burger features a burger made from ground short rib, brisket and sirloin, topped with American cheese, dijonaise, Maple Creek Farms smoked bacon, melted onions, house pickles and a Miller Bakery Pretzilla roll with a side of housemade malt vinegar chips ($12). Read more about it.
3. Oscar's on Pierce 43/50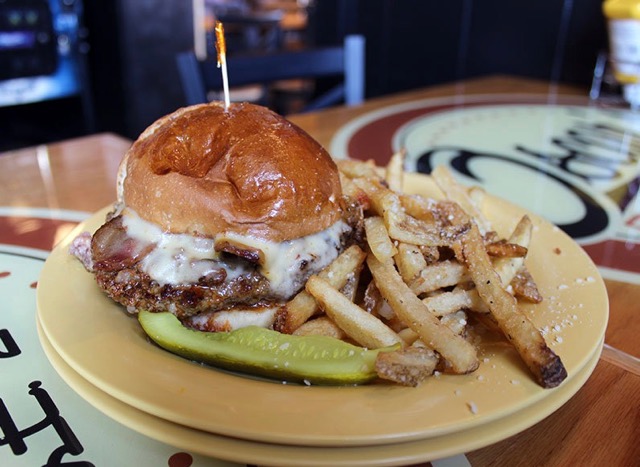 The "Big O": a half-pound Premium Black Angus burger topped with chipotle jack, smoked gouda, hickory bacon, chorizo, fried onions, jalapeños and a side of house guacamole ($7.25). Read more about it.
2. Merriment Social 44/50
The Cream City Special is a double burger topped with cheddar "crispies", beer cheese, caramelized onions and sweet mustard-mayo ($13). It comes with a choice of coleslaw or parmesan garlic fries. Read more about it.
1. Crave Cafe 45/50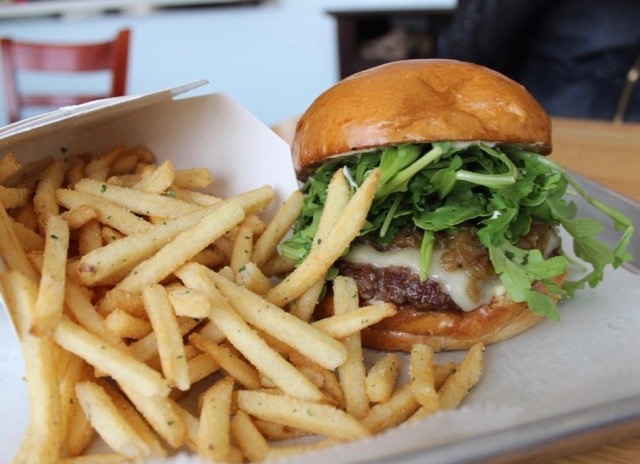 The Crave Burger features a ⅓ pound Angus beef patty, Swiss cheese, caramelized onions, arugula and white truffle aioli ($8). Read more about it.
Is your favorite burger on this list? If not, let us know where we can find it. Leave your recommendations in the comments or email me at lori@staff.onmilwaukee.com.
Lori Fredrich (Lo) is an eater, writer, wonderer, bon vivante, traveler, cook, gardener and girlwonder. Born and raised in the Milwaukee area, she has tried to leave many times, but seems to be drawn to this quirky city that smells of beer and alewives.
Some might say that she is a little obsessed with food. Lo would say she is A LOT obsessed with food. After all, she has been cooking, eating and enjoying food for decades and has no plans to retire anytime soon.
Lo's recipes and writing have been featured in a variety of publications including GO: Airtran Inflight Magazine, Cheese Connoisseur, Cooking Light, Edible Milwaukee, Milwaukee Magazine and the Milwaukee Journal Sentinel, as well as on the blog Go Bold with Butter, the web site Wisconsin Cheese Talk, and in the quarterly online magazine Grate. Pair. Share.