Another week, another green jersey situation and another close but in the end comfortable win for the good guys as the Packers slowly but surely punished the Washington Football Team, 24-10, not exactly a thrilling game but one that's led to a thrilling 6-1 start and an increased lead over the otherwise miserable NFC North.
But here's where the fun ends. The Packers have had a fairly easy time with this easy part of the schedule – but things get very real for Green Bay, very quickly. So quickly, they won't even have a week to celebrate this win as they now look ahead immediately to the undefeated, high-octane Arizona Cardinals on Thursday night. (Boy, I bet the NFL regrets putting that game there. Were the Jaguars and Dolphins both on bye?) And right after that, the Pack will travel to Kansas City to take on Patrick Mahomes and the Chiefs – who may be struggling this season, but are still Patrick Mahomes and the Chiefs. Any remaining questions about the Packers and their contender status are about to get answers – and hopefully we like them.
But before the schedule gets scary, let's take one final gander at the best moments from the Packers' waxing of Washington.
1. A new shade of success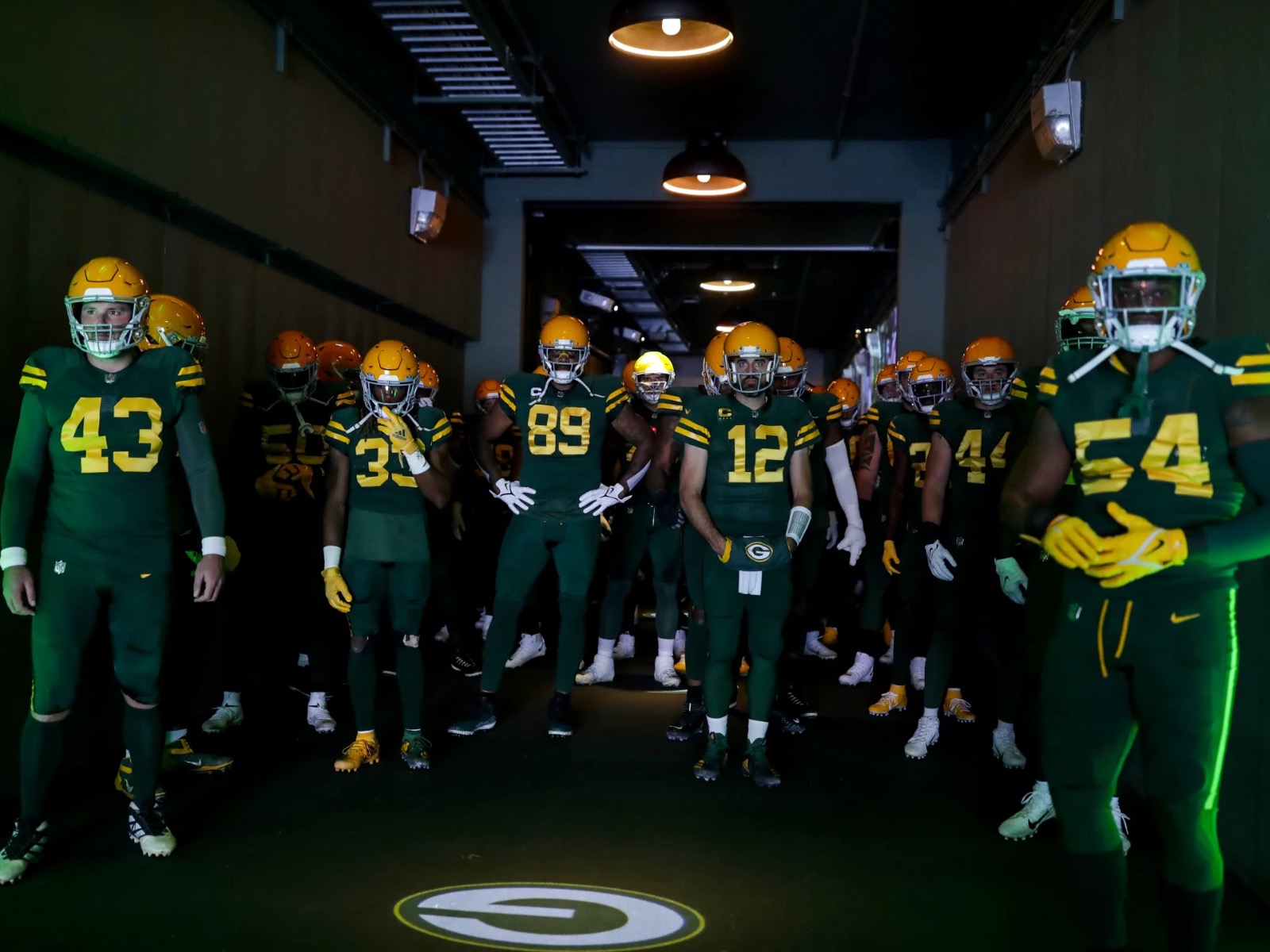 For the second straight week, the Packers left their opponents seeing and feeling green – literally and figuratively. Last week, it was wearing the traditional home greens on the road against the Bears – and now this Sunday, it was wearing ALL the green against Washington. The jersey is technically a throwback look – though I think it looks more like a rejected prototype from one of those Color Rush-themed games. No matter the case, it's a slick look, and certatinly better than the weird blue-and-golds the Packers occasionally bust out. And best of all, it's currently undefeated.
2. Missing in action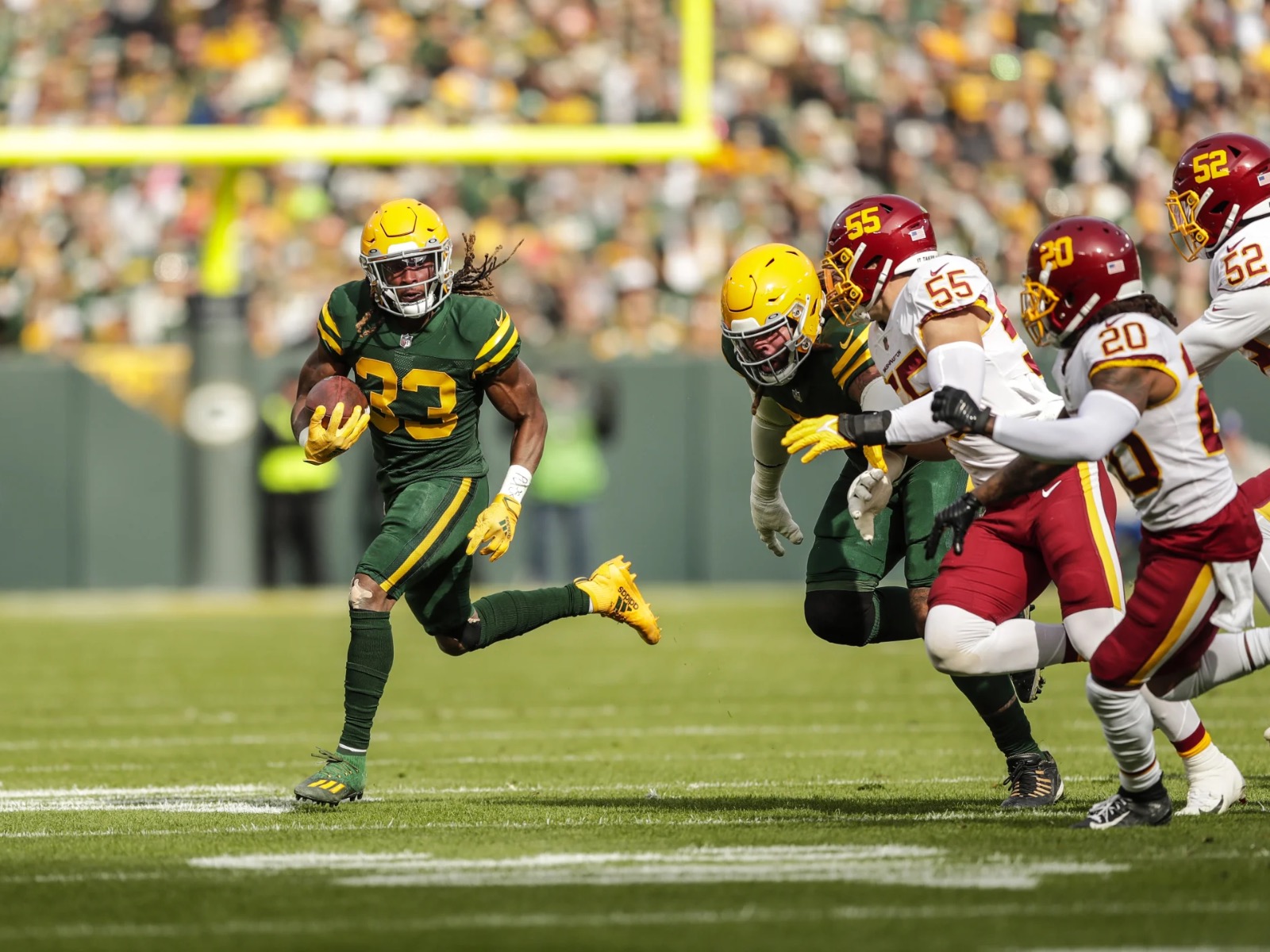 Has anyone seen this man? You'd think he'd hard to miss with the big new contract and the sombrero, but apparently head coach Matt LaFleur didn't see him because he only gave Aaron Jones six total carries on the day (with five catches, too, if only for 20 yards). AJ Dillon didn't fare much better, only snagging three carries. It wasn't a problem in this game – thanks, putrid Washington defense! – but better balance is going to be needed to beat better teams. Or any balance whatsoever.
3. A special moment for special teams
It's been a strong start to the season for the Packers ... except for the special teams department, which routinely provides us our lowlights each week. (Not even Mason Crosby was spared, after that Bengals game.) So it's only fair we give this maligned part of the team some credit for an impressive play, getting a finger tip on this field goal and keeping Washington out of the lead in the first half.
The FG is 💥BLOCKED!💥#WASvsGB | #GoPackGo

📺 FOX pic.twitter.com/9IkjX8adcZ — Green Bay Packers (@packers) October 24, 2021
Then again, the Packers themselves got a field goal blocked pretty much immediately after this ... so maybe the credit should less go to the special teams unit and more to Washington for trotting out a field goal kicker named Blewitt.
4. Thumbs up
Packers guard Lucas Patrick busted out his new touchdown celebration Sunday afternoon in Green Bay – and prepare yourself, because it is extravagant ...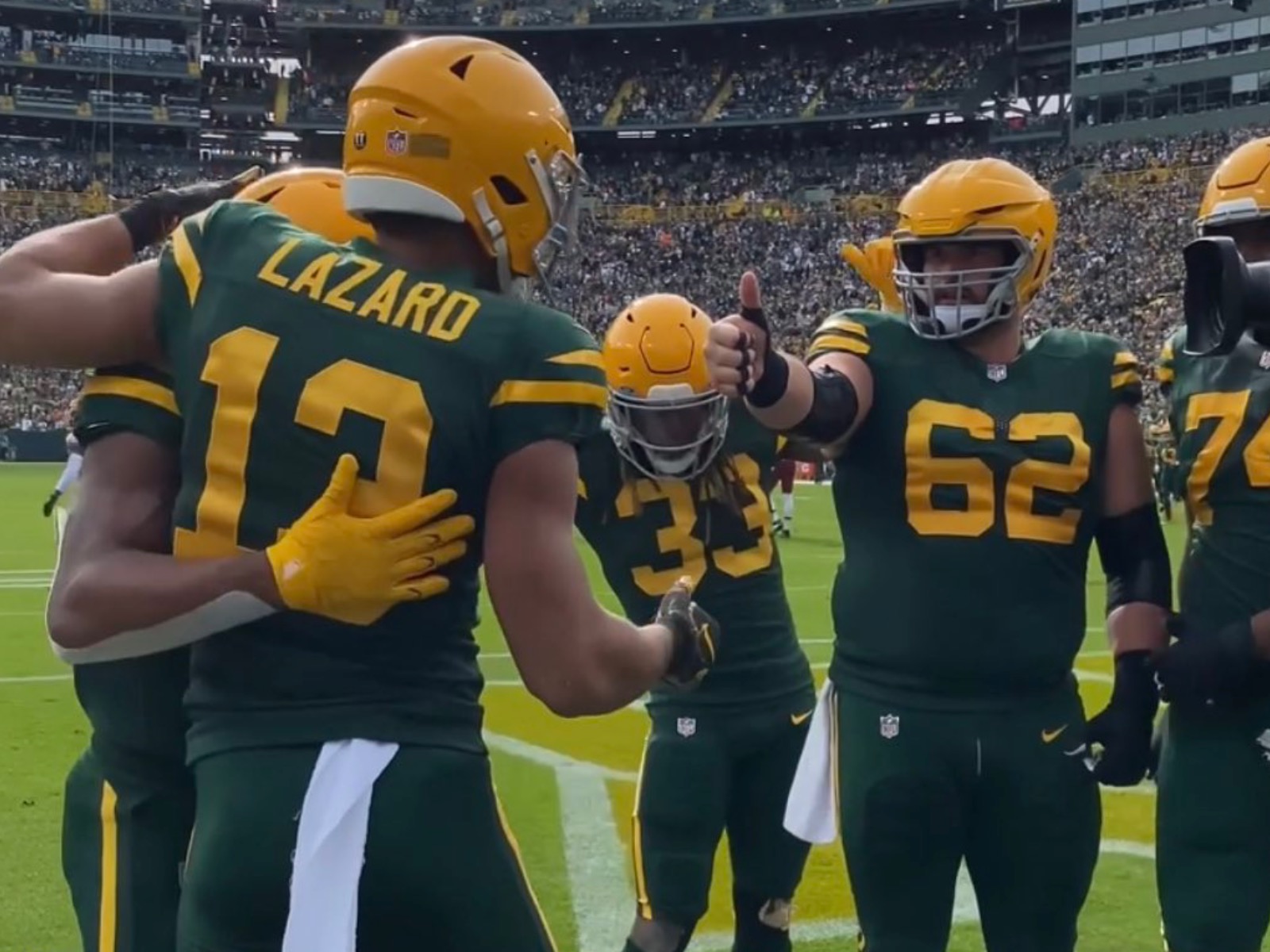 It's no "Discount Double Check plus 'I STILL OWN YOU'" – but I give a thumbs up to the thumbs up.
5. Happy National Tight Ends Day
A tight end touchdown with @gregolsen88 on the call? Happy #NationalTightEndsDay! @RobTonJr

📺: #WASvsGB on FOX
📱: NFL app pic.twitter.com/UL9hRkK0gN — NFL (@NFL) October 24, 2021
Because we won't stop until everything has a national day celebration, National Tight Ends Day is apparently a thing – and Robert Tonyan celebrated it in style, nabbing his second touchdown of the year along with his highest yardage and most catches in a game thus far in 2021. He hasn't been the dominant, touchdown magnet he was last year, but Sunday was a nice reminder that he's still a weapon in the Packers' packed arsenal.
6. Best friends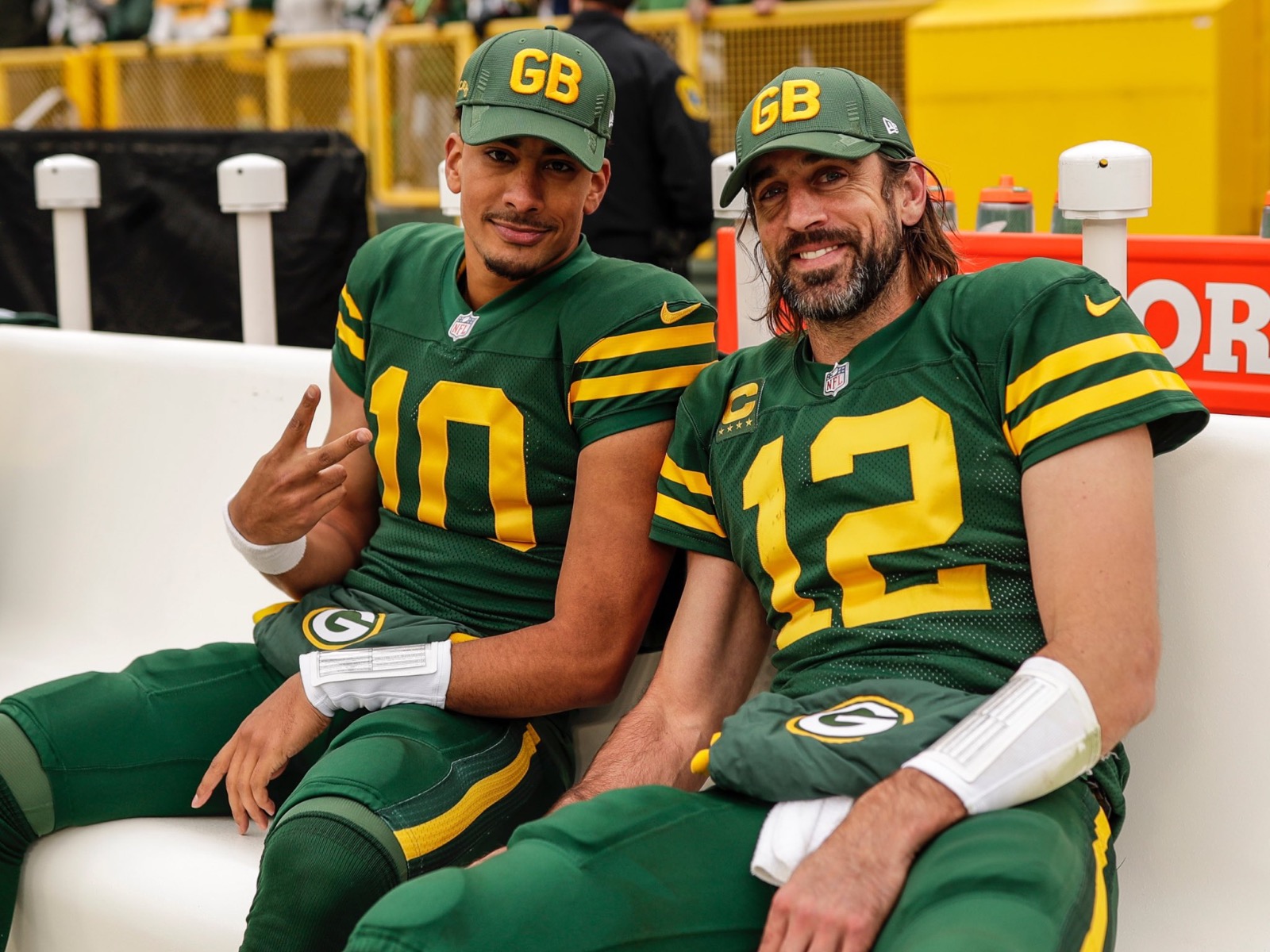 Nothing to see here. Just two good friends, having a blast and being happy and not at all filled with seething resentment toward the other's existence. Moving on ...
7. Bent, not broken once again
Fourth & goal from the 1ï¸Ââƒ£...

AND THE DEFENSE MAKES THE STOP! 🛑💪#WASvsGB | #GoPackGo

📺 FOX pic.twitter.com/eIX1Fkinh8 — Green Bay Packers (@packers) October 24, 2021
Once again, while seemingly half the team's playmakers are on the sidelines with injuries, the Packers defense stepped up. I mean, sure, it's easy to step up against the likes of the hapless Justin Fields and Taylor Heinecke – but they're still NFL quarterbacks leading NFL offenses, and Green Bay bottled them up, only sacrificing 24 points across two weeks while getting stops and big turnovers when needed (with maybe some help from a few Washington whoopses this week). It sure feels like we're a long way from week one. (Sorry to bring that up again; I'm trying to remove it.)
8. Making it look easy
We are not worthy of Davante Adams... pic.twitter.com/ZgQCu54XpP — Eli Berkovits (@BookOfEli_NFL) October 25, 2021
Even on days with a fairly standard stat line – "only" six catches for 76 yards and a score – Davante Adams still amazes with catches like this, reminding you why he's the best wide receiver in the NFL right now and frankly it's not even close.
9. This week, the G stands for Gary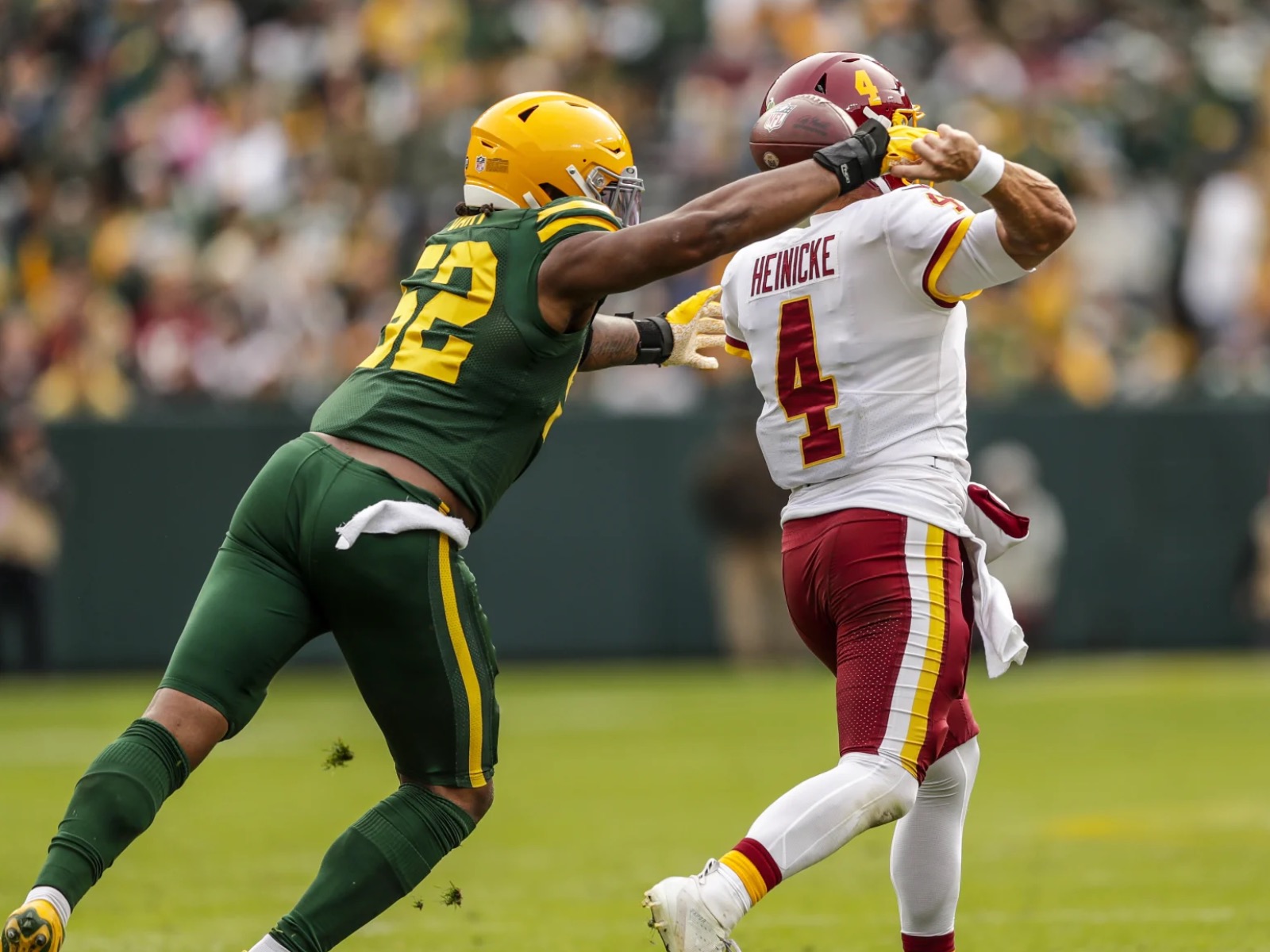 Even since getting drafted by the Packers in 2019, Gary's been considered somewhat of a bust for Green Bay fans, a talented player with all the ability but little impact. Maybe he just needed a little time, though, because his impact was certainly felt this Sunday, totalling ten quarterback pressures, four hits on Heinecke and two sacks – one of which came complete with a key fumble to help lock the game up. Thus far, in 2021, Gary is now fourth in total quarterback hits and climbing the charts on pressures. Considering the woeful number of injuries on that side of the football for Green Bay, Gary's picked the perfect time to step up and become the disruptive star he was drafted to be.
10. Barry good defense
The @Packers red zone defense is ON ONE today 🔥🔥🔥 pic.twitter.com/HWtqmwbTqT — FOX Sports: NFL (@NFLonFOX) October 24, 2021
After people busting out their finest #FireDomCapers after the season opener, Joe Barry's defense has settled down nicely, giving up yards but rarely giving up points – all while Jaire Alexander, Preston Smith, Za'Darious Smith and more sit hurt on the sideline.
The bent-don't-break approach has worked thus far – but the true challenge lies ahead, with the undefeated Arizona Cardinals on a short-week Thursday night game followed by the defending AFC champion Kansas City Chiefs, who may have scuffled lately but that'll only make them more motivated to find their groove again. Hopefully they don't find it against the Packers in two weeks – and hopefully Barry's defense can prove it's not just capable of beating bottom-feeders.
As much as it is a gigantic cliché to say that one has always had a passion for film, Matt Mueller has always had a passion for film. Whether it was bringing in the latest movie reviews for his first grade show-and-tell or writing film reviews for the St. Norbert College Times as a high school student, Matt is way too obsessed with movies for his own good.
When he's not writing about the latest blockbuster or talking much too glowingly about "Piranha 3D," Matt can probably be found watching literally any sport (minus cricket) or working at - get this - a local movie theater. Or watching a movie. Yeah, he's probably watching a movie.