A few hours after driving down Washington Boulevard, which I do often, I received an email from reader Chris Dwyer.
"This summer, I was with my family on the median of Washington Boulevard during a street festival," he wrote.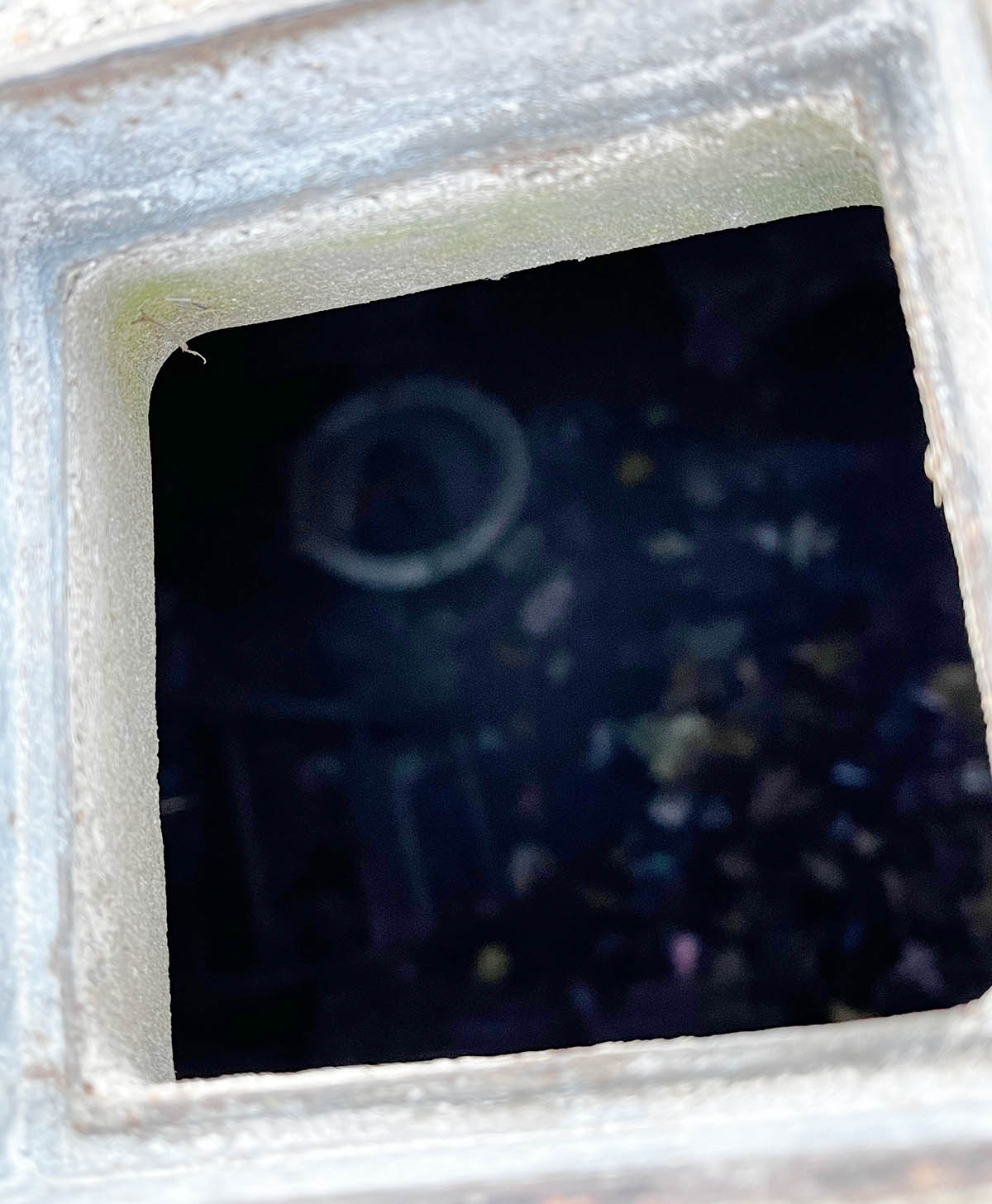 "My daughter was crouched on the ground looking at a nondescript concrete rectangle when she said, 'Dad, there's a toilet down there!'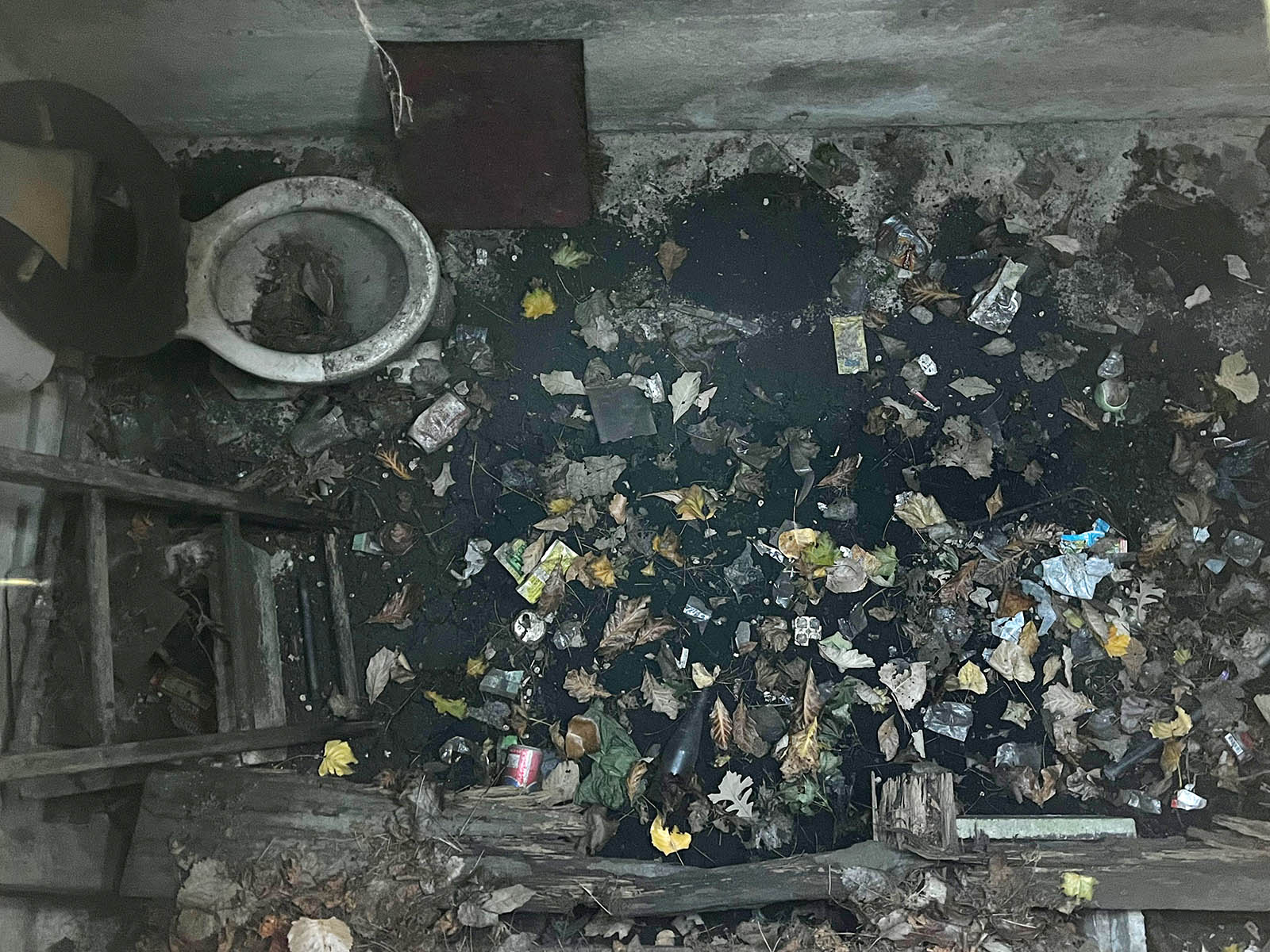 "Sure enough, there was a vault about 10'x15' and 8-10' deep with a toilet in the corner. It had clearly been a long time since it was used, but the water piping was clearly visible. A few feet away there is a 4'x8' rusted metal access hatch that covers a full concrete stairway."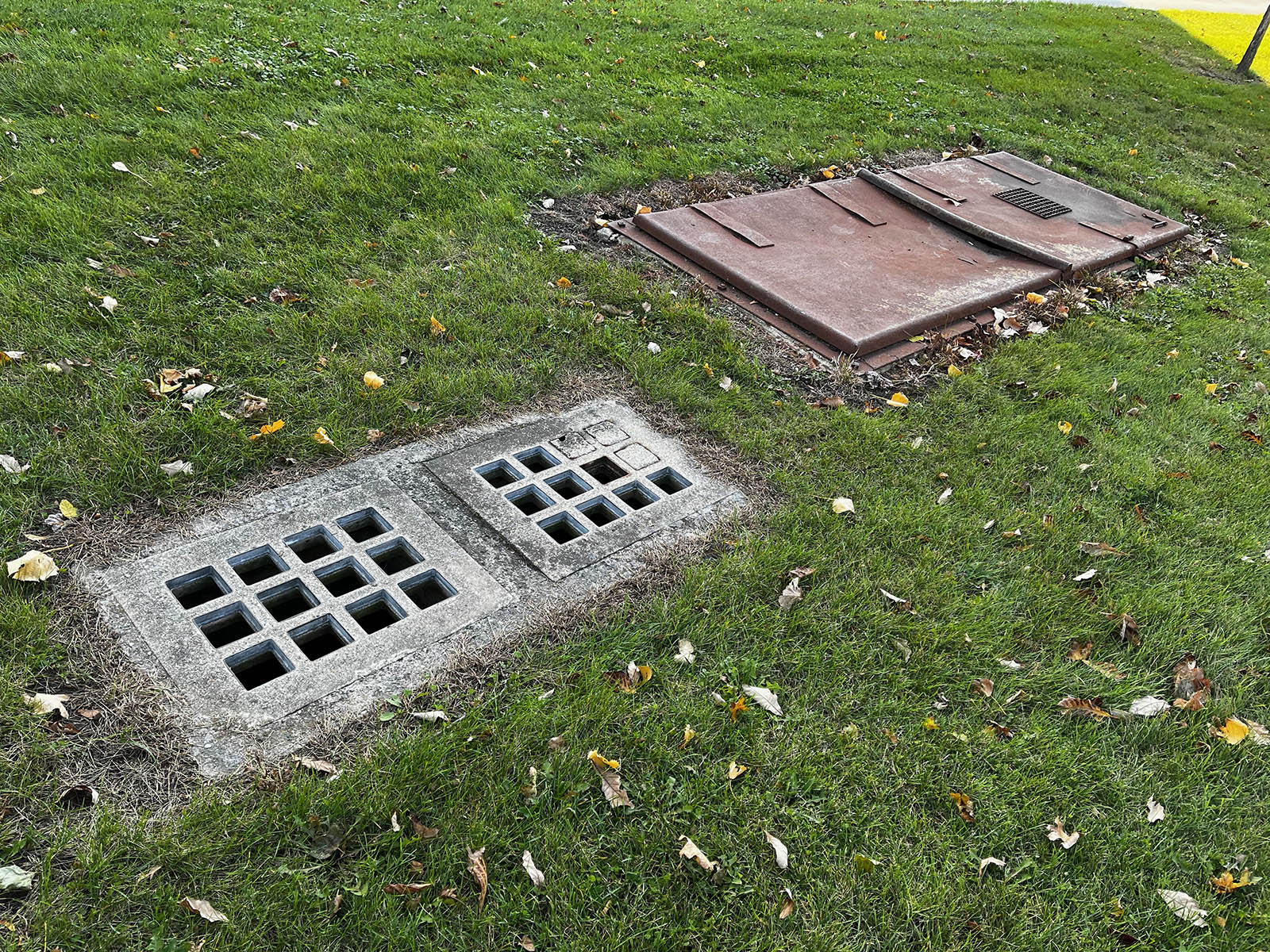 Dwyer sent some photos that show the metal hatch and a concrete rectangle in the grassy median between 53rd and 54th Streets. The rectangle has two banks of glass block (most of them broken out and some patched with cement) that were clearly a vault light, meant to serve as a light source for the bathroom below.
Later, I stopped for a look myself and as Chris says, "Sure enough," there it was. The hatch covering the staircase, the vault light and, down below, the bathroom with its extant toilet.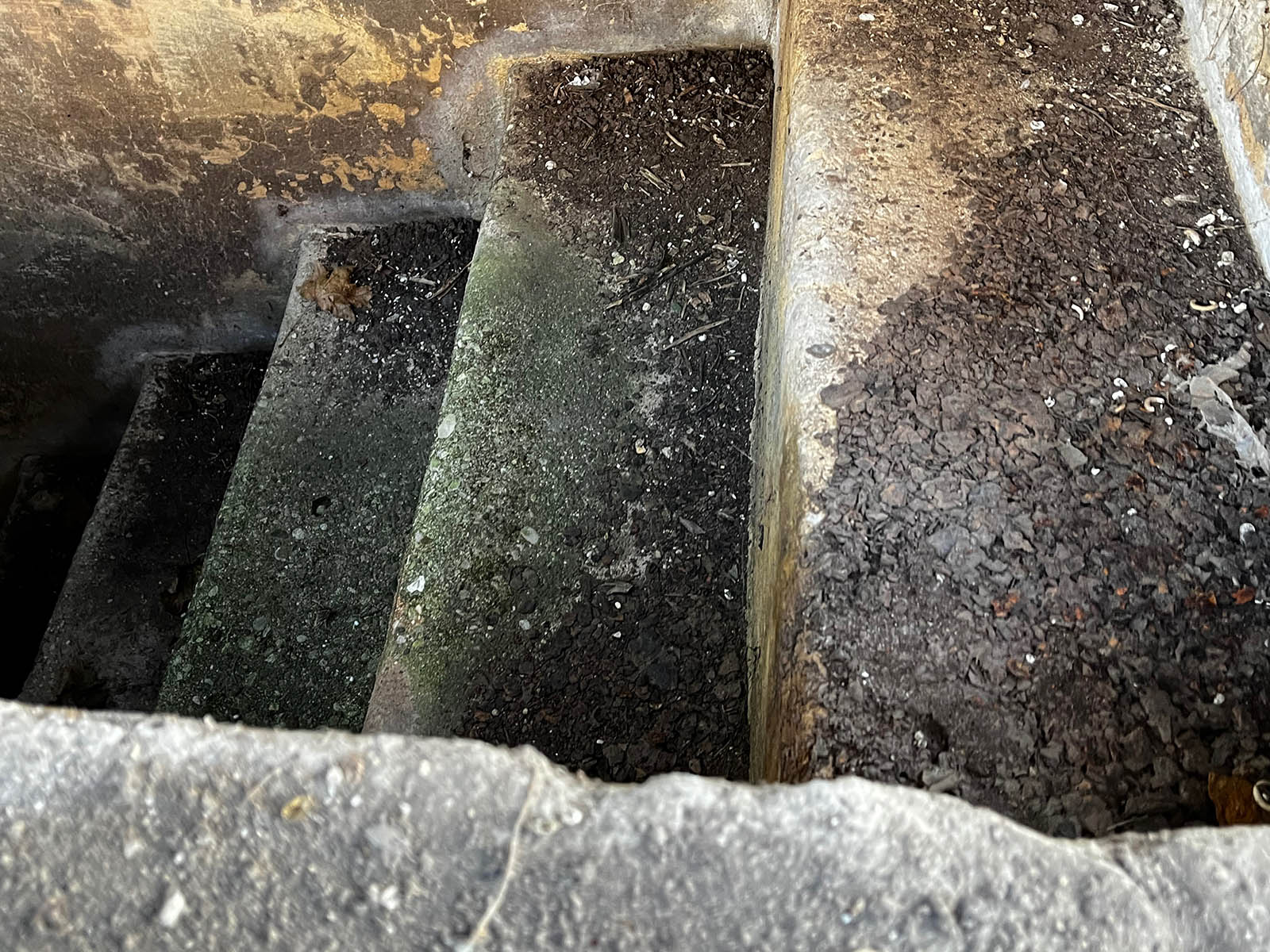 But, why?
It seemed unlikely that it was ever meant as a public comfort station since the hatch door is extremely heavy and it's a poor way to design an entrance into a public toilet.
Could there once have been an above ground entrance to the staircase that was later torn down and the opening was then capped with the current hatch?
The vault light, which allows sunlight in, suggests the WC was mainly meant for daytime use, too, though it's entirely possible that there was another powered light source in the bathroom. It's impossible to tell from above.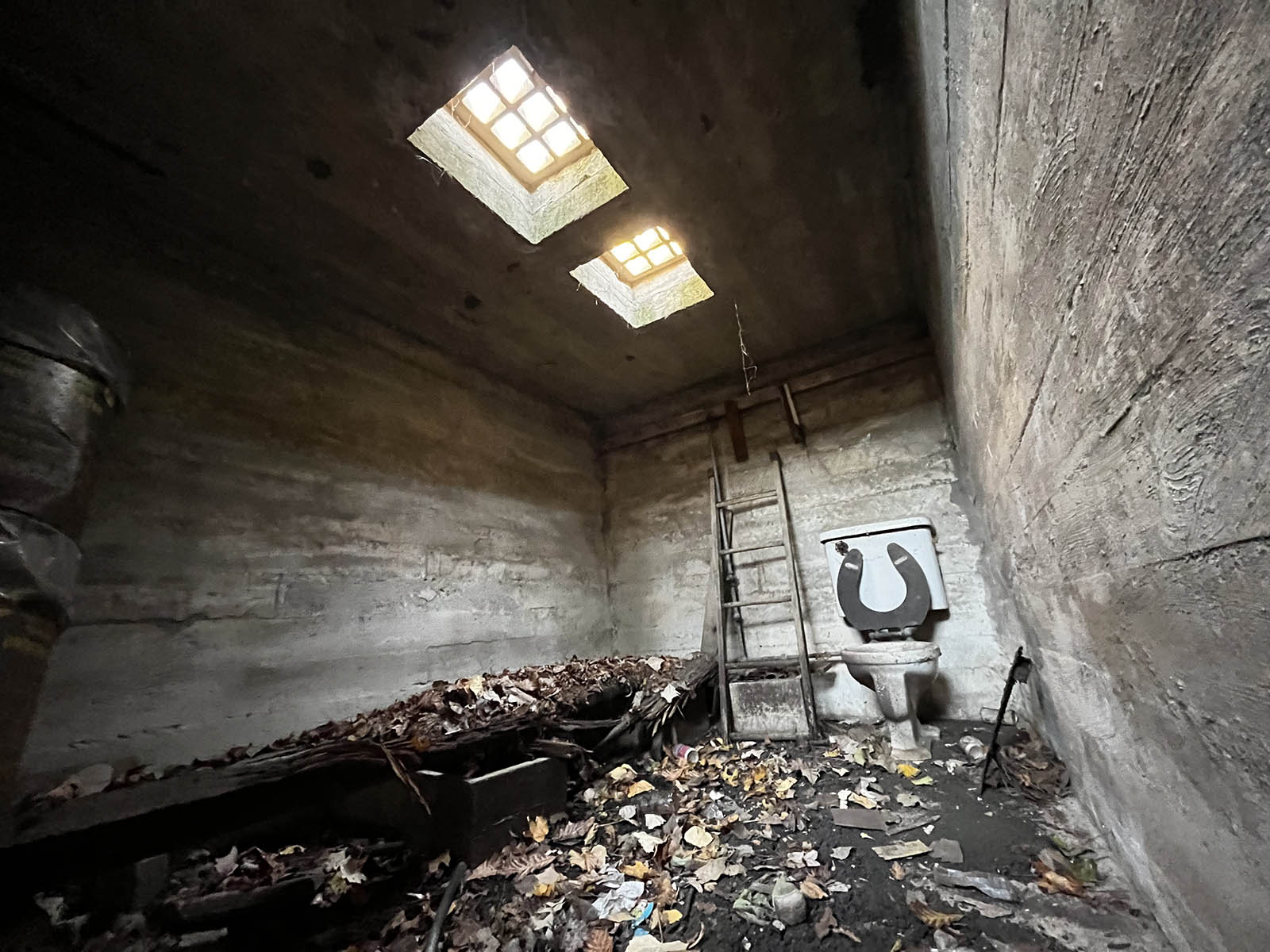 Could it be a convenience that was meant for city workers who were out and about all day, potentially without access to a toilet? If so, that would likely mean more of these exist elsewhere in the city, right?
Jeff Polenske, the City of Milwaukee's Commissioner of Public Works, has the answer.
"After a little investigating, I came to find that back some time ago when there was a higher level of annual landscaping maintained along this boulevard there was gardening staff that spent more time at this site taking care of it all," he says.
"In an effort to accommodate the maintenance operations an underground gardener's shed was constructed within the boulevard."
Although I couldn't find any reference to it on the 1927 Sanborn map, Polenske says it does appear on some documents.
The trap doors are noted on a 1938 sewer plan – which I obtained with the aid of Milwaukee Central Drafting & Records Manager Yance Marti – because the toilet chamber sits right above a 12-inch sewer.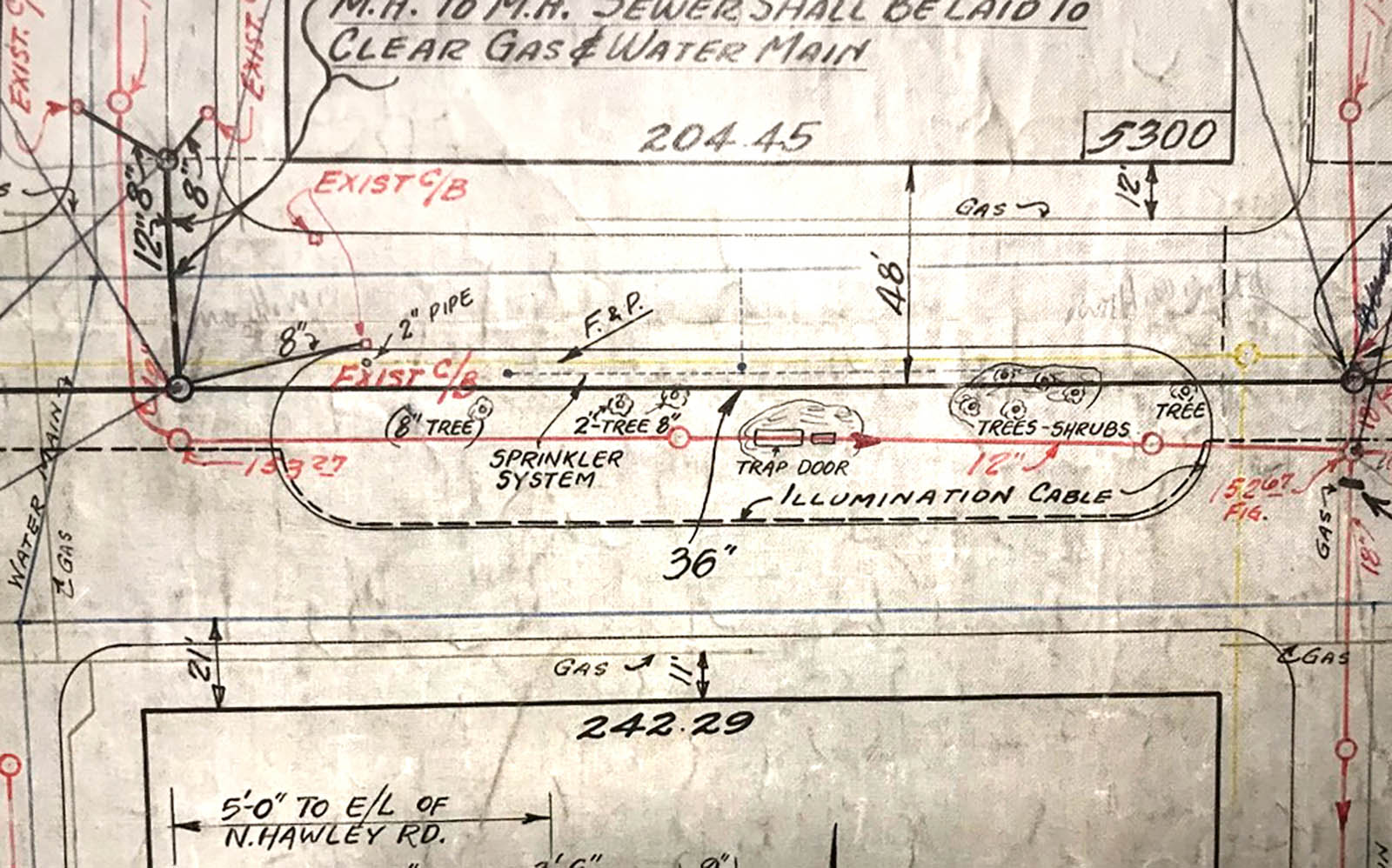 "We found reference to the structure as a 'garden maintenance' structure on some of our sewer plans," Polenske says.
"The toilet is not shown on the sewer plans. Our staff believe that this gardening staff at some point may have modified the underground facility with the toilet so as not to annoy adjacent residents by having to ask them to use their bathrooms during the day."
Polenske says that not only is the department's forestry staff – which maintains city boulevard medians – aware of the underground room, they, "still use it to some extent."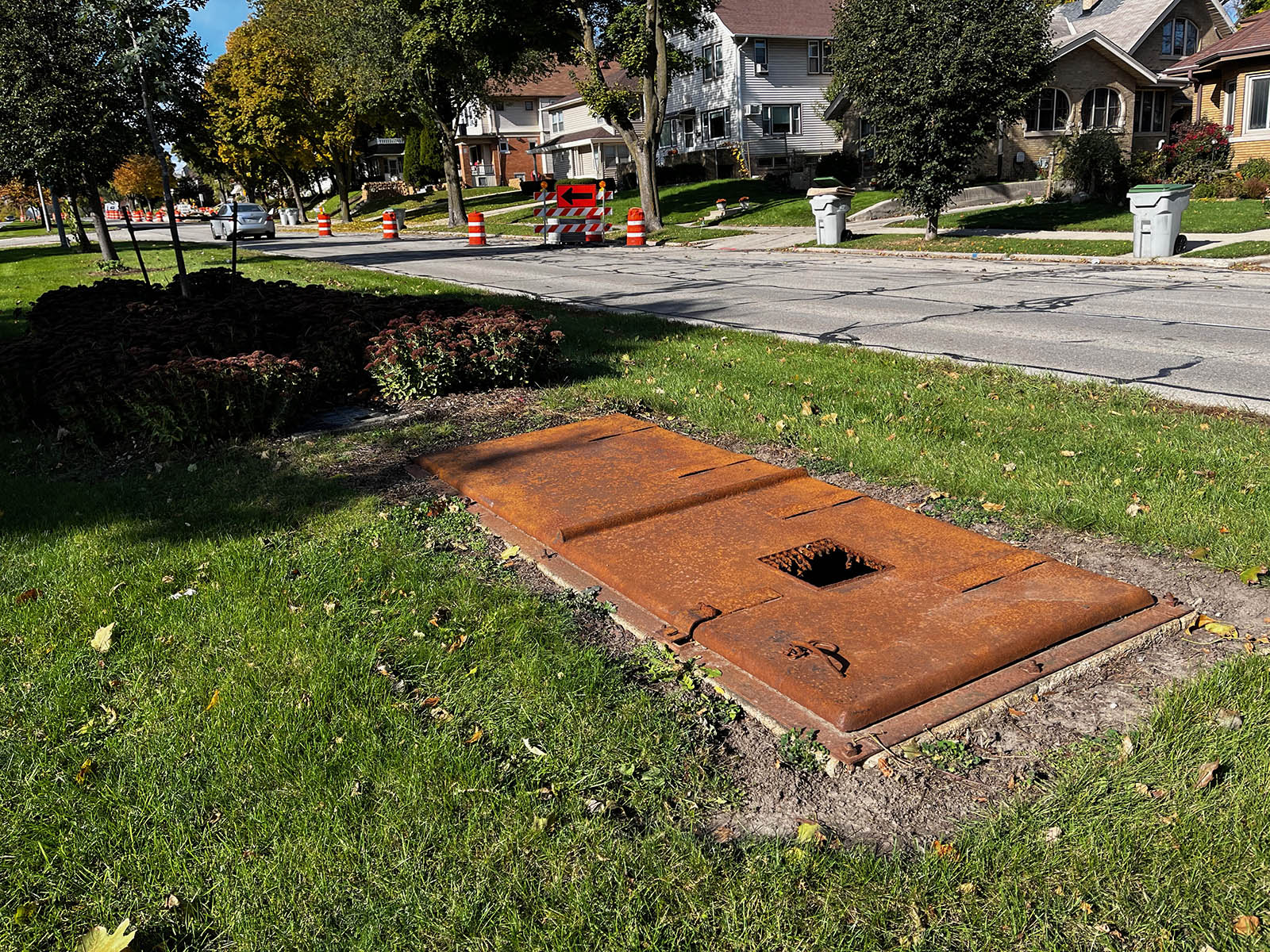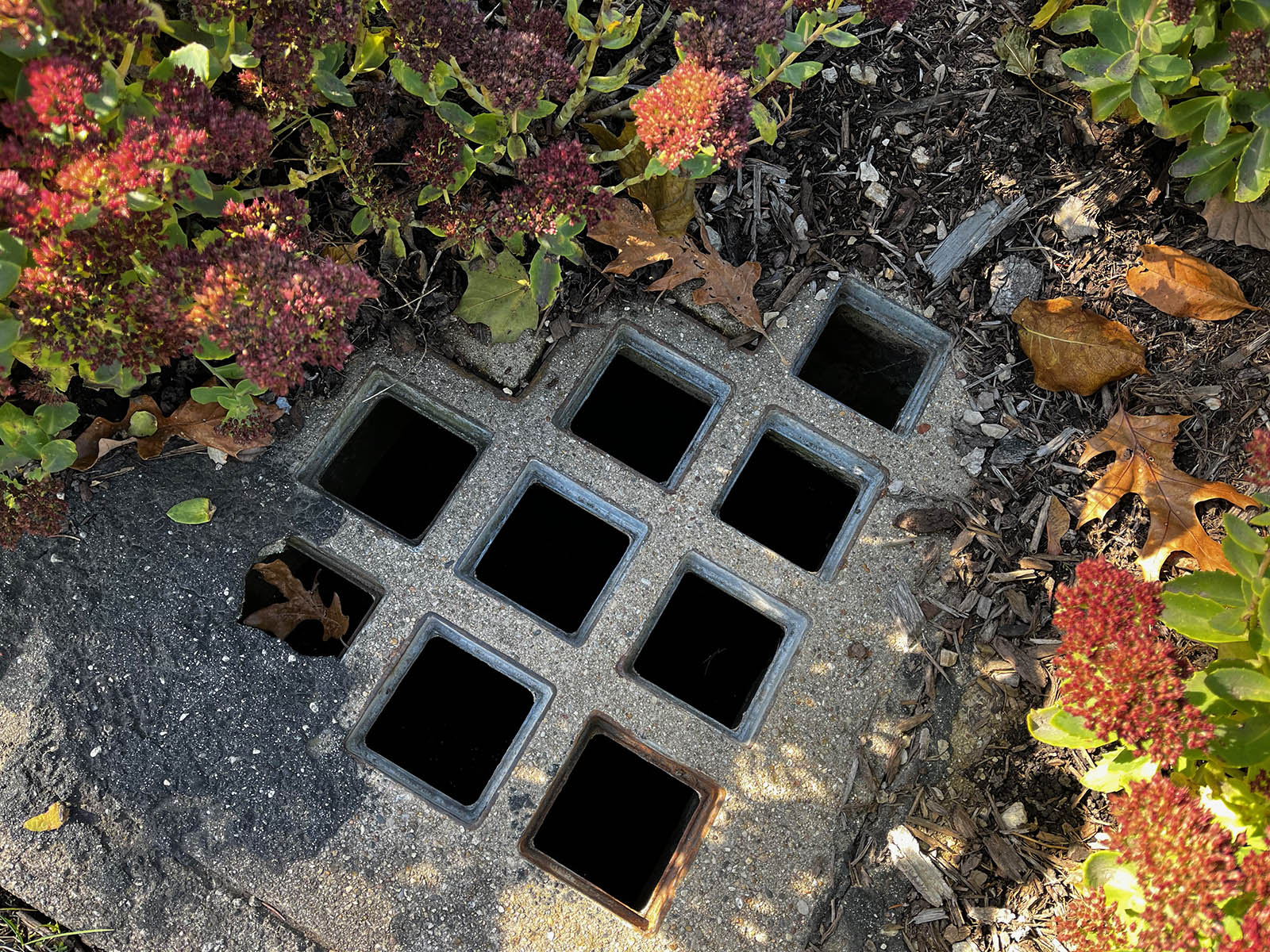 And, yes, there is at least one other underground "shed:" in the median at 51st Street and Wisconsin Avenue. That one has the same trap door and a vault light, though it was impossible to tell from above if it also has a toilet.
This week, I got a chance to go inside both of them to learn more and see for myself.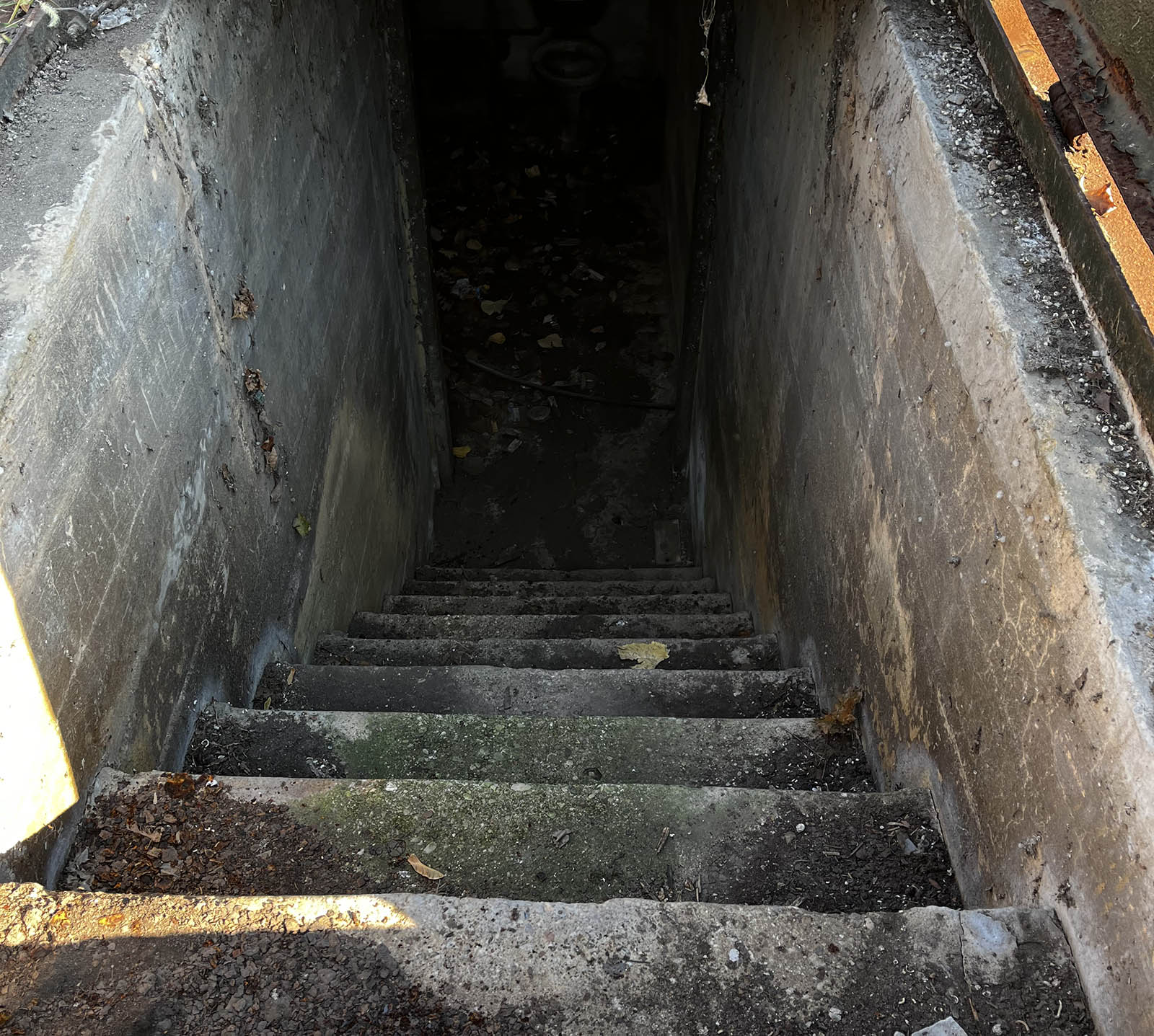 The two are more or less identical: same layout, the same two-part trap door, same vault lights. The toilets are located in the same spot, straight back from the staircase.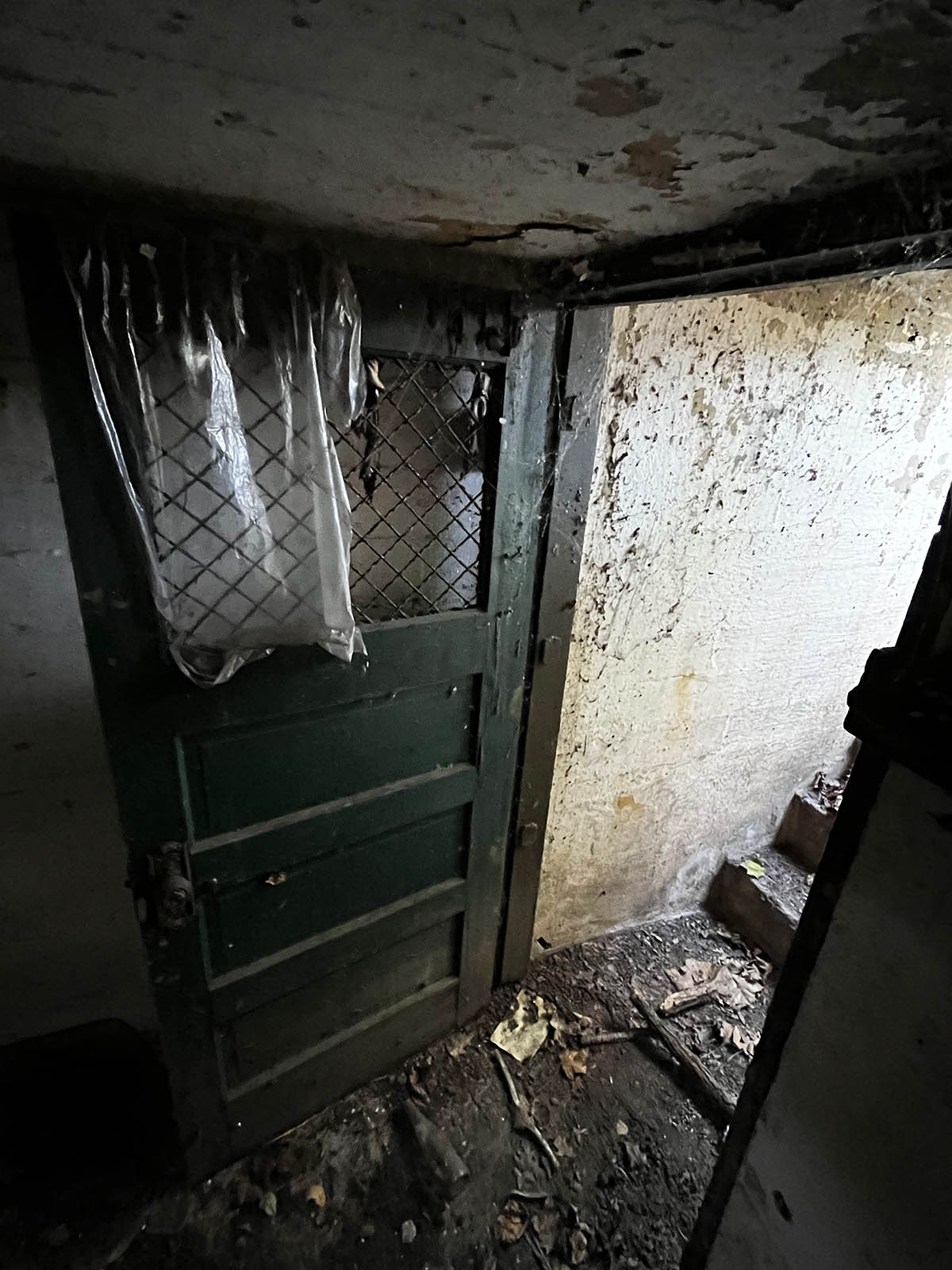 The one on Wisconsin Avenue has another door at the bottom the staircase, as well as a bit of graffiti, which looks fairly old. The phone numbers listed for City Hall and the forestry department use old-style alpha-numeric exchanges, and one cryptic note that reads, "paper, 4-21-60."
This one also has toilet paper ... which perhaps was last changed 61 years ago.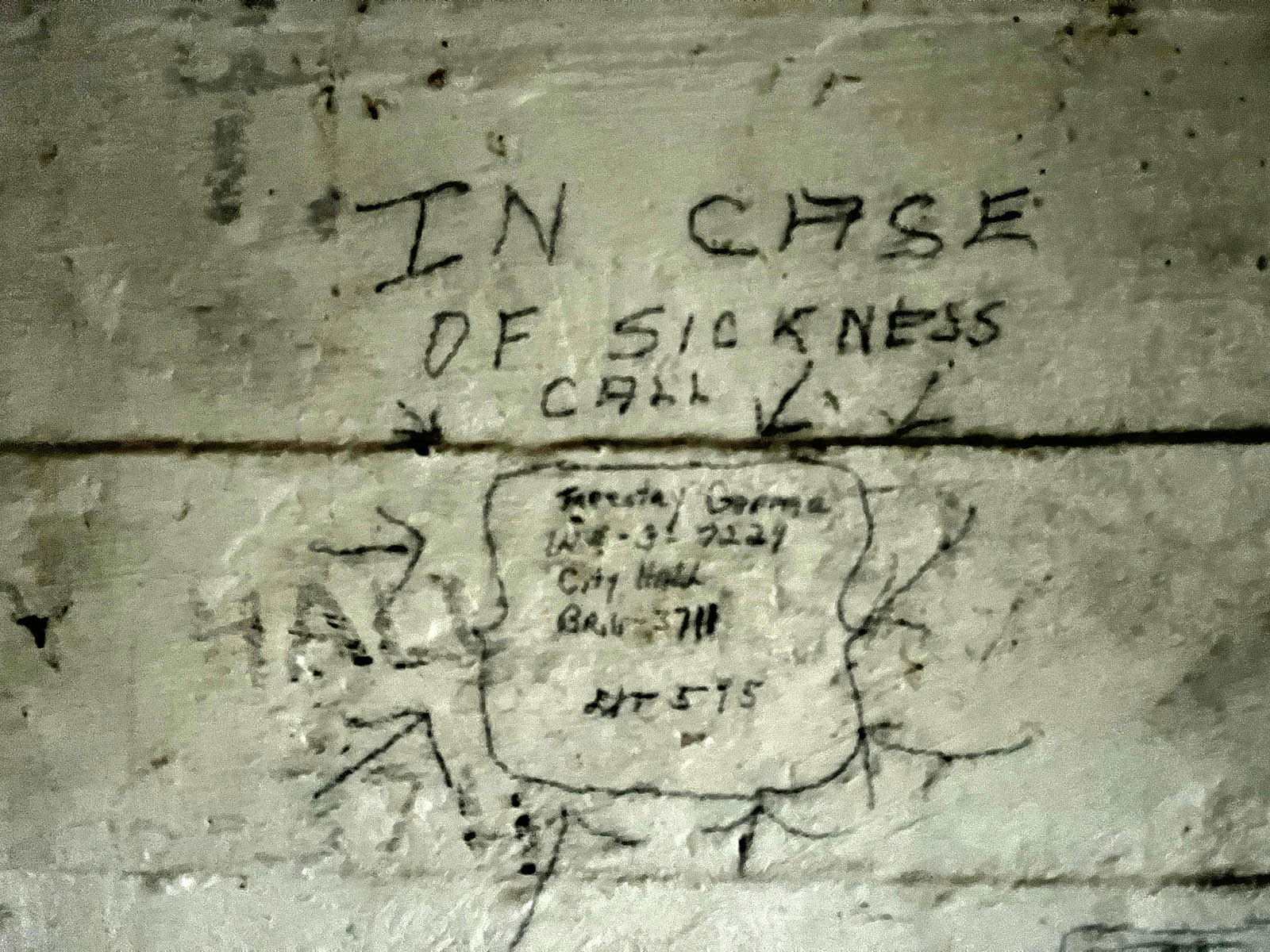 Each appears to have had a makeshift storage bench – now decayed – made with planks and bricks, presumably for storage of items up off the floor.
There are also boards on the wall with nails for hanging tools.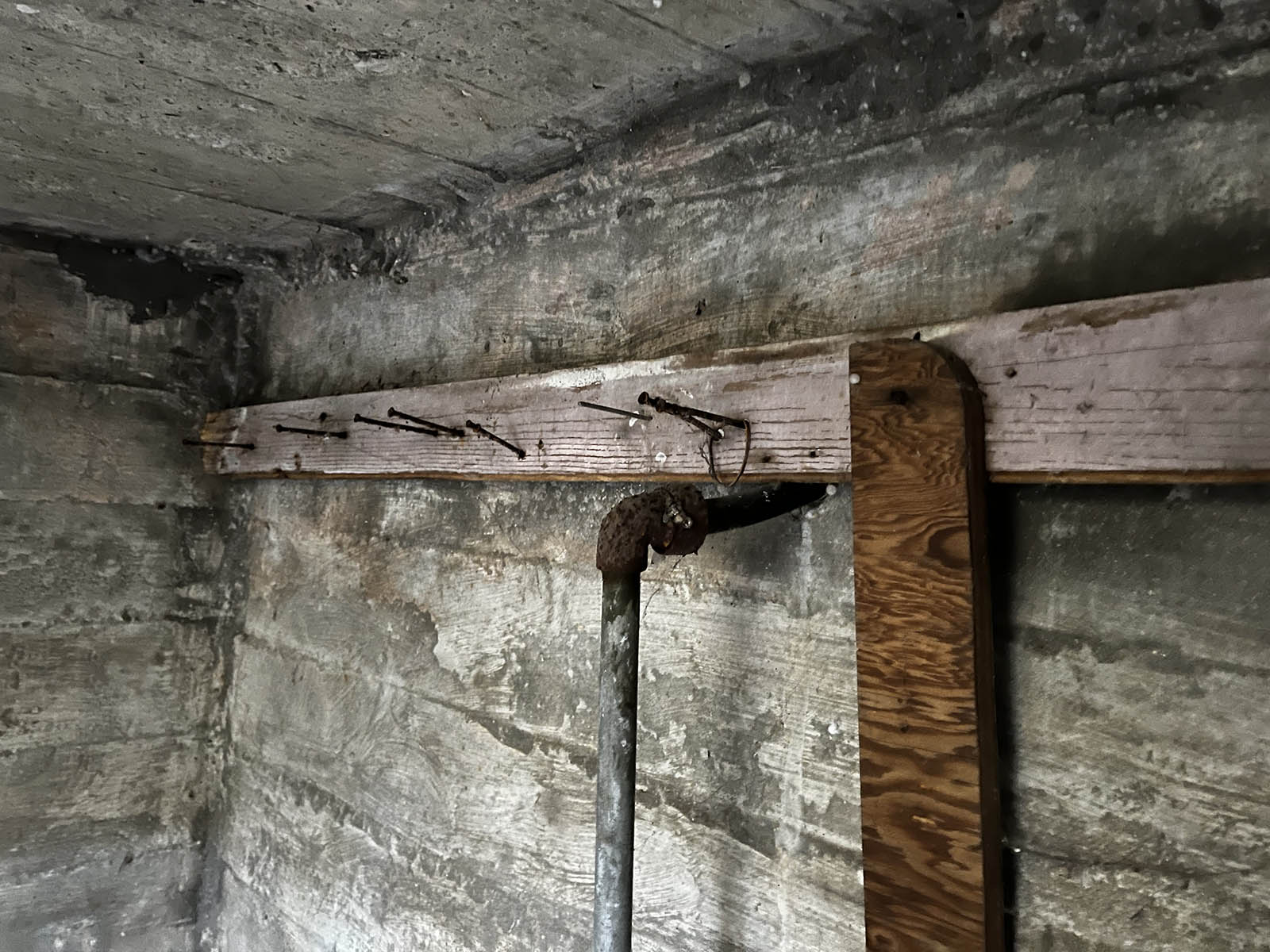 The Washington Boulevard "bunker" has two stacked Civil Defense water barrels, now empty, and a small ladder.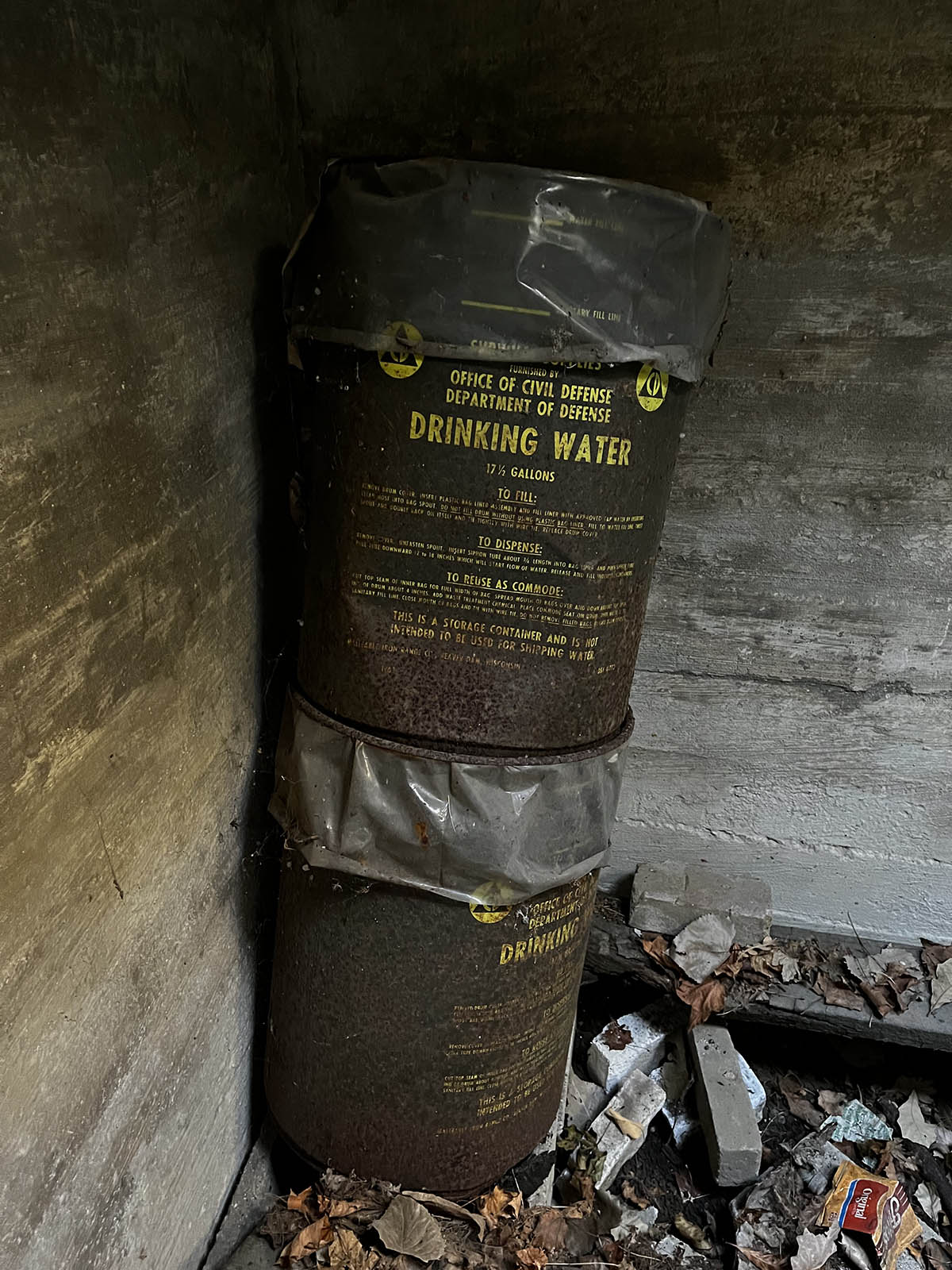 Otherwise, there's not much inside, apart from some leaves, and a few bottles and cans.
But the places are built like bomb shelters with thick poured concrete walls. Perhaps that use was considered a fringe benefit of their construction.
Two very long-tenured forestry department employees I asked knew of the underground spaces, but neither had ever been inside them.
"Years ago forestry had seasonal boulevard workers," says Aimee Balestreri, who is the urban forestry manager for the central district. "They would report right to the boulevard in the mornings.
"We had big boxes of tools for them that sat right on the boulevards."
They'd work out there all day, so it's entirely understandable that they'd need facilities, and these structures – there may be more of them but no one I talked to knew of others with any certainty – surely served that need.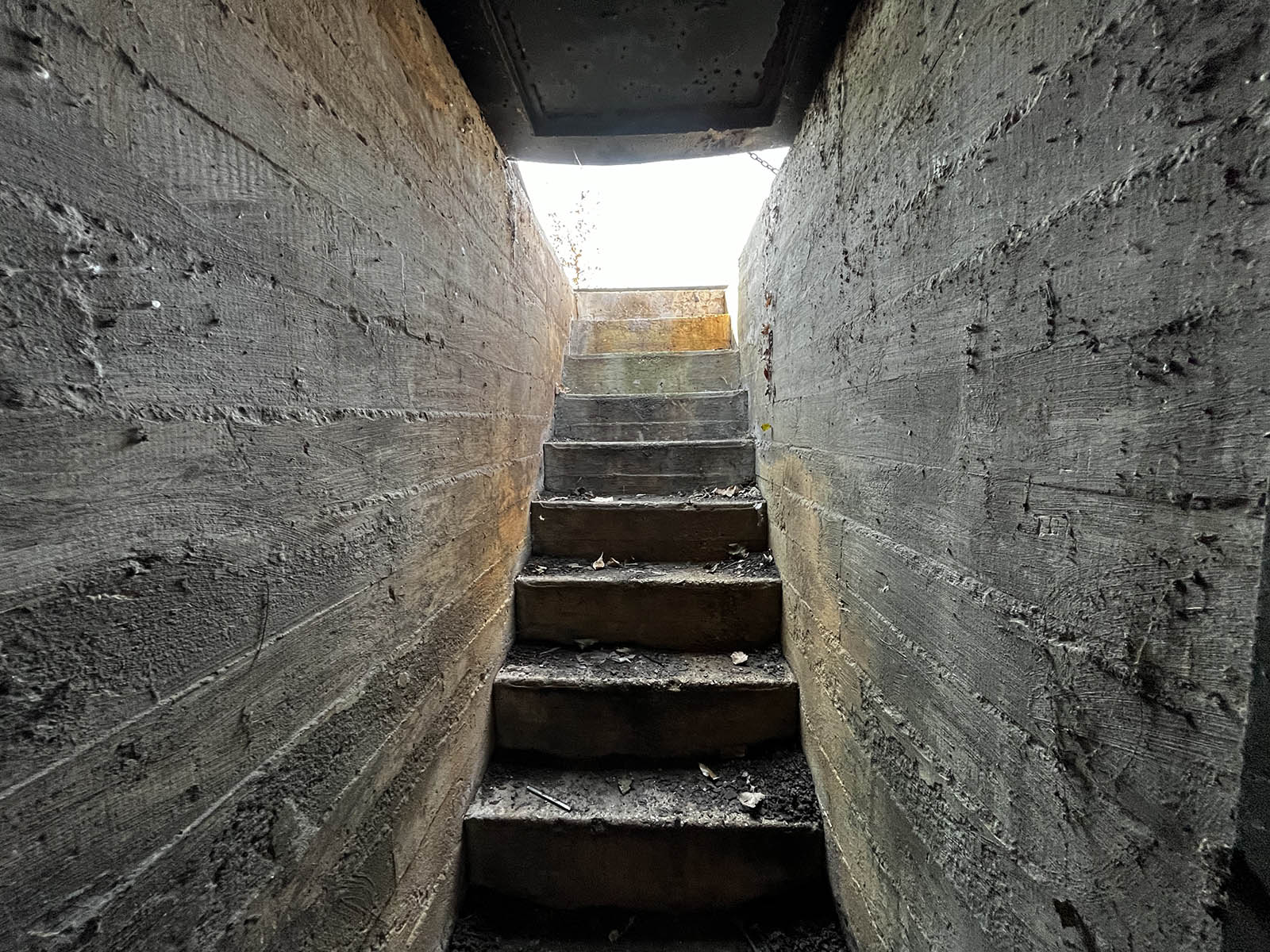 Nowadays, there are no more seasonal boulevard workers and pretty much everyone has a vehicle and can get to facilities somewhere, rendering these spaces redundant.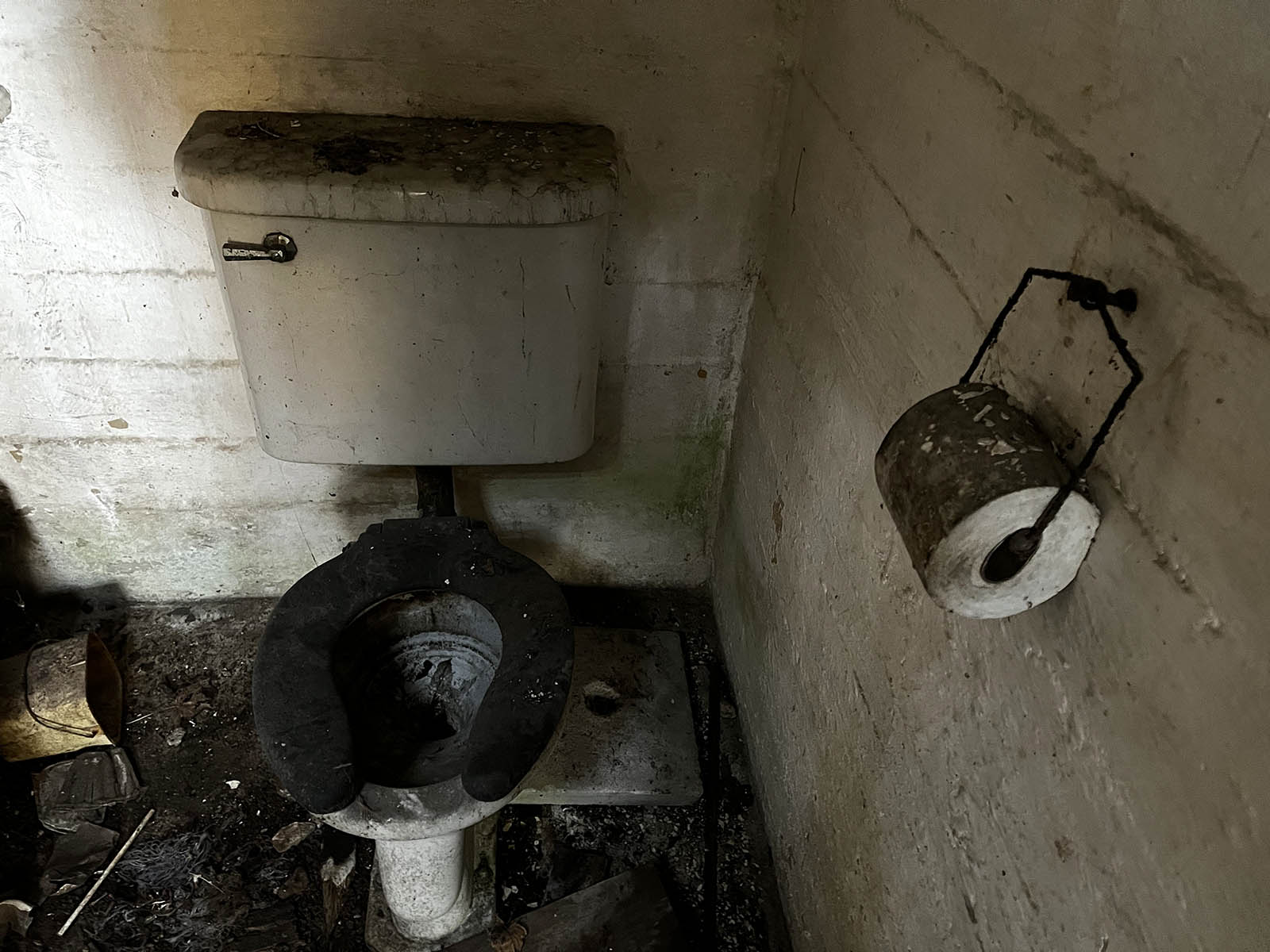 That said, they're pretty unexpected and intriguing.
And, no, the toilets do not flush.
Born in Brooklyn, N.Y., where he lived until he was 17, Bobby received his BA-Mass Communications from UWM in 1989 and has lived in Walker's Point, Bay View, Enderis Park, South Milwaukee and on the East Side.
He has published three non-fiction books in Italy – including one about an event in Milwaukee history, which was published in the U.S. in autumn 2010. Four more books, all about Milwaukee, have been published by The History Press.
With his most recent band, The Yell Leaders, Bobby released four LPs and had a songs featured in episodes of TV's "Party of Five" and "Dawson's Creek," and films in Japan, South America and the U.S. The Yell Leaders were named the best unsigned band in their region by VH-1 as part of its Rock Across America 1998 Tour. Most recently, the band contributed tracks to a UK vinyl/CD tribute to the Redskins and collaborated on a track with Italian novelist Enrico Remmert.
He's produced three installments of the "OMCD" series of local music compilations for OnMilwaukee.com and in 2007 produced a CD of Italian music and poetry.
In 2005, he was awarded the City of Asti's (Italy) Journalism Prize for his work focusing on that area. He has also won awards from the Milwaukee Press Club.
He can be heard weekly on 88Nine Radio Milwaukee talking about his "Urban Spelunking" series of stories.