Postcard views of 8 disappeared Milwaukee bars
"Bar Month" at OnMilwaukee is back for another round, brought to you by Great Northern Distilling: grain to glass spirits, handmade in Wisconsin. The whole month of March, we're serving up intoxicatingly fun articles on bars and clubs – including guides, the latest trends, bar reviews, the results of our Best of Bars readers poll and more. Grab a designated driver and dive in!
Milwaukee is – and always has been – a city of taverns. We like good beer and cocktails, and we like good company while we drink it. Here are postcard views of eight Brew City bars that have disappeared from the landscape.
1. Greg Logan's Cocktail Lounge
In 1958, the Milwaukee Sentinel wrote of this gorgeous-looking place, "Logan ... has been operating a first class cocktail lounge on upper 3rd St. for a quarter century. In examining a menu he was using back in 1934 an interesting price observation came to light. While a summer sausage sandwich sold for a dime and cocktails went for a quarter, the "zombie" still commanded a dollar a throw. 'Our flaming Blue Blazer cocktails has since replaced the zombie,' said Greg. 'It's a drink that renders the hot water bottle obsolete.'" I want one.
2. Red Room Bar
The narrow little Red Room Bar sat alongside the considerably more spacious Green Room Restaurant in the Plankinton Arcade, now part of The Shops of Grand Avenue mall. Liberace used to play piano in the Red Room Bar under the pseudonym Walter Busterkeys. Nuff said.
3. Scenic Lounge
Check out this place – which lived up to its name – with its square stools, row of banquettes, curved bar and that incredible exterior and sign. It was located at 730 N. 5th St., between Wisconsin and Wells.
4. Smally's Tavern
This place was an arm of Smally's liquor – "The House That Service Built," as its ads boasted – at 1835 W. Vliet St. In fact, the tavern – run by Edward Smally – looks like it's actually in the store in this photo. A full-page 1938 Smally's ad boasts of wine by the truckload and a fifth of gin for 84 cents. The ad also notes that Smally's was open daily until 1 a.m.
5. Tic Toc Club
Located across from the Milwaukee Hilton at 634 N. 5th St., the building was later home to other clubs, too, including The Starship. Read more here.
6. Volpano's
In 1960, publican and restaurateur Lou Volpano passed away, prompting the Milwaukee Sentinel to lament that he, "has left a void in the hearts of his many friends and patrons. His loss is also a blow to the restaurant industry, as Volpano did a great deal to promote Milwaukee's reputation as a great dine-out city. He left his mark behind him at 2483 W. Capitol Dr."
7. Westward Ho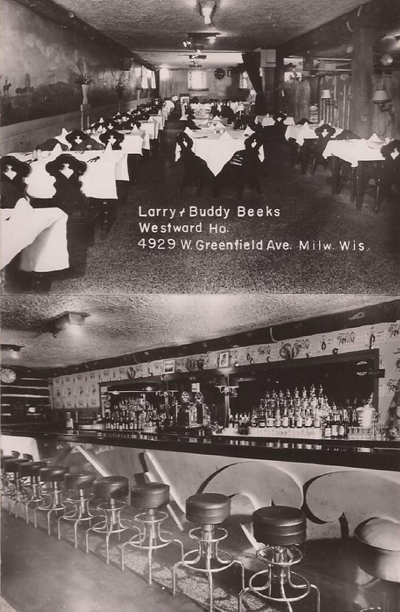 Larry and Buddy Beeks ran this place near the corner of Beloit Road (that may later have been named solely for owner Buddy Beeks), which was known for hosting live music, including the likes of organist Bob Krause in 1954 and around the same time, jazz pianist Tony King.
8. Goodwin's Cocktail Lounge
This place, seen here in a 1950s shot, with its padded leather door, checkerboard floor and gorgeous bar was located at 1352 W. Lloyd St. It is now long gone, having left nary a trace, and the site is part of the schoolyard at Lloyd Street School.
Talkbacks
LouVolpano | March 2, 2016 at 9:25 a.m. (report)
Because I was the oldest of five grand-kids, I worked at the restaurant founded and made very popular by my grandfather . . Lou Sr. "A Special Shout-Out" should go to Ben Pullen the original chef...famous for Prime Rib. He made me eggs when i was a little kid and helped him clean up. And I was allowed to have my first date with a girl there when I was nine.. My grandma slapped me for not standing up and pulling out her chair when she left to go talk to her mom, two tables over....
Facebook Comments
Disclaimer: Please note that Facebook comments are posted through Facebook and cannot be approved, edited or declined by OnMilwaukee.com. The opinions expressed in Facebook comments do not necessarily reflect those of OnMilwaukee.com or its staff.