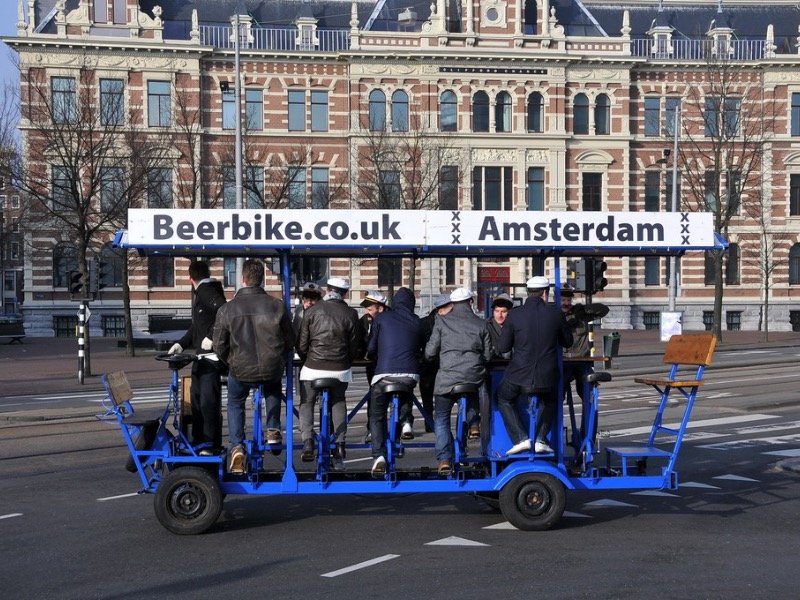 Watch out, Pedal Tavern: Amsterdam bans its version of the bar on wheels
Amsterdam is infamous for being a city of freedom, where you can smoke pot in public, gobble down a "magic truffle" and peruse prostitutes. But apparently pedal taverns are a beer-soaked freedom too far.
On Tuesday, a court ruling banned the Amsterdam edition of the pedal tavern, called "beer bike" across the pond (which, I applaud the alliteration, but who really thinks it looks like a bike?).
According to the BBC, around 6,000 locals signed a petition last year against the mobile bars and popular party vehicles, calling them a "terrible phenomenon" and complaining about the loud nuisance and drunken disturbances riding through its city center. A ban was instituted soon after the petition, but judges struck it down because it wasn't "properly motivated." A year later, however, the Amsterdam courts determined the motivations were proper enough to deflate the beer bikes' wheels.
Sound familiar, Milwaukee?
Since the creation of Milwaukee Pedal Tavern back in 2009, the only thing that's raged more than pedaling partiers is heated debate. Some love the bar on wheels, considering it a fun local company that brings even more money to fellow Third Ward and Walker's Point bars and businesses; others, however, have similar complaints to those Amsterdam locals, noting the loud, rowdy and sometimes littering riders. Even the law got involved, making drinks on the device illegal in 2012 before flipping the verdict just two years later and bringing beer back to the tandem bikes.
Milwaukee has seemingly adjusted to the Pedal Tavern since those early growing pains, but clearly the concept remains controversial – no matter what country you live in.
rtuqbtxyct
Facebook Comments
Disclaimer: Please note that Facebook comments are posted through Facebook and cannot be approved, edited or declined by OnMilwaukee.com. The opinions expressed in Facebook comments do not necessarily reflect those of OnMilwaukee.com or its staff.