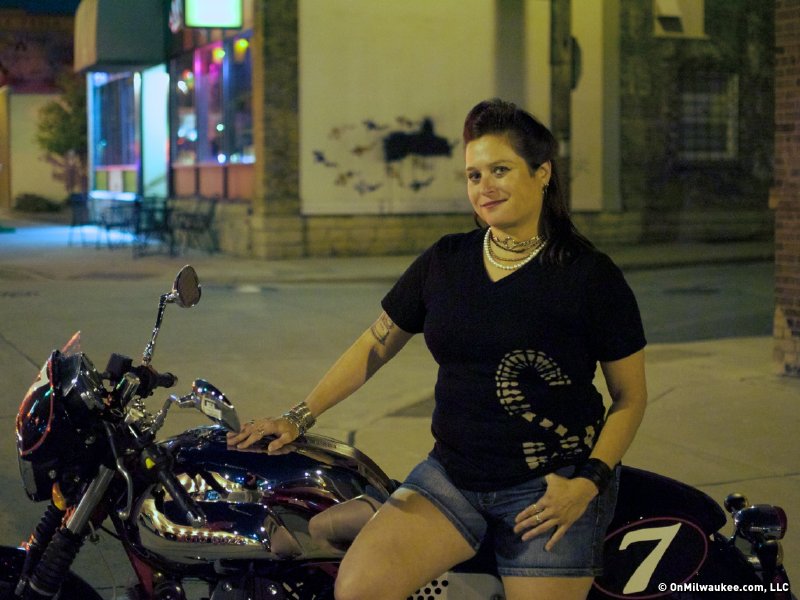 Featured bartender: Sabbatic's Gwenn Barker
Gwenn Barker is a straight shooter on both sides of the bar.
"You can ask me anything and I will tell you the truth," says Barker. "Every time."
And with that, she pours us shots of Tullamore Dew and proceeds to share stories from her 44 years of life with the wit and honesty that's signature of someone living their life on their own terms.
We spent too long at Sabbatic that night, chatting with Barker about – among other things – motorcycles, hurling, chemistry, Bloody Marys and the time she spent working at the Bomb Shelter for her beloved friend Greg Landig who passed away in 2012.
OnMilwaukee.com: I saw you pull up on a motorcycle. How long have you been riding?
Gwenn Barker: 23 years. I just got a new bike – a Moto Guzzi V7 Racer.
OMC: How did you learn to ride?
GB: I'm stubborn. I dated a guy who rode a motorcycle and I told him that I wanted to ride, too. So I found a bike for $500 and asked him to teach me how to ride. Instead of teaching me, he said, "No one taught me how to ride. I just learned." So, I got pigheaded and said, "Fine, I will, too!" So I rode around for several months, passed the test and then broke up with that guy. I was so pissed off at the way he acted – stupid, macho crap. I hate it when people are jerks. But it inspired me to teach others and I've taught five or six people – both guys and girls – how to ride.
OMC: Where do you like riding?
GB: I'm more of a city driver, which is why I got a cafe bike. I like zipping around between home and work.
OMC: Where else do you work?
GB: I'm a chemist – actually a senior laboratory coordinator – for Johnson Controls.
OMC: So you wash a lot of test tubes?
GB: Oh, I have!
OMC: I see a connection between chemistry and bartending …
GB: Absolutely. Biochemist / mixologist – same thing. Most people here don't know me as a chemist. They know me as a bartender. That's OK.
OMC: What's your favorite drink?
GB: My go-to drink is Pabst. If there are 150 different beers on the menu, I pick a Pabst while I figure out what else I want to try. I also like whiskey gingers and cider.
OMC: What's your favorite drink to make?
GB: Bloody Marys and Old Fashioneds. They take forever and they're a pain in the ass, but when you make a good one it's worth it.
OMC: You're not on Facebook. Why is that?
GB: When you say something to someone in person, you think about what you're going to say because you have to consider the reaction. But on social media, people say whatever the f*ck they want. We're losing social graces from Facebook. I just prefer face to face. I'm a straight shooter.
OMC: What are some of your favorite bands?
GB: Oh, wow. My tastes are across the board – punk, rockabilly, Irish music, Cheap Trick, The Cure, Carbon Leaf, Depeche Mode, Social Distortion. Too many to mention.
OMC: Prior to Sabbatic you worked at the Bomb Shelter, right? (The Bomb Shelter, now The Parlor, closed in 2012 after Landig died.)
GB: Yes, I had known Greg for years and he asked me to bartend before he bought the bar. I had only poured beer at Tracks for Locust Street Festival. So I got my bartender's license and started working there four nights a week on top of my day job. I eventually realized that was a bit much and cut back, but I worked there from day one until the day Greg died. Greg was too young to die – he was 46 – but he died with a smile on his face, doing what he loved to do.
He loved the bar. He loved everything Wisconsin – especially supporting Wisconsin brewers and collecting old school Wisconsin memorabilia. Greg was a total Wisconsin enthusiast – he even loved to serve all the Up North foods like pickled eggs, hocks, wieners.
That's part of my connection to Sabbatic – we had his memorial here. The place was packed. Greg had been on a Maker's Mark kick before he died so we drank all the Maker's Mark and then Sam (Berman, co-owner of Sabbatic) was running around Walker's Point, trying to find more Maker's Mark to borrow for the night.
I miss Greg and I miss the Bomb Shelter. It was a great place. You could walk in and order a Pabst and sit next to a guy drinking an $11 beer and there was no snobbery whatsoever. Everybody just hanging out, drinking beer, talking.
OMC: You mentioned that you have a memorial tattoo for Greg?
GB: I have a tattoo that memorializes a bunch of people I've lost. Greg's right here. (Points to one of the tombstones in the tattoo.) There's a (marshmallow) Peep on top of his headstone because he loved hosting the Peep Show at Bomb Shelter. It also says "true story" because during the last year and a half of his life, it became his catch phrase. He would end a sentence often with "true story" and a lot of his friends picked it up, too. I still say it sometimes. True story.
OMC: Who else is memorialized in your tattoo?
GB: My dad died in 1991, 13 days before my 21st birthday. We had planned to go to the Safe House together and I still went. Cried my eyes out, but went. My dad used to entertain clients – he worked for Wisconsin Bell (now AT&T) – and he would always take them to the Safe House. He would call me from the phone in there and make my mom wake me up and he'd say something like, "I'm in Bangladesh!"
I was a daddy's girl. He taught me how to make a lot of drinks. I grew up watching him. On holidays he would make grasshoppers and golden Cadillacs. We had a bottle of Galileo that was taller than I was.
My Aunt Bev's here, too. She was this little lady – shorter than me – and super refined but she smoked those long Virginia Slims until the day she died and she always snapped the filter off and lit them on the kitchen stove. She introduced me to Milwaukee art and culture. She took me to the Skylight Opera – I still have tickets today – or to see the pianist Jeffrey Siegel. She loved to go out in Milwaukee.
OMC: So I can't believe we've talked for this long and haven't discussed hurling. It's a major part of your life, right?
GB: Yes. This is my 14th year playing. I graduated from college and turned 30 and started playing hurling all in the same year. I played volleyball at the time and went to watch a hurling game and within about two minutes of watching I said to myself, "I gotta play this." I also helped start the kids' league.
OMC: Do you enjoy coaching kids?
GB: I do. I don't have kids. Never had the urge. I really believe it takes a group of people to raise kids and my place in the "village" is to coach them. And I have a fair number of friends with kids and I get to be the cool aunt. I can buy them something special that their parents might not have the money for.
OMC: What do you like about bartending?
GB: Everything at my day job is very focused, very strict. Safety first and all that. I love how laid back bartending is. I can joke around and meet new people. I love interacting with people. I love to go on vacation to places I've never been and hang out in local bars and meet local people and find out how we are the same, how we are different.
OMC: Where are some of your favorite places you've visited?
GB: New Orleans. Savannah. I call Savannah "The Clean New Orleans." I've been to Italy – which was great – Ireland twice. Scotland. The Netherlands. Belgium. I've never been to a place that I've hated. I've always found cool people everywhere I've gone. I've had my passport ripped off, my wallet stolen, but you know what? Even on vacation sh*t happens. You can make that ruin your vacation or you can go on and still have fun. I choose to have fun.
OMC: Where would you like to travel someday?
GB: I want to go to Spain and sit on the coast and eat paella and drink sangria. And I want to go to Egypt and rent a motorcycle and drive to the pyramids. I don't know if that will ever be possible, but it's a dream.
Facebook Comments
Disclaimer: Please note that Facebook comments are posted through Facebook and cannot be approved, edited or declined by OnMilwaukee.com. The opinions expressed in Facebook comments do not necessarily reflect those of OnMilwaukee.com or its staff.