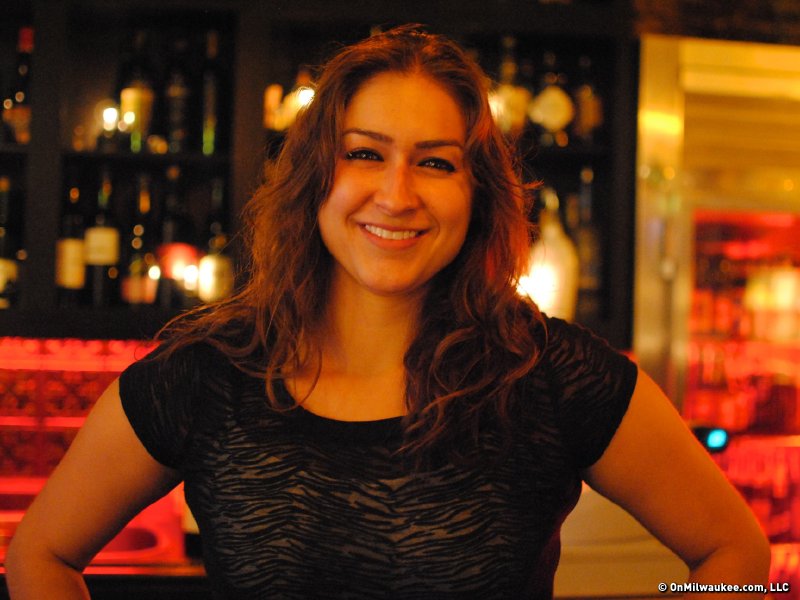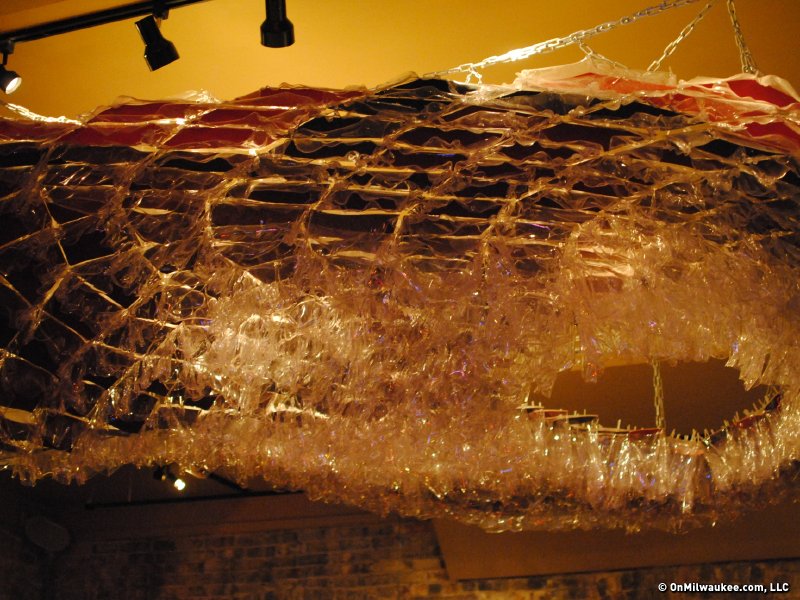 Featured bartender: Studio Lounge's Sarah Jones
It's hard to believe Sarah Jones started bartending two months ago at Studio Lounge, an art gallery and bar (with great lighting!) in Bay View. Although this is her first bartending gig, she has the wit and command of someone who has kept bar for a long time.
Although we stopped in randomly and "interview bombed" her, she took it well. Never once did she complain about not being prepared for us or that she didn't think she was photo ready.
Instead, we chatted for a couple of hours about festivals, mojitos, dropping out of college and that perplexing piece of art that hangs from Studio Lounge's ceiling.
OnMilwaukee.com: How long have you worked here?
Sarah Jones: Two months. This is my first bartending job. I was a server at Libiamo prior to this. Ken (the owner) was gracious enough to train me. With no experience, he took me in. We have a blast here.
OMC: What drink is your favorite when you're on the other side of the bar?
SJ: The strawberry elderflower mojito.
OMC: So what is an elderflower, exactly?
SJ: Actually, it's St. Germain, an elderflower liqueur.
OMC: Being that this lounge is so focused on art, are you an artist, too?
SJ: Well, I wanted to be an artist when I was a kid. And artwork brought me in here. Someone brought me here to show me their work, and there was a going-away party for one of the bartenders, which was very convenient for me. Then I called Ken, emailed him and got an interview. I showed up for the interview hungover and I had no idea what he wanted from me but he said he needed someone with energy and I really don't know anyone with more energy than me. I'm a Libra / Scorpio, on the cusp. I talk a lot, I'm mentally oriented. I'm a crazy bitch.
OMC: What do you think about that art piece hanging from the ceiling?
SJ: It's made from paint and fiber glass I'm told. To me, it looks like a dripping blob of Saran wrap.
OMC What do you like about tending bar so far?
SJ: I like preparing our cocktails a lot. We use a lot of special ingredients. Ken is really creative with his recipes.
OMC: What is your favorite cocktail to make?
SJ: Again, the strawberry elderflower mojito! It's so delicious. Can I make you one?
OMC: Absolutely. (A few minutes later, the icy, pink drink adorned with mint flecks is set in front of me).
SJ: Be honest.
OMC: This is really good. I like how subtle the flavors are. It's not too sweet. I guess when I think "strawberry" I think sweet, because of strawberry magaritas or daiquiris, but this drink is really smooth and not too fruity.
SJ: You have to keep drinking it. You have to really chase the flavor. It's like what men and women always want but can't have in a relationship.
OMC: I like that. So speaking of 'relationships,' have you heard any bad – or good – pick-up lines since you started bartending?
SJ: There was one, but I can't remember.
OMC: Did it work?
SJ: Do they ever?
OMC: Good point. So what are your longer term plans?
SJ: I plan to go to Brazil in a couple of years. But then I'll come back to Milwaukee. I love it here.
OMC: Why Brazil?
SJ: I will be studying abroad their next year. And It's my vision of heaven. A big dance party with brown-haired people loving each other, having a blast, dancing like this. (Demonstrates.) Like how it will be here this Saturday.
OMC: What's this Saturday?
SJ: Marcus Doucette will be spinning some Brazilian funk.
OMC: Where are you going to school?
SJ: UWM. I love it. I'm studying global studies. I returned after being out for a few years and I'm having a completely different experience. The first time I messed it up. But I'm really more focused now. I know what I want to do and it's an amazing feeling.
I am looking into diplomacy. Maybe become an ambassador or a diplomat. Of course I have to graduate first. Network. Get a little higher in the governmental food chain.
OMC: What do you like to do when you're not bartending?
SJ: I play basketball. I'm in an organization called AIESEC (a global youth organization).
OMC: Did you learn a lot about yourself when you took time off from college?
SJ: I wish I could say I learned a lot about myself, but mostly, I gained a lot of perspective.
OMC: How much should people tip?
SJ: One dollar per drink. Any less, you're getting served last; any more you're getting served first.
OMC: Are you a "festival person?"
SJ: Yes, I love festivals. Summerfest, Brady Street Festival. Anywhere people are out mingling, having fun. I love parties. You should tell me if you hear of any.
OMC: OK. So what's the name of this place? Didn't it change?
SJ: Yes. I was called BYO Studio Lounge – the "BYO"' stood for "Bold Yet Original," but it confused people. They thought they had to really bring their own beverages. So the name now is just Studio Lounge.
OMC: So have you had to cut anyone off yet?
SJ: I almost had to the other night. Someone was in here very drunk, but they didn't order another drink, so I didn't have to. I was going to be like, 'I'm sorry, I can't serve you any more,' and give them the puppy face, but I really wouldn't be sorry at all. It's just part of the job.
cbdyxybrxdfwatxwst
Talkbacks
1goodmojo | June 5, 2012 at 10:46 a.m. (report)
Be nice to your bartenders and they will be nice to you. I love Studio Lounge. It is totally unique and inviting. I especially love the salsa dancing (and the cocktails). Amazing venue!
cktailgrl | June 3, 2012 at 1:51 a.m. (report)
Nope, milwgreg, a buck per drink per round, not a buck per round. And just a hint? Never expect your bartender to buy you a drink, and certainly never ASK your bartender to buy you a drink. I have been bartending for over three decades, and I have very few hard and fast rules...but number one is: If you ask for a free drink, you will never, ever, receive a free drink. It's a privelige, not a right. if you are funny and friendly and tip well, you will have drinks bought for you by bartenders throughout this city. Otherwise...not a chance. Have fun out there, and we might just have fun right back with you!
milwgreg | June 2, 2012 at 11:38 a.m. (report)
Are you kidding , a buck a round for a tip?? Whatever happened to get a round bought once in a while?? So if i buy a tap for a buck you want a buck too??
cbdyxybrxdfwatxwst
Facebook Comments
Disclaimer: Please note that Facebook comments are posted through Facebook and cannot be approved, edited or declined by OnMilwaukee.com. The opinions expressed in Facebook comments do not necessarily reflect those of OnMilwaukee.com or its staff.