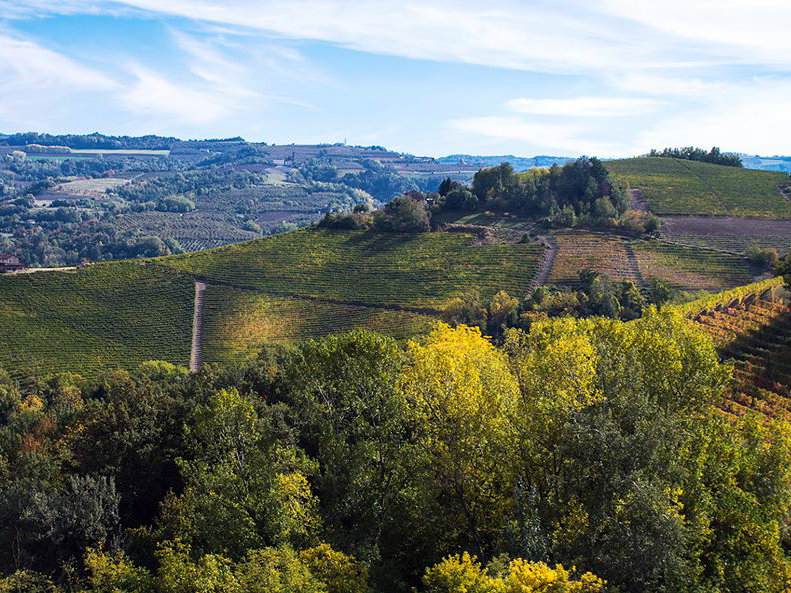 Bartolotta lunch with author Hyland spotlights Piemontese wine & food
"Bar Month" at OnMilwaukee is brought to you by Miller Brewing Company, calling Milwaukee home since 1855. For the entire month of March, we're serving up fun articles on bars, clubs and beverages – including guides, the latest trends, bar reviews, the results of our Best of Bars poll and more. Grab a designated driver and dive in!
Chicago wine and food writer Tom Hyland celebrates the cuisine of Italy's Piemonte region in "The Wines and Foods of Piemonte." On Saturday, March 11, Ristorante Bartolotta fetes the book with a special lunch featuring Piemontese food and wine pairings.
This is a region that's close to my heart – it's where some of my great-grandparents emigrated from when they came to America – and so I'm always eager to see it get some much-deserved attention.
Though most foodies know Barolo and Barbaresco, the food of Piemonte – hearty and rich – has a lower profile here. Hyland's book is wine-heavy, which comes as no surprise, but also includes interviews with chefs from this northwestern region of Italy, helping to open the door to folks who want to learn more about the culinary delights of Piemonte.
In advance of the lunch at Ristorante Bartolotta in Wauwatosa on Saturday, from noon until 2:30 p.m., we caught up with Hyland to ask him about his book and his passion for Piedmont.
Admission to the four-course lunch, with three wine pairings, is $85 and includes a copy of Hyland's "The Wines and Foods of Piemonte," which sells for $40.
OnMilwaukee: Tell us a bit about your background. How did you get into writing about food and wine?
Tom Hyland: I had more than 15 years experience in the wine business, in retail and wholesale. I was tired of that, but wanted to continue in the industry and expand my knowledge, so I started to travel and write.
Of all the interesting and delicious places in the world, how did you discover Piemonte?
Enough trips there convinced me of the greatness of the wines as well as the beauty of the land. It was a region that was not as well publicized as other Italian regions, especially Tuscany, so that immediately drew me there.
What especially captivated you about the region?
The variety of the wines – red and white, the quality of the wines, and the fact that these are second, third and fourth generation farmers growing the grapes and producing the wines.
Why don't more Americans know about this region, especially considering what a paradise it is for food and wine?
Simple, not enough people travel there. Everyone goes to Rome or Venice or Florence.
If someone wanted to visit for the first time, what places and foods should they be sure not to miss?
I wouldn't name one or two things. I'd say to make sure they eat in a local trattoria or osteria to truly appreciate the excellence and value of the local cuisine and wines.
Surely, there are other regions in Italy with low profiles here but with serious eats. Any advice for the curious?
Umbria has a superb cuisine, but doesn't get the attention is deserves. Friuli is great, especially if you love seafood.
What can folks expect at your event here at Ristorante Bartolotta? Will you give a presentation, what's on the menu, etc.
An honest lunch with Piemonte cuisine and representative Piemonte wines. I think those attending will get a good understanding of how these wines and foods work together.
The menu
Here is the complete menu and pairings, as provided by Ristorante Bartolotta:
Vitello tonnato: Classic Piemontese veal carpaccio with tuna sauce
Nervi Bianco, Erbaluce di Caluso
Agnolotti di fonduta di fontina al sugo d'arrosto: traditional Piemontese pasta filled with fontina cheese fondue served with roasting meat jus
Michele Chiarlo, Barbera d'Asti "Le Orme"
Spezzatino al Barolo: beef stew braised in Barolo wine on soft polenta
Guidobono, Barolo "Le Coste di Monforte"
Semifreddo alle nocciole Piemontese IGP: Semifrozen Piemontese hazelnut mousse
Tickets
Tickets to the lunch can be purchased here.
Facebook Comments
Disclaimer: Please note that Facebook comments are posted through Facebook and cannot be approved, edited or declined by OnMilwaukee.com. The opinions expressed in Facebook comments do not necessarily reflect those of OnMilwaukee.com or its staff.