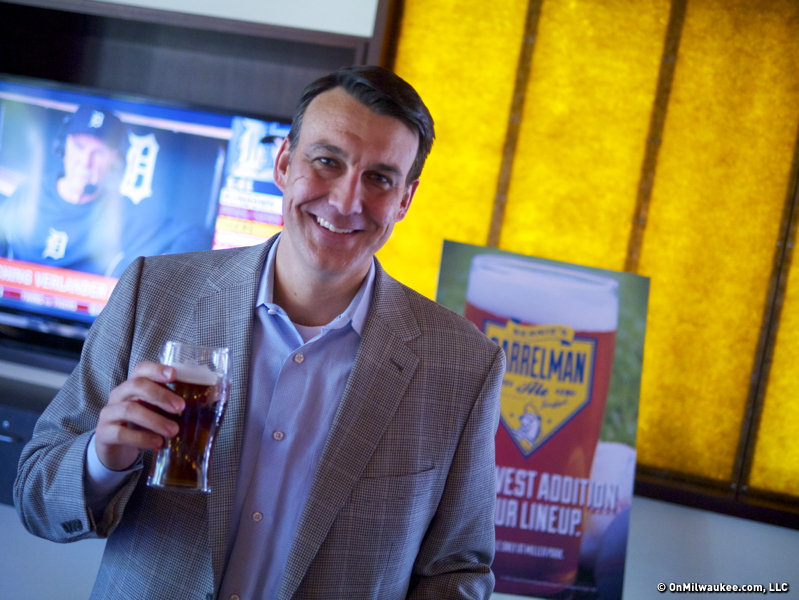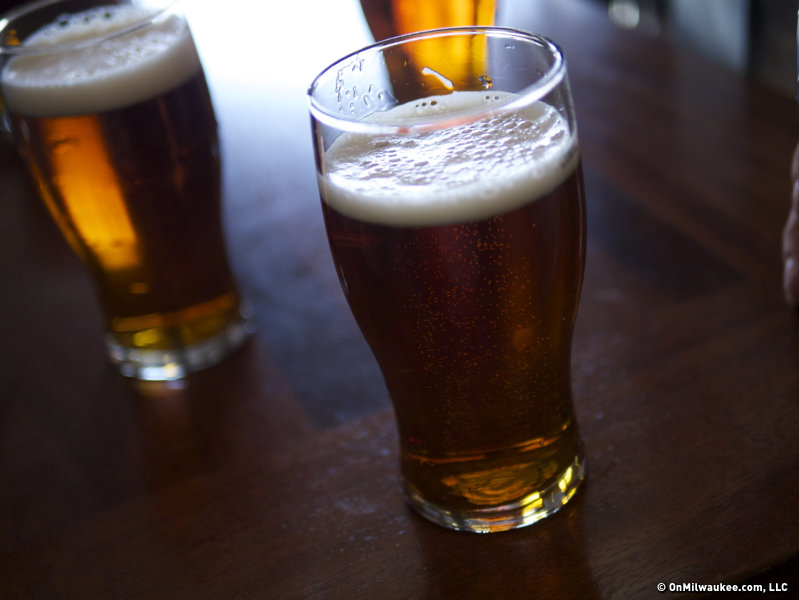 New Bernie's Barrelman Ale is a hoppy, summer brew built for Brewers fans
Miller Park is definitely the kind of place to enjoy a Miller Lite under the baking sun. But if you're the kind of baseball fan who's looking for a beer with a bit more body, you have choices.
And starting Monday, you can drink the first beer ever brewed for the Brewers: Bernie's Barrelman Ale.
The new brew, which for now, will only be available at Miller Park, is a culmination of a fan-voting process to name it. Some 55 percent of the 10,000 votes cast went for Bernie's Barellman Ale. Its logo is old-school Brewers blue and yellow, with the familiar Barrelman logo inside a baseball diamond shape.
But how does it taste? In a word, great.
The ale, brewed with pale and roasted caramel malts and cascade, nugget and willamette hops, was unveiled Thursday to small group of media, as well as executives from Leinenkugel's, Miller and the Brewers. The beer is a collaboration between the Brewers and Leinie's.
I was among the group to sample the beer at Miller's Fred's Pub. I thought it tastes a little like Leinie's Red, but hoppier. MLB.com's Adam McCalvy told me it tastes like Sam Adams. We both went back for seconds. This is a crisp, drinkable beer, perfect for cool night games at the ballpark or a sizzling day game in August.
"Ales are a top fermenting beer, they have a touch fruitier note to them, and the aroma is fruiter," says MillerCoors' Jim Kanter. "They're a little bit bolder, and with Leinenkugel's being a Wisconsin born and raised beer, we wanted something for the fans that accentuated summer with a little more bite to it."
With three different types of hops, it certainly is hoppy, and I loved it. "It's a little more bitter," says Kanter. "This is what the Leinenkugel's customer has in their palettes."
"With Milwaukee's heritage of brewing beer, an ale made exclusively for the Brewers was a great opportunity to pursue," says Brewers Chief Operating Officer Rick Schlesinger. "We appreciate the work that Leinie's and our partners at MillerCoors put into this initiative, and were thrilled with the response of the fans in naming the new beer."
For now, the beer is only scheduled to be sold at Miller Park and for just this season, but Kanter says that could change if it's successful.
"We're gonna give this a try and see. We don't know," he says.
Beginning Monday, fans can purchase Bernie's Barrelman Ale locations on the Field Level behind sections 103, 118 and 125; on the Loge Level behind home plate and sections 206 and 213; and on the Terrace Level outside sections 413, 420 and 432. It will cost $7.50 for a 20-ounce cup.
Facebook Comments
Disclaimer: Please note that Facebook comments are posted through Facebook and cannot be approved, edited or declined by OnMilwaukee.com. The opinions expressed in Facebook comments do not necessarily reflect those of OnMilwaukee.com or its staff.