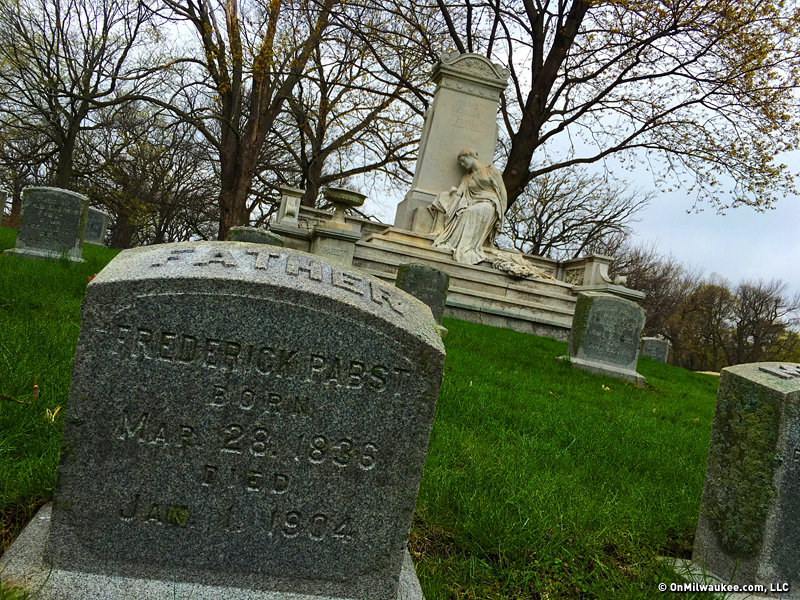 Brunch with the Barons brings beer pioneers alive
Explore the best Milwaukee has to offer with VISIT Milwaukee and OnMilwaukee this summer by "Urban Exploring." We'll be sharing parks to hike, walls to climb, rivers to paddle, trails to bike and so much more. Be a tourist in your own town and experience it with us!
More than a century and a half after the opening of the first brewery in Milwaukee, the city's identity is still drenched in beer. On the South Side, at Forest Home Cemetery, many of the men who made the beer that made Milwaukee famous lie in repose.
For their sake, let's hope the polka standard got it wrong:
Every year, you can take a guided Beer Barons Tour (July 31 in 2016) at the cemetery, 2402 W. Forest Home Ave., and learn about men like August Krug, who founded what became Schlitz; Joseph Schlitz and many of the Uihleins; Capt. Frederick Pabst; Jacob Best, who founded what became Pabst; Franz Falk; Fritz Gettelman Sr.; and many other beer barons who are interred in the historic cemetery.
"The Beer Barons Tour is one of our biggest draws," says Jan Van Rens, the cemetery's executive director. "We get more people in on those tours (than for any of the other tours), especially if we have the Blatz Mausoleum open. The last time that we actually had it open, there were like 250 people who came on that tour."
Many of the brewers are buried in an area called Brewers' Row, and Forest Home's office offers a free brochure and map about the beer barons that allows visitors to go on self-guided tours.
Head out to "Milwaukee's Garden Cemetery" on Saturday, June 18 at 10 a.m. and you can get the mother of all beer barons tours at Forest Home during "Brunch with the Barons," a collaborative event that aims to raise funds for Forest Home, The Pabst Mansion – which collaborated with the cemetery on the beer barons brochure/map – and Milwaukee County Historical Society, which currently hosts "Brew City MKE: Craft, Culture, Community," a comprehensive exhibition about brewing in Milwaukee from 1840 to the present.
The event features a brunch in the cemetery's Victorian Gardens, walking tours of Brewers' Row, and reenactors portraying Jacob Best, Franz Falk, August Krug, Anne Krug Schlitz, Capt. Frederick Pabst and others. The Blatz mausoleum will be open and members of the Blatz family will be on hand to talk about their family.
Word is there will be beer tastings, too, though that was still in the works when I visited Van Rens.
The event is $10 for adults (18 and up) and $5 for ages 6-17. Kids 5 and under are free. Tickets can be purchased by calling Forest Home Cemetery at (414) 645-2632.
It's a first-time collaborative fundraising effort between the three organizations," says Van Rens. "The beer exhibit that the Historical Society has going on right now kind of spurred the whole thing. We just started talking about what can we do and I just said, let's do Brunch with the Barons and have it here on the cemetery."
While you're out there, be sure to check out the Halls of History at Forest Home and grab a map and pay your respects to an astonishing array of Milwaukee's mayors, pioneers, notables and others, including Byron Kilbourn, George Walker, the Usingers, Ezekiel Gillespie, Beulah Brinton, Henry Harnischfeger, Frank Zeidler, Edmund Fitzgerald, the victims of the Newhall House fire and countless others.

There's a monument, but Joseph Schlitz was lost at sea in a shipwreck off the coast of England.
Forest Home offers a wide array of themed tours, including "Women of the 1800s: Untold Stories of Accomplishment" (June 5), "Civil War" (June 12), "Famous Germans" (July 3) and "Mayors of Milwaukee" (July 17), to name a few.
"We keep adding different ones," says Van Rens. "We have two new women's tours this summer. We keep adding new and different things because we do have a lot of repeat people who come.
"The big thing that we're trying to do is to share with people that this is the place of history. We've got tour guides who are very knowledgeable. If you want to know about Milwaukee history, come here."
Facebook Comments
Disclaimer: Please note that Facebook comments are posted through Facebook and cannot be approved, edited or declined by OnMilwaukee.com. The opinions expressed in Facebook comments do not necessarily reflect those of OnMilwaukee.com or its staff.