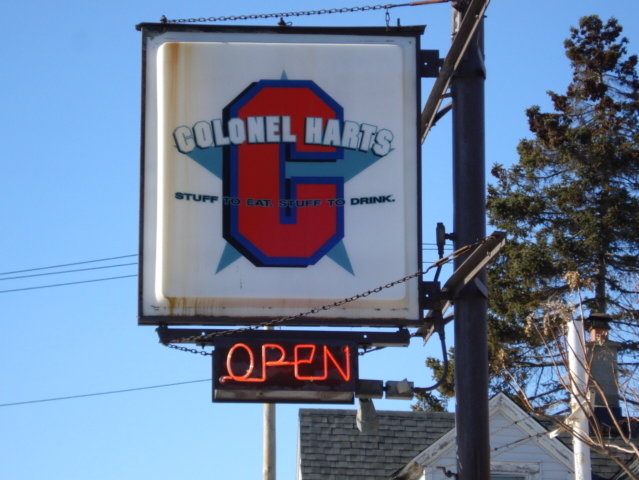 Colonel Hart's serves a history lesson with libations
"Bar Month" at OnMilwaukee.com is back for another round! The whole month of February, we're serving up intoxicatingly fun bars and club articles -- including guides, unique features, drink recipes and more. Grab a designated driver and dive in!
When you drive on the Hoan Bridge, do you think of Milwaukee's second socialist mayor?
When you hear about a traffic situation near Goerke's Corners in Waukesha, do you think of Frederick Goerke, a blacksmith, wagon maker, tavern owner and postmaster in early Waukesha?
It's easy to overlook the importance of names and take them for granted -- even when it comes to your favorite watering holes.
Take, for instance, Colonel Hart's.
If you've ever been to the establishment, which located in the heart of Wauwatosa at 7342 W. State St., you are probably aware that the giant recreational facility across the street -- which includes softball fields, a senior center, a track and football stadium, tennis and volleyball courts -- is called Hart Park.
Hart Park is named for Charles Hart, a New Yorker who became the first settler in Wauwatosa in 1833. Hart, who owned a sawmill and a grist mill, also was the inspiration for Colonel Hart's, which has been a gathering spot for Wauwatosa dating to the 1950s, when it was known as Kutschenreuter's, and the 1970s, when it was Pep's Place.
History is a natural topic at Colonel Hart's, because the walls and tabletops are filled with sports memorabilia from the glory days of the Brewers, Bucks, Badgers, Packers and Marquette. When you walk in, it's easy to feel like Marquette's championship of 1977 just happened; or that Paul Molitor's 39-game hitting streak just ended. Both events, and many others, are represented in the framed newspaper pages on the wall and T-shirts that hang from the ceiling above the bar. (Where else can you find a "Stormin' and Vuke's" shirt in nearly mint condition?)
While it was never flashy and hasn't changed a lot in the past 20-plus years, Colonel Hart's feels as comfortable as pair of old jeans. There are plenty of plasma TVs for watching sporting events and a solid menu of bar staples -- burgers, chicken sandwiches and an underrated fish fry -- as well as nightly specials to keep customers coming back.
Though it can get crowded on weekend nights, Hart's atmosphere is a bit more sedate than the popular Leff's Lucky Town, which is located just down the street. The bar, which offers outdoor seating in the summer months, is popular with softball and kickball teams and people looking to share a sandwich and good conversation.
It's one of those bars that has a "Milwaukee" feel that is hard to describe. A lot of the patrons seem to know each other by name, but they make newcomers feel welcome as well.
While Miller products seem to reign supreme, Hart's offers a good selection of tap beers including Blue Moon, Guinness, Hacker-Pschor Weiss, Louie's Demise, Smithwicks, Spotted Cow and Trumer Pils. Other selections include Amstel Light, Beck's, Budweiser, Bud Light, Coors, Corona, Heineken, LaBatt Blue, Mickey's, Pabst, Riverwest Stein, Stella Artois, Strongbow and Tecate.
Colonel Hart's features happy hour from 2 to 6 p.m. Monday through Thursday (Wednesday lasts until 7:30 p.m.) when mugs of Miller products are $1, rail cocktails are $2 and appetizers are half-price.
Lunch features an array of soups and sandwiches, including a combo that costs $4.95. The homemade pizza costs $10 for cheese and pepperoni, but is half-price on weekends. Daily specials include $2 tacos on Monday, $3 imports on Tuesday, and 10 wings for $2 with $2 Tecate and High Life Lite on Thursday.
Facebook Comments
Disclaimer: Please note that Facebook comments are posted through Facebook and cannot be approved, edited or declined by OnMilwaukee.com. The opinions expressed in Facebook comments do not necessarily reflect those of OnMilwaukee.com or its staff.