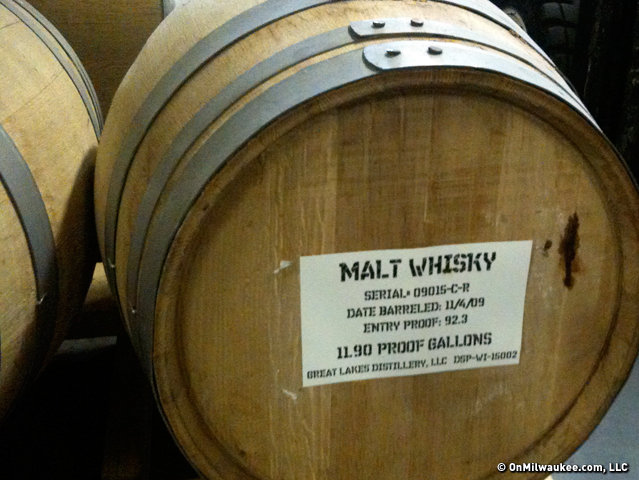 Creative spirit infuses master distiller MacKenzie's work
"Bar Month" at OnMilwaukee.com – brought to you by Hornitos, OR-G, Party Armor, Red Stag, Absolut, Fireball and Malibu – is back for another round! The whole month of February, we're serving up intoxicatingly fun articles on bars and clubs – including guides, the latest trends, bar reviews and more. Grab a designated driver and dive in!
The first time I visited master distiller Doug MacKenzie was at the old Great Lakes Distillery, which is now where Scott Buer works his Bolzano Artisan Meats charcuterie magic.
There weren't bubbling beakers puffing steam, but the large copper still and the stainless steel tanks gave the place a certain laboratory feel. And though he seemed entirely normal, MacKenzie's passion for creating spirits and his openness to try just about anything gave him a certain mad scientist vibe.
In his much larger current Great Lakes Distillery at 6th and Virginia in Walker's Point, MacKenzie has more room to tinker. But the success that funded the new home has come at a cost. With eight products in the Great Lakes/Rehorst line of spirits – and an endlessly changing series of limited editions and seasonals – MacKenzie's time and equipment is at a premium.
"For me as the distiller nirvana would be just to walk in every morning and saying, 'what do I feel like making today,' and who cares if it sells or not," he says as we stand near the still on a cool February morning and watch the still bubble away. Alcohol escapes out a pipe into a metal tank and water flows from a hose into a floor drain.
"You have to balance the mad scientist side with the business side. This isn't a hobby, it's how I make my living. I'd really like to have more time for it. but the time I do get to spend, those are some of my favorite moments here. You've got to educate yourself first and then figure out where you want to go. I think it's not a mad scientist thing for booze as much as you have to have a creative side.
While we talk, the still is cooking up a new product, a maple syrup rum. It is, unsurprisingly, the result of an experiment. When MacKenzie and Great Lakes owner Guy Rehorst floated the idea of giving a spiced rum a try, they wanted to localize it.
"We wanted to incorporate some sort of Wisconsin ingredient into it," recalls Mackenzie. "Obviously we don't grow sugar cane in Wisconsin, so that's out. So we said, 'let's try to add some maple syrup into it and use that as our base.'"
MacKenzie got to work testing and hit upon a formula that took him in a slightly different direction. First he distills molasses (that's what's going on during my visit), returns the resulting alcohol to the still and adds maple syrup and distills the mix again.
"You're not sweetening it necessarily, you're just pickling up the flavor of it," he says. "I did that experiment and everybody's eyes perked up and we went, 'well, this is really nice as it is, why would we want to mess with it?' It's the subtle maple flavor and kind of screams the Midwest, so left well enough alone."
The happy accident has two upsides. One, a great new Great Lakes rum. And two?
"It gives us the opportunity later on if we wanted to do a spiced rum or some sort of seasonal (rum)," says MacKenzie, who clearly keeps a running list in his mind of potential future projects.
MacKenzie, perhaps surprisingly, has a degree in architecture. Believe it or not, he says, those studies have real and practical applications when it comes to distilling spirits.
Page 1 of 2 (view all on one page)
Next >>
Talkbacks
pjk | Feb. 23, 2012 at 10:24 a.m. (report)
Talented and a dreamboat! And that's not just the Citrus and Honey talking!!
Otto | Feb. 23, 2012 at 9:12 a.m. (report)
Cool story. Where do they keep the tanks with the mash and the aging barrels, the building seems small from the outside?
Facebook Comments
Disclaimer: Please note that Facebook comments are posted through Facebook and cannot be approved, edited or declined by OnMilwaukee.com. The opinions expressed in Facebook comments do not necessarily reflect those of OnMilwaukee.com or its staff.