2016 Milwaukee beer garden guide
Note: The contents of this guide were checked for accuracy when this article was updated on May 13, 2016 at 2:01 p.m. We continually update the thousands of articles on OnMilwaukee.com, but it's possible some details, specials and offers may have changed. As always, we recommend you call first if you have specific questions for the businesses mentioned in the guide.
If you've been yearning for a rush of warm breeze and a healthy dose of gemutlichkeit, you don't have long to wait. In fact, now that the summer is just about to kick off, you'll be able to raise the first of many steins at an area beer garden.
We've got all the details here for beer gardens around the city – including their opening dates and operating hours, along with some of the things you can look forward to when you visit.
Cheers, Milwaukee!
Now open: Beer Garden at South Shore Terrace
This expanded beachside concessions area in South Shore Park features the Miller 1855 Bar, with its nearly 30-foot concrete and cedar counter complete with 20 tap handles. The new gathering space, open spring through fall, also includes a cedar pergola, two stamped-concrete stages, and gas fire pits which look snazzy and serve to keep everyone cozy during cooler weather. Available concessions include snacks, Pepsi products, and MillerCoors products including American lagers, craft beers, and ciders. There will also be live, local music every Wednesday night from 5 to 8 p.m. Hours are Wednesday through Friday from 4 to 10 p.m. and Saturday and Sunday from 11 a.m. to 10 p.m., with last call at 9 p.m.
(PHOTO: Royal Brevväxling)
Now open: Estabrook Park Beer Garden
Estabrook Park carries the honor of being the first public beer garden in the U.S. since Prohibition. The beer garden, which offers up plenty of shaded seating and a river view, features imported beer from the Munich Hofbrauhaus, along with brats, hot dogs and freshly baked soft pretzels. The beer garden is open daily from to noon to 10 p.m. with last call at 9 p.m.
(PHOTO: Royal Brevväxling)
Now open: Humboldt Park Beer Garden
Thanks to a partnership between the Milwaukee County Parks and St. Francis Brewery, the Humboldt Park Beer garden features a selection of local food along with rotating taps of Wisconsin craft beer. Enjoy live polka music and an authentic pig roast every Saturday and Quizmaster Trivia on Wednesday nights. Beer garden is cash only; ATM is available onsite. Hours are noon to 9 p.m daily through Sunday, Oct. 2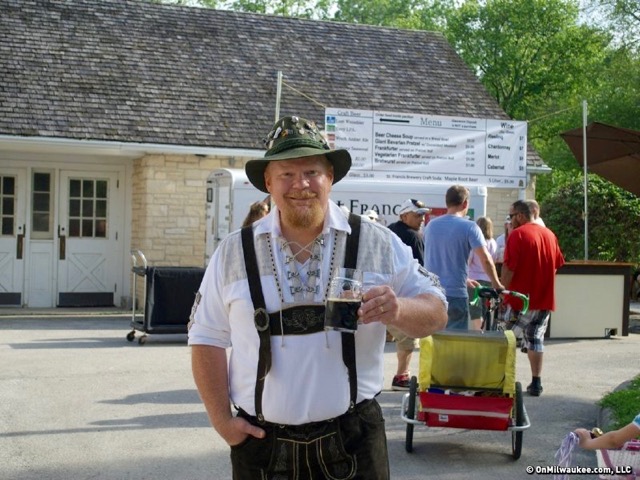 (PHOTO: Royal Brevväxling)
Now open: Hubbard Park Beer Garden
This Old World Beer Garden in Shorewood is located along the Oak Leaf Trail just south of Capitol Drive. The garden features locally brewed beers, non-alcoholic drinks and a menu featuring sausages, hot dogs, German style pretzels and Wisconsin cheese. Hours are Monday through Friday from 3 to 10 p.m. and Saturday and Sunday from noon to 10 p.m.
(PHOTO: Royal Brevväxling)
May 18: The Landing at Hoyt Park
The Landing – a snazzy beer garden in Wauwatosa featuring both indoor and outdoor seating – features a changing menu of local craft and imported beer, along with red, white and sparkling wines and a menu which includes Cranky Al's pizza, giant pretzels, obatzda, beer brats, hot dogs, popcorn and fountain drinks, along with specials offered periodically by SA Braai. A schedule of live music will also be posted on the web site. Hours are Wednesday through Friday from 3 to 9 p.m. and Saturday and Sunday from noon to 9 p.m.
(PHOTO: Landing at Hoyt Park-Facebook)
May 18: Traveling Beer Gardens
If you like a bit of variety with your beer garden, you'll love Milwaukee's Traveling Beer Gardens, nomadic beer gardens which take up residence at various Milwaukee County Parks throughout the summer. Each beer garden features Sprecher Brewing Company products including beer, gourmet sodas, Hard Root Beer, Hard Ginger Beer, and other refreshments. There will also be live music featured at all stops Wednesday through Saturday evenings from 5 to 8 p.m. Hours are Monday through Friday from 4 to 10 p.m., Saturday, Sunday and Holidays from 11 a.m. to 10 p.m. with last call at 9 p.m.
Pass Me a Pint Tour:
May 18-30: Juneau Park, Prospect and Kilbourn Avenues
June 1-12: Kletzsch Park, 6798 N. Milwaukee River Pkwy.
June 15-26: Froemming Park, 8801 S. 51st St.
June 29-July 10: Holler Park, 5151 S. 6th St.
July 13-24: Red Arrow Park, 920 N. Water St.
July 27-Aug. 7: Hales Corners Park, 5765 S. New Berlin Rd.
Aug. 10-21: Brown Deer Park (near Clubhouse), 7625 N. Range Line Rd.
Aug. 24-Sept. 5: Doctors Park, 1870 E. Fox Ln., near Picnic Area #3
Roll Out the Barrel Tour:
May 18 - June 12: Root River Pkwy near Whitnall Park 92nd St. & College Ave. by Picnic Area #1
June 15-July 10: Grant Park, 100 E. Hawthorne Ave., near Picnic Area #5
July 13-Aug. 7: Greenfield Park, 2028 S. 124th St., near Picnic Area #3A
Aug. 10-Sept. 16: Root River Parkway, near Whitnall Park, 92nd Street and College Avenue, near by Picnic Area #1
(PHOTO: Sprecher - Twitter)
Talkbacks
Neil | May 13, 2016 at 2:42 p.m. (report)
The Schwabenhof on Silver Spring in the Falls has a beer garden that is open every Thursday.
Daniel | April 19, 2016 at 4:04 p.m. (report)
re: Beer Garden at South Shore Terrace Miller deserves credit for funding some park improvements, but they really need to open a few tap lines to REAL CRAFT BEER. They are after all in the beer business, and Bay View is the epicenter of the craft beer scene in Milwaukee. Last year the Beer Garden at South Shore Terrace at least had one (and only one) respectable craft beer; Leinenkugel Big Eddy (Oktoberfest). This year I learned they will not even be serving anything that good. Just the mass-market 'premium' offerings of Miller, Blue Moon. Great beer garden. Embarrassing beer selection. They won't be getting my money this year. This year it's strictly BYOB. Too bad, because I'd love to support the Parks, but Miller is simply too selfish and stubborn to allow an alternative to their ball wash posing as beer. Evolve or perish, Miller.
Facebook Comments
Disclaimer: Please note that Facebook comments are posted through Facebook and cannot be approved, edited or declined by OnMilwaukee.com. The opinions expressed in Facebook comments do not necessarily reflect those of OnMilwaukee.com or its staff.