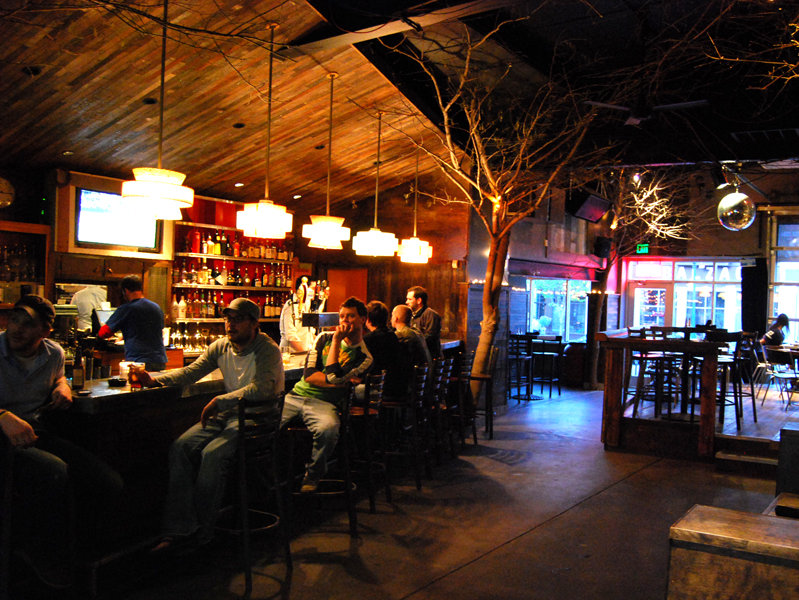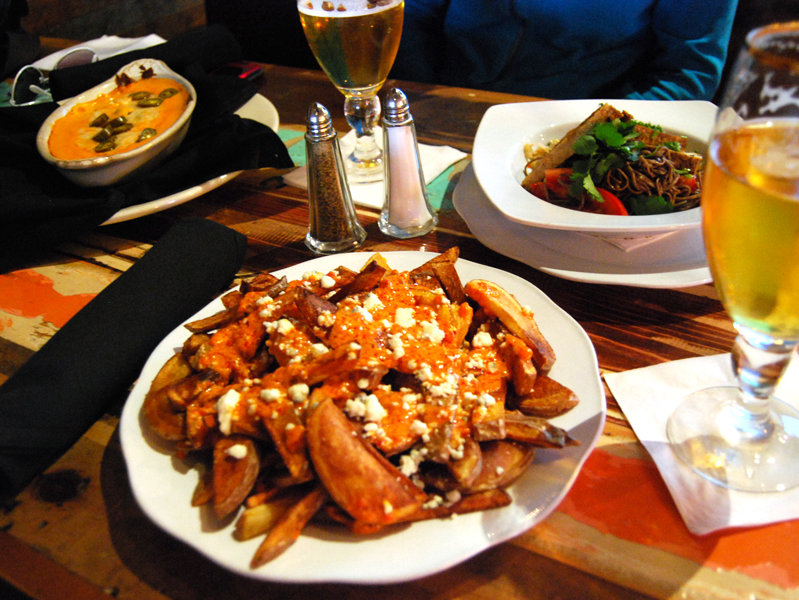 The Hi-Hat Lounge gets a new Garage
When the Hi-Hat Lounge expanded to include the Hi-Hat Garage in spring 2001, the back-door bar quickly earned a reputation as a great hangout. While the Lounge was a date-night destination, the Garage -- which was only open on the weekends and offered live music and DJs -- became more of the playing field prelude.
Seven years on, however, the concept had run its course and, according to co-owner Scott Johnson, it was time for an upgrade. He briefly closed the bar at 1709 N. Arlington Pl. in March to launch some much needed interior improvements that would complement the Hi-Hat's classy but comfortable vibe.
Now revamped to include four large wooden booths under a real tree canopy -- with nine more dinner tables on a raised platform near the floor-to-ceiling windows facing Arlington Place -- the Garage is decidedly more pub, less club. Aside from a slightly out of place disco ball hanging from the rafters, the Garage's dancey alter ego is all but retired, replaced by a casual setting conducive to conversation and a quick bite.
"Basically, the concept was very '90s and we'd become totally event-driven," says Johnson, who co-owns The Garage, the Hi-Hat, as well as Fuel Café, Comet Café and Balzac with business partner Leslie Montemurro.
The first thing to go was the "dated and tired" décor, he says. To warm up the slab-heavy space, Johnson incorporated an abundance of woodwork, much of which was recycled scrap material he'd been collecting for the last five years. The 6,000-sq.ft. maple floor, for example, came out of a warehouse in Brewers Hill. The dozen trees, which he says were getting the axe this spring anyway, were lifted from an empty lot in Bay View.
A lot of the lumber he'd pulled out of dumpsters and off curbsides over the years went into Café Hollander's construction in late 2006. The rest he used to build items like the Garage's booths, which feature artfully mismatched planks, chipped paint (sealed off and smoothed by a clean varnish) and gorgeous imperfections. But rather than touting his green-ness, Johnson prefers to say that the Garage was essentially rebuilt with "old stuff."
"I'm reluctant to call it recycled / reclaimed wood because of how trendy that sounds," he says. "It's just being smart with resources the way our grandparents were. ... Everyone is rethinking what they need and use these days -- and we have, too."
The next project was the food. The Hi-Hat and Garage share one menu that, in the past, resembled upscale, small-plate dining. The focus now is on quality pub-style food -- appetizers, sandwiches, burgers and salads -- and while both bars do dinner seven days a week, with brunch on Saturday and Sunday, just the Garage side is open daily at 11 a.m. for lunch.
Johnson says he and Chef Valene Stafford are simplifying things now and focusing on locally-grown ingredients for quality meals. The menu is concise, but they do not skimp on presentation. Even the pile of Yukon cut fries slathered in hot sauce and blue cheese crumbles looks appetizing when it arrives.
"We'll be adding a select few items and weekly specials, taking advantage of what we can get fresh at any particular time, but really trying to keep it spare, inexpensive and delicious," Johnson says. "Not unlike what places like Comet and LuLu have been doing so well for a long time."
Facebook Comments
Disclaimer: Please note that Facebook comments are posted through Facebook and cannot be approved, edited or declined by OnMilwaukee.com. The opinions expressed in Facebook comments do not necessarily reflect those of OnMilwaukee.com or its staff.