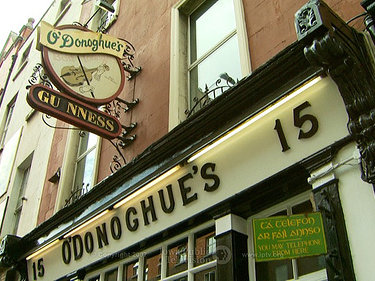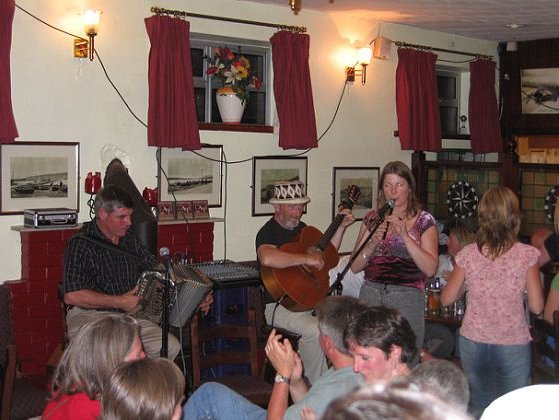 "Authentic" Irish suds in Milwaukee's pubs
Milwaukee is a city of immigrants. Just as the Irish moved here 200 years ago, we continue to import Irish tradition to our restaurants, bars and festivals. We do so authentically, at least we hope.

Our perception of the Irish bar is a common one: Gaelic signage, Irish sing-a-long musicians, traditional food and sweater wearing Guinness drinkers. We think of Jameson, Harp and Smithwicks served with Shepherd's Pie and Corned Beef and Cabbage.

However, American perception of the "true" Ireland might be a touch off. A deeper look at daily Ireland shows concepts of food and sing-along sessions typical only in one part of the Emerald Isle: the tourism sector.

More than 11,000 pubs line Irish streets, ranging from tourist destinations in Dublin and Dingle to rural "public houses" in the front room of local's homes. Posters of colorful pub entrances stock gift shop shelves, and the Guinness Storehouse at St. James' Gate Brewery is Ireland's number one international tourist attraction.

But if there's one ethnicity to dabble in the pub industry abroad, it's the Irish. In Milwaukee, an Irish tag sidelines every corner bar serving Harp or Guinness accompanied by shamrock green paint and stained dark wood.

And to make pub entrepreneurship just a tad easier, Guinness offers you a simple way to "import" Irish authenticity. Promoting "the essential guide for creating the authentic Irish experience," Guinness develops Irish pubs in 53 countries around the world.

Since 1992, they've sold nearly 1,800 "Irish Pub Concept" bars along themes of "Country Cottage," "Traditional Pub Shop," "Brewery," "Victorian Dublin" and "Gaelic."

When opening a Milwaukee location, Brocach Irish Pub looked to Guinness' expertise for development consulting and advice.

"A couple of the owners, myself included, are Irish American and grew up in Boston," says Cliff McDonald, co-owner of Brocach Irish Pub. "We wanted to create somewhere based on places we'd gone to growing up where so many first generation Irish Americans have opened pubs. A lot of places put a shamrock in the window and call themselves an Irish pub, but we wanted it to feel as close to what you'd experience in Ireland."

Mo's Irish Pub has gone so far as to partner with an Irish employment agency and bring young Irish bartenders to Milwaukee, giving them opportunity to work abroad and giving you the chance to chat with a true Irish accent.
"We want to make our restaurant as authentic as possible and we also are giving a great opportunity to turn these individuals into restaurant managers. They really learn the business," says Tim Zombek, operating manager at Mo's Irish Pub in Wauwatosa.
But as much as Americans try to replicate the "true" Irish experience, there are a few distinct differences.

Generally, you won't find a television in a true Irish Pub. A staple of American culture, television is kept out of pubs in Ireland except for viewing high priority soccer or rugby match. It's not a rule or requirement, simply a mindset utilizing co-drinkers as entertainment to turn strangers into friends after a few short hours.
Perhaps a result of Ireland's historical architecture or simply a desire for cozy comfort, pubs in Ireland are small. Instead of expansions like Mo's Irish Pub in Wauwatosa or block long interconnected pubs like Trinity Three Irish Pubs, you'll find small, dark nook filled establishments.
"We tried to keep things small and cozy. Our designer is an Irish woman, Ann Brown, who runs a mill shop where her employee's custom build all the furniture. She goes to Ireland a couple times a year and brings back all the "bric a-brac" or old relics authentic from Ireland," says McDonald.
In Ireland, drink selection is quite standard and simple. Patrons opt for a short list of beers including Guinness, Harp, Smithwicks, Beamish and Murphy's plus standard Irish whiskeys like Jameson and Bushmills. You can ask locals for drink recommendations but frankly, if it's not Guinness or Jameson, you'll find not many of them have ever had it.
Anyone who's been to Ireland attests to the mysterious wonder of local Guinness flavor. Pubs in the United States have done everything to recreate the "authentic" Irish flavor- draught taps, widget enhanced cans or the newest Guinness surger gadget. Suspected reasons for differences in taste range from water quality or pasteurization processes to timeliness of line flushing or keg shelf life.
Regardless of reasoning or efforts to overcome it, Guinness just tastes different in the United States.
"Part of the culture of the restaurant is the what we call the "Perfect Pint;" that's 119 seconds to pour a Guinness. It really lets it settle so you get the full flavor," Zombek says.

St. Patrick's Day celebrations are quite different as well. The Irish tradition of Catholic and Protestant mass followed by a family dinner translates into all day green beer drinking starting at 6 a.m.

"It's so busy in here on St. Patrick's Day that we serve Guinness right out of the tap; we don't use any of the special widgets or surgers. Of course have green beer and Irish stew; our food and our décor makes us just a downright Irish Pub," Shelley Sincere, manager of Slim's says.
Talkbacks
amerdude | March 23, 2009 at 7:10 p.m. (report)
Personally I have heard of several reasons regarding the difference of Guiness in the US as to Guiness in Ireland (Eire). Things like pasteurization, preservatives, time it takes to ship here in US and be used. Personally I haven't been to Ireland yet. Here are some good links re Guiness. http://en.wikipedia.org/wiki/Guinness
http://www.guinness-storehouse.com
http://www.guinness.com
Enjoy! dave. http://www.sweatershoppe.com
My little place on the web. I sell Irish sweaters. Cheers!
Facebook Comments
Disclaimer: Please note that Facebook comments are posted through Facebook and cannot be approved, edited or declined by OnMilwaukee.com. The opinions expressed in Facebook comments do not necessarily reflect those of OnMilwaukee.com or its staff.