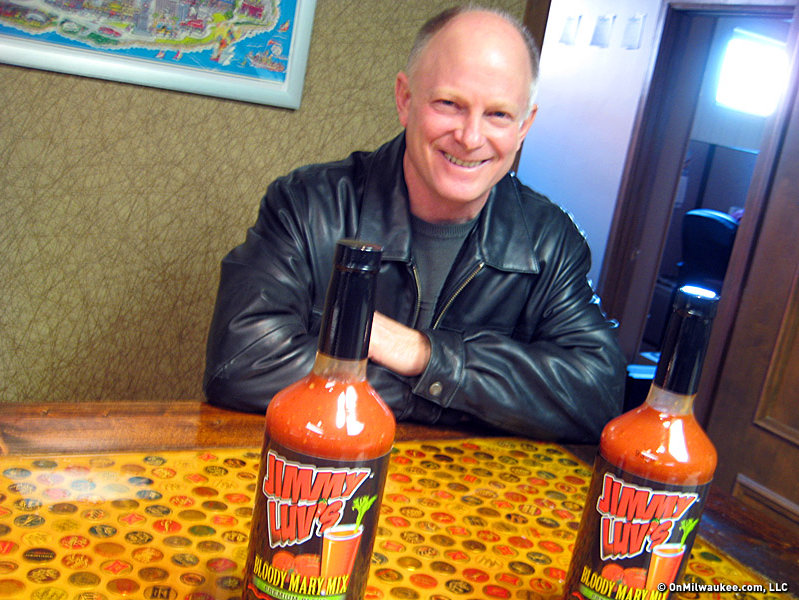 "Jimmy Luv" hopes you're smitten with his Bloody Mary mix
Milwaukee's Jim Roeglin was that guy at parties, the one who volunteered to make killer Bloody Marys for all the guests, spending years improving his home-grown recipe.

So, when the 44-year-old former accountant lost his job last year, he, along with his buddies, including former textbook salesman John Becwar, decided it was time to do what they love: bringing Bloody Marys to the masses.

After months of tinkering with recipes -- essentially reverse engineering the recipe so it would work in mass quantities -- Roeglin, Becwar, Amy Stollenwerk, Jeremy Leonardelli and Bruce Wong teamed up with Oak Creek's Foran Spice Company -- and settled on a final formula that would become Jimmy Luv's Bloody Mary Mix.
The process took a little longer than the group thought it would, says Becwar.

"You can't just take horseradish like you'd see in a jar, and take a tablespoon and multiply it by 20 million," says Becwar. "(Matching) the spice and the texture are very important."

Jimmy Luv's Bloody Mary Mix is the complete product, and unlike some of its competitors, you don't need to add anything but vodka (and perhaps some garnishs) to your cocktail.
In other words, this isn't just salty tomato juice, says Becwar. It's thick and rich, with notes of cumin and olive, spicy but not overwhelming or too peppery.
In a word, it's awesome.

"I'm very sensitive to spicy, but that's how I know it's good. If I can handle the spice, anyone can. There's a bite to it, but it doesn't stay with you like a Tabasco would."

Jimmy Luv's just signed with Capitol Husting distributors, so whether you know it or not, if you're a Bloody Mary fan you'll be drinking the product at lots of area bars soon. Currently, you can order a Jimmy Luv's Bloody Mary at Mo's Irish Pub in Wauwatosa, Center Court by the Bradley Center and all of the Chancery's.
You can also buy a 32-ounce bottle, for home use, at several local liquor and grocery stores, like Sendik's, Ray's Liquor and more.

With a suggested retail price of about $5 for a bottle of the mix, Becwar says Jimmy Luv's might cost a few cents more than its competitors -- but it's worth it. He says that the final product holds up to the formula that Roeglin spent 25 years refining at house and tailgate parties.

"In fact, he even improved it," says Becwar.

Additionally, Roeglin and Becwar are invested heavily in on-premise promotional events, giving away cocktails and getting Bloody fans hooked. The company is already expanding across the state and hopes to go regional soon, too.

The company's Web site lets customers buy the mix online. Next up, he says, is a Facebook and Twitter presence to get the word out via social media.

"We're working on that right now, and we're hoping to go back to Chicago right now. We're expanding, but we want to do it a smart way," says Becwar.

"It'll probably happen even more quickly than we're ready for."
Facebook Comments
Disclaimer: Please note that Facebook comments are posted through Facebook and cannot be approved, edited or declined by OnMilwaukee.com. The opinions expressed in Facebook comments do not necessarily reflect those of OnMilwaukee.com or its staff.