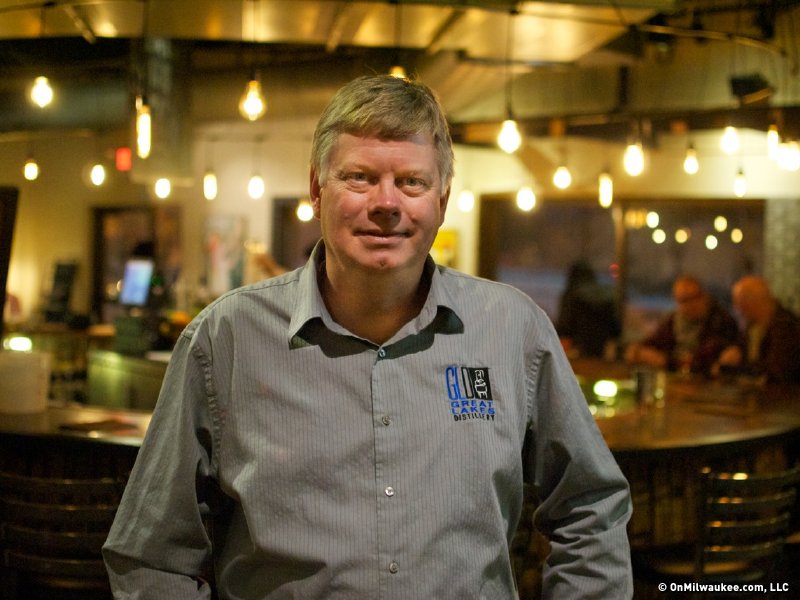 Milwaukee mavericks change liquor laws to better suit their businesses
"Bar Month" at OnMilwaukee.com – brought to you by Absolut, Avion, Fireball, Pama, Red Stag and 2 Gingers – is back for another round! The whole month of February, we're serving up intoxicatingly fun articles on bars and clubs – including guides, the latest trends, bar reviews, the results of our Best of Bars poll and more. Grab a designated driver and dive in!
Most of the time, laws are in place – or not in place – for good reasons. But once in a while, laws need to change.
Three local entrepreneurs felt this way, and in order to fulfill the vision of their business, went through the proper channels to change the law.
When Guy Rehorst moved Great Lakes Distillery from Riverwest to its current home in Walker's Point, he wanted customers to have the chance to enjoy his libations on site. However, as a distillery and not a bar, this was not legal.
"State law then said that a distillery owner may not have an interest in a business that has a bar or tavern license," says Rehorst. "We wanted people to see our distillery and be able to try our products – before the change we couldn't even pour samples at the distillery. Sampling our products, trying them in cocktails is the best marketing a small producer with few marketing dollars like us can do."
So, Rehorst tweaked the state law.
"We changed the definition of what a distillery can do. The law still says a distillery cannot have an interest in a liquor license, but it now states that a distillery can sell its own products at its distillery," says Rehorst. "This means we can sell our products but no one else's."
The process, however, took years. Finally, Rehorst says he was able to convince the Joint Finance Committee at the Capitol that it was in the state's best fiscal interest to collect sales tax on distillery sales.
"They saw the value and included it in the budget which was passed in early 2010," says Rehorst.
Having the support of assembly representative Pedro Colon and the Metropolitan Milwaukee Association of Commerce's Government Affairs Director, Steve Baas, was integral to the outcome.
"It was really worth the effort, it gave our business more cash flow and expanded our customer base tremendously by allowing us to build awareness of our products to more people," says Rehorst. "We now get an average of 500 people a week visiting the distillery, sampling our products and increasing their awareness of our products and craft distilling in general."
Rehorst is currently working on changing another law that would make it legal for people to sample spirits in grocery and liquor stores like it is already possible to do with beer and wine.
"Over the last four years, there have been at least three attempts by the spirits industry to get this law changed," says Rehorst. "Unfortunately opponents of allowing spirits tastings like to spread misinformation. Typically they like to paint a picture of people going on drunken rampages in stores; they claim that havoc will break out when people are doing 'shots' in the super market aisles."
It is already legal in Illinois, Michigan and Minnesota to sample spirits in stores.
"As distillers, we're not asking for preferential treatment, just a level playing field with beer and wine producers," says Rehorst. "It's a shame we can't in our own home state."
Derek Collins, co-owner of the Pedal Tavern, worked more than a thousand hours to have the law changed recently so people can legally drink alcoholic beverages while on the vehicle.
The new law – which excludes commercial quadricylcles from the open intoxicant rule – took effect on Jan. 1, 2014.
"We wanted to operate under the same laws as a limousine or motor bus, but because we are a green company and our vehicles are pedal power, we did not qualify as either a limousine or a motor bus because we lacked a motor," says Collins. "We could have changed our vehicle and added a motor, but that defeats the whole purpose of our company."
Page 1 of 2 (view all on one page)
Next >>
Facebook Comments
Disclaimer: Please note that Facebook comments are posted through Facebook and cannot be approved, edited or declined by OnMilwaukee.com. The opinions expressed in Facebook comments do not necessarily reflect those of OnMilwaukee.com or its staff.