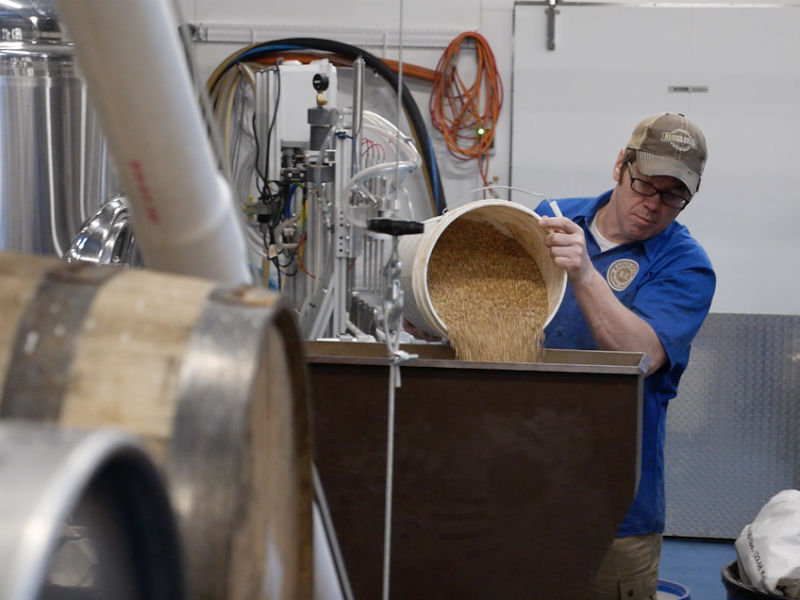 Raised Grain brews bold beers and is growing bigger in Waukesha
Fifteen miles west of Milwaukee, off the main drag of Bluemound Road in an unglamorous strip mall next to a Home Depot, you wouldn't expect to find one of the area's best craft breweries. The owners are just as unexpected – a couple of middle-aged doctors and a former professional bike racer, not a beard among them – and so, too, is their operation's origin story, beginning with a good-natured argument about whether Belgium or Scotland made better beer.
But Raised Grain Brewing Co., Waukesha's only craft brewery, which opened in September 2015, has grown fast, garnered awards and gained attention for its bold, creative, Belgian-influenced beers.
The brewery was founded by four partners: Dr. Scott Kelley, a dermatopathologist with Quest Diagnostics; Dr. James Gosset, an internist with Froedtert & The Medical College of Wisconsin; Nick Reistad, a retired U.S. national team cyclist; and local entrepreneur Kevin Brandenburg. The two doctors – Kelley, a Scot, and Gosset, a Belgian – serve as the primary brewmasters, and their proud beer-heritage debate hatched not only the company, but also Raised Grain's flagship brew, Paradocs Red IIPA, which combines both country's best qualities and won a Gold medal at the 2016 Great American Beer Festival.
Raised Grain, 2244 W. Bluemound Rd. Suite E. in Waukesha, aims always to be bold, and that intrepidness drives everything it does. The brewery pushes the envelope with its styles, flavors and recipes, but the risk-taking is informed by science – or at least a scientific, methodical process – and results in classic beer taken to the next level. The name derives from the idea of elevating grain to its highest form, but Raised Grain is also a nod to the craft of carpentry, a woodworking term that implies the brewery is still a little rough around the edges (Reistad's dad Greg was a cabinet-marker whose wood was repurposed to build the bar).
Indeed, while the operation is highly organized and so-far successful, and the beer is certainly born of a passion for brewing, the company and its founders have a distinctly not-self-serious and laid-back attitude; there's a casual, convivial atmosphere, a vibe of "come on in, hang out with us and share some good conversation and really good beers."
One of their most daring and darling brews was a limited-time, barrel-aged Belgian quad called Les Trois Docteurs (literally "the three doctors," named for Kelley, Gosset and Kristian Ferry, a friend from medical school who owns a winery in Willamette Valley, Oregon). Brewed with 100 pounds of Pinot Noir grapes from Ferry's Oregon winery and aged on oak for six months, the experimental Les Trois Docteurs exemplifies Raised Grain's unique, boundary-pushing beer. Inventive and intensely complex with subtle hints of Burgundy and banana esters, the beer was released in March and was available until it was gone. It didn't last long, and, according to the brewery, Les Trois Docteurs will return in the future.
Until then, customers can enjoy one (or two, or three) of Raised Grain's 19 beers, comprising 10 American-inspired, six Belgians and three Germans, including the Paradocs Red, Wisconsin's only first-place winner at the Great American Beer Festival.
And now those beers will be brewed at Raised Grain's new, larger production facility, which will also be located in Waukesha and capable of handling increased distribution demand. The core family of beers will be made at the new facility, while the original brewery will be used more for limited-release, trial recipes like Les Trois Docteurs.
The existing taproom, with its popular food truck's snacks and pizzas, will remain open, and the company emphasizes that, despite the growth and ambition, it will "still be the same old Raised Grain, making our awesome, Boldly Brewed Beers – we'll just be able to share our beer with more friends."
Raised Grain is open on Tuesday from 4 to 9 p.m., Wednesday and Thursday from 4 to 10 p.m., Friday from 3 p.m. to midnight, Saturday from noon to midnight and Sunday from 11:30 a.m. to 6:30 p.m.
To see more videos like the one above, check out SipMilwaukee's website.
Talkbacks
matsfan | May 16, 2017 at 7:43 a.m. (report)
I have been to over 30 Milwaukee area breweries/brew pubs and Raised Grain is definitely near the top for the quality of the beer.
Facebook Comments
Disclaimer: Please note that Facebook comments are posted through Facebook and cannot be approved, edited or declined by OnMilwaukee.com. The opinions expressed in Facebook comments do not necessarily reflect those of OnMilwaukee.com or its staff.