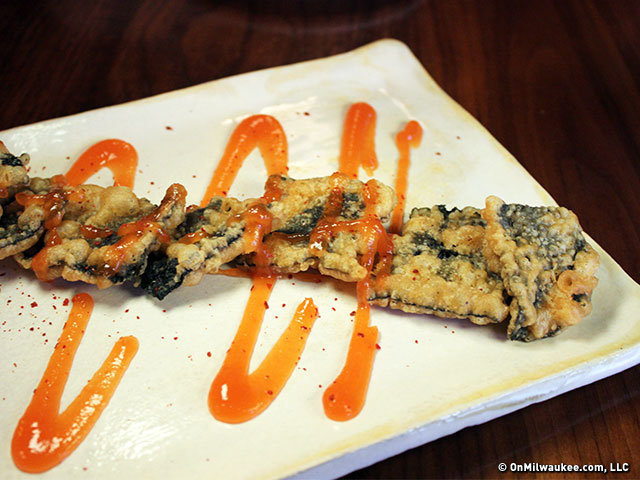 She said / she said: Happy Hour at Goodkind
"Bar Month" at OnMilwaukee is back for another round, brought to you by Great Northern Distilling: grain to glass spirits, handmade in Wisconsin. The whole month of March, we're serving up intoxicatingly fun articles on bars and clubs – including guides, the latest trends, bar reviews, the results of our Best of Bars readers poll and more. Grab a designated driver and dive in!
She said/she said is a series of rapid reviews written by the intrepid duo, Lori Fredrich (the foodie) and Carolynn Buser (the socialite). Tune in regularly for our latest meanderings on hot spots around town.
Destination: Goodkind, 2457 S. Wentworth Ave.
Reason for visiting: Happy hour, Monday through Thursday from 4 to 5 p.m.
Specials: $2 off house cocktails
Pro Tips: Head to Goodkind on Mondays for half-off bottles of wine; or partake in burger night, featuring a $12 specialty burger, on Tuesdays
Regular Pricing: $10-12 for house cocktails; Bottled wine $35 and up
Mood: Casual and friendly; Goodkind is reminiscent of a great Milwaukee tavern (with great food to boot)
Go here when
Lori: Goodkind's "official" happy hour is short and sweet. But if it's atmosphere and friendly service you're looking for, there's no reason why you should shun the opportunity to sit down and enjoy some leisurely time at the bar. After all, the cocktails are well executed, and both the wine and beer lists are curated to include some nice selections you won't find just anywhere. I'm not typically a vodka cocktail gal, but the Rosebud made with Rishi Plum Berry tea infused vodka was a refreshing departure from my usual go-to gin-based selections.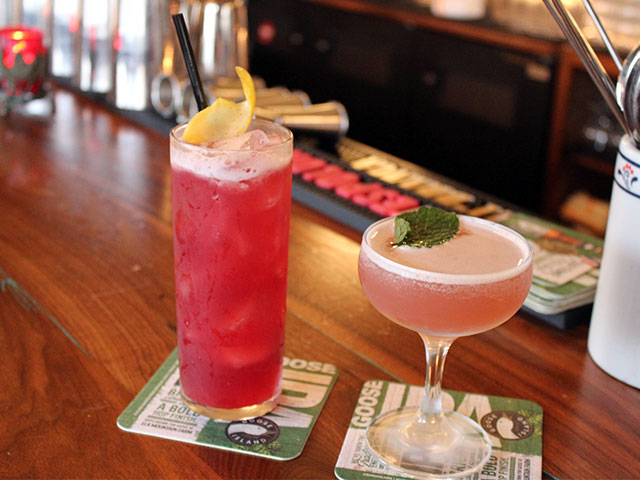 Bar bites, including delicious crisp chickpeas and addictive seaweed chips (seriously), are priced well at $3-5. Be sure to order the chicken liver mousse which is flavorful and smooth, likely some of the best I've tried around the city.
Carolynn: If you want a chill bar that is also charming – with stellar food and cocktails! – Goodkind is the place. Its tagline "All to the good and the best of its kind" fits them perfectly, and I've never been disappointed with a visit. Go on a Tuesday for one of the best beef brisket burgers in town – you will not regret this great life choice. The burger option rotates every week so be ready to try different kinds. On our visit, we inhaled the day's option of beef, muenster cheese, fried bologna, dill pickles, raw red onion, bib lettuce and dijonnaise. My only gripe is I need some fries, but that burger is so amazing I will go back time and time again for a burger even without them. You can even get a craft beer with it for just $15.
Go back for
Lori: You can be sure I'll be back this summer to sit back and enjoy a half-price bottle of rose and some delicious eats on the patio (like the spicy crab bucatini, which I can't seem to get enough of). In the meantime, there will be at least a Tuesday or two when I'll set aside time for another delicious burger. And next time, I'll be sure to save room so that I can order one of my favorite Goodkind desserts, the basque cake.
Carolynn: Just about anything! But you would be missing out if you didn't head their way for brunch on a Sunday. Hello, polenta madame! The corner building has a great sidewalk patio in the summer so you will probably see me there with Lori taking in a great bottle of rose. Another time of day you may be missing out on is the late-night at Goodkind. They are open nightly till bar time, so let them soak up some of your booze before you go home.
Overall rating
Lori: Can I give this a high five? I love the vibe. And the cocktails. And the food (maybe especially the food). In fact, Goodkind sometimes makes me want to pick up and move to Bay View, just so I could have a treasure like this within walking distance of my house.
Carolynn: Two thumbs up! I will be back soon and be back often. Goodkind has just about anything you could want in a dining experience while also provides a great bar for a drink.
ucawztsxfvdbueaeecuztzcrvx
Facebook Comments
Disclaimer: Please note that Facebook comments are posted through Facebook and cannot be approved, edited or declined by OnMilwaukee.com. The opinions expressed in Facebook comments do not necessarily reflect those of OnMilwaukee.com or its staff.