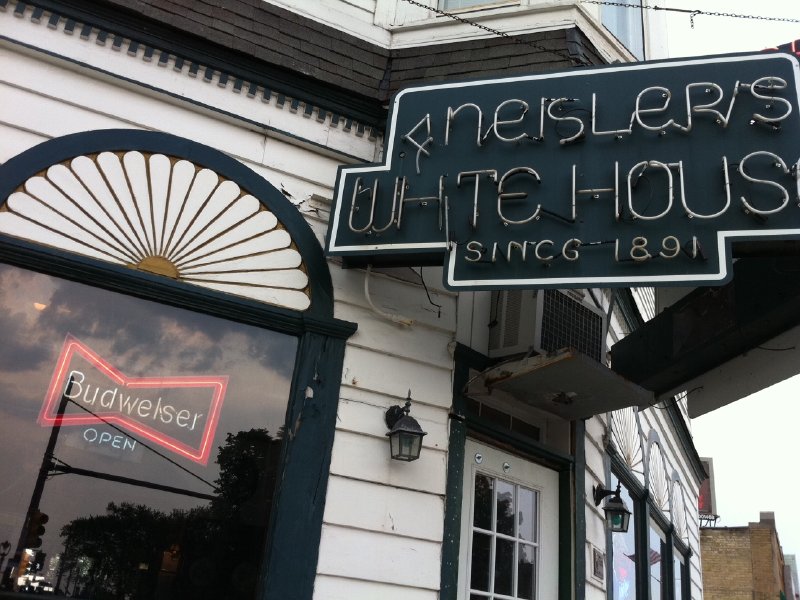 The White House becomes a clean house
The plaque on the door says it. Kneisler's White House is a historic landmark, so designated by the Bay View Historical Society.
A look inside shows it. Faded framed photos on the walls from 1892, 1904, 1911 and 1919 depict formally posed citizens of Bay View.
Kneisler's White House is a genuine antique, and at 120 years old appears to be the second oldest active bar in Milwaukee. The Uptowner in Riverwest was built in 1884, giving it a seven-year head start.
Business at the White House had declined in recent years, reflecting a general deterioration in the building and its operation, according to manager Matthew Langoehr.
"It had become a corner dive bar," he recently said. "It was not clean. It was not friendly. It was not a fun place," added Langoehr, who has years of experience in the hospitality industry.
The saloon at 2900 S. Kinnickinnic Ave. had been in the Kneisler family from its opening in 1891 to about five years ago, when Sean Raphaelli, a baseball and football coach at Marquette University High School, bought it. The new owner hired Langoehr to manage the tavern, and he decided the bar had to play to its strength, its history.
A good scrubbing was the first order of business. More than a century of cigarette smoke had yellowed the walls and ceiling with nicotine stains. Langoehr kept a small square of ceiling unwashed to show people the before and after color.
Next, beer signs that had covered the interior walls were removed. "It was signs from floor to ceiling," the manager said. All of the distributor signs are now gone, and only a few neons are left.
The White House has its original wood floor and bar, and they receive loving care from Langoehr and his staff. Lemon oil is applied to the bar daily, and the floor is washed with only water and lemon oil.
Returning the bar to prime condition has allowed bartenders to resume the old practice of sliding a glass of brew to customers.
Wood coolers behind the bar have their original hardware, stamped 1890. Langoehr said the cooler placement results in unusually short tap lines, giving draught beer a fresher taste.
"There has been a vast improvement in business," owner Raphaelli said in a phone chat. He reported he put about $70,000 into the structure to rebuild and reinforce basement walls and add creature comforts. The backyard volleyball court again has lively league action.
The White House was once a political hangout, with Bay View politicians and their supporters having meetings and awaiting election results there, according to the manager. Some regular customers received their mail and took personal phone calls there.
"This is your grandfather's and great-grandfather's tavern" he said.
Rumors have circulated for decades that the White House is home to some friendly ghosts. Raphaelli is not betting against it.
Several funerals were held in the tavern in its early years, and the bodies of two children laid in state on separate occasions in an apartment above the bar.
"On a day in August a couple of years ago, I heard a little girl's voice saying mommy, mommy, let me in," Raphaelli said.
"There were no little girls around."
Facebook Comments
Disclaimer: Please note that Facebook comments are posted through Facebook and cannot be approved, edited or declined by OnMilwaukee.com. The opinions expressed in Facebook comments do not necessarily reflect those of OnMilwaukee.com or its staff.