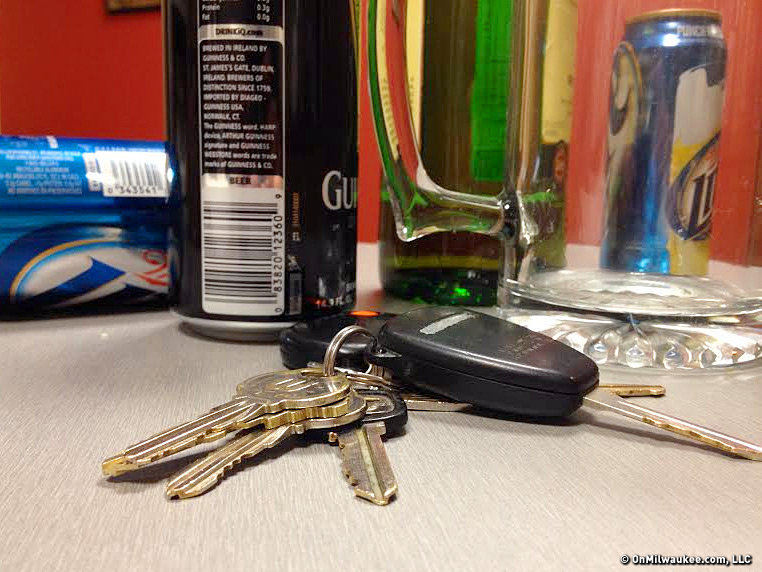 Battle lines drawn over criminalization of first OWI arrest
"Bar Month" at OnMilwaukee.com – brought to you by Absolut, Avion, Fireball, Pama, Red Stag and 2 Gingers – is back for another round! The whole month of February, we're serving up intoxicatingly fun articles on bars and clubs – including guides, the latest trends, bar reviews, the results of our Best of Bars poll and more. Grab a designated driver and dive in!
A little over nine months ago, Rep. Jim Ott (R-Mequon) and Sen. Alberta Darling (R-River Hills) once again broached the topic of bringing Wisconsin into line with the other 49 states in the union and criminalize a first offense of drunk driving with the caveat that the offender have a blood alcohol content of 0.15 – nearly two times the legal limit – but the measures went nowhere.
The primary concerns lawmakers expressed publicly about supporting criminalization of the first offense centered on funding, with prison space and enforcement being of chief concern.
Since introducing that bill last May, Ott continued to strip away parts of it to the point where on Nov. 5 the assembly, in a bi-partisan vote, passed a measure that would make a second offense a misdemeanor and a fourth offense a felony.
And there it has remained, with no action yet from the Senate.
The experience once again shines a light on the drinking culture much of the Wisconsin population, and, therefore, its representatives, embrace and vigorously defend.
Last year marked the 10th anniversary of the state lowering of the legal limit from .10 to .08, which was only signed into law under the threat of about $150 million in federal highway funding being cut.
While the National Transportation Safety Board has recently suggested lowering the legal limit even further to .05, the fight in Wisconsin has turned squarely to the criminalization of first-time offenders, and more severely punishing repeat offenders.
"How do you eat an elephant one spoonful at a time? We're not going to totally wipe (drunk driving) out with one piece of legislation or anything like that, so I'm trying to reduce the number of people by changing behavior," said Milwaukee County Sheriff David Clarke, Jr. "Criminalizing the first offense is going to do that."
What is interesting is there is a slight disconnect between lawmakers, law enforcement and advocacy groups like Mothers Against Drunk Driving (M.A.D.D.) on what criminalization could mean in Wisconsin.
Frank Harris, the State Legislative Affairs Manager out of M.A.D.D.'s national office in Washington, D.C., is a Milwaukee native and knows what the culture is like, and what the politics are in Wisconsin.
It's why M.A.D.D. is pushing for an alternative form of criminalization – the ignition interlock for first offenders at a certain blood alcohol content (BAC).
"I agree with (Clarke) on that (it's illegal) at .08, just in the sense that M.A.D.D. believes drunk driving is a crime," Harris said. "But, realistically speaking, what has a better chance of passing the legislature? A bill criminalizing the first offense, which was introduced – a version of it was introduced in the assembly but it was sliced and diced – that's not going to happen in Wisconsin just because of the mindset that everybody gets a free pass. Well, it just takes one free pass to kill somebody."
"That's why this interlock might be a better medium because, at least what we're thinking of, is for a first offender between a .08 and a 0.14, if they want to drive, the only way you can do so is on an interlock with a license suspension as opposed to what's currently happening, which is a work restricted license or time-restricted license, which is unenforceable and makes no sense."
Conversely, Clarke disagrees that an interlock would be a proper deterrent.
He said it's up to the offender to arrange installation and show the court proof that it has been done, and having law enforcement follow up on such matters can be counterproductive. Clarke added that offenders who wish to avoid installation, or drive on a revoked license, will do so regardless.
"What we need is a behavior change," Clarke said. "A person who is on their third, fourth, fifth, sixth, seventh offense, the multiple-time drunk driver, is beyond being a social drinker and we know that. So, I want to focus on the first two, remove that segment of the driving population that engages in that and then move forward to other things."
To counteract the argument that more prisons will be required, the sheriff feels that significant jail time isn't necessary on a first offense – a misdemeanor would be deterrent enough. The threat of that conviction would affect those who can't afford to have even that on their record, and change their decision making.
The sheriff felt that change in the law, along with the elimination of felony qualifiers, such as waiting for a fourth offense in five years, and more streamlined sentencing, would seriously curtail drunk driving.
"I'm trying to remove all of those qualifiers and caveats, again, to educate the public and make them realize that the talk about how serious the state takes drunk driving is (backed up) by action," he said. "We see the ads, we hear the threats that police are cracking down in drunk driving in the state of Wisconsin, and that doesn't really seem to be the case. So it's kind of like a toothless tiger, is what I'm working with here and that's not helping."
What M.A.D.D says has helped has been the enforcement of the .08 legal limit since 2003. The number of drunk driving-related fatalities have fallen from an average of 310 over the four-year period 2000-03 to an average of 250 in the years 2004-12 (the drop in the legal limit became effective on Sept. 30, 2003).
In 2012, there were 23 fatal, alcohol-related crashes in Milwaukee County alone, an additional 241 that resulted in injury and 496 that resulted in property damage.
While Clarke and the Tavern League of Wisconsin don't believe the drop from .10 to .08 has directly reduced drunken driving – Clarke said the average blood alcohol content of his department's drunk driver arrests is .15 – Harris and M.A.D.D. do feel it's had a positive result.
Pete Madland, executive director of the Tavern League, disagreed.
Page 1 of 2 (view all on one page)
Next >>
Talkbacks
RahmEmanuel | Feb. 25, 2014 at 10:43 p.m. (report)
You need to tell us what 'criminalize' means, and how it's different than misdemeanor' and 'felony'. You say "Since introducing that bill last May, Ott continued to strip away parts of it to the point where on Nov. 5 the assembly, in a bi-partisan vote, passed a measure that would make a second offense a misdemeanor and a fourth offense a felony." So Ott's trying to get a law passed that makes the SECOND offense a misdemeanor. So the FIRST offense now isn't even a misdemeanor? And it's not 'criminalized'? Please clarify how these legal statuses work, because that knowledge is necessary to understand what your article is trying to communicate.
Crew_Dat | Feb. 25, 2014 at 1:19 p.m. (report)
How about helping by offering alternate forms of transportation? Remove the ridiculous cap on taxis, have buses run through bar time, get more bars on taxi voucher programs, realize that light rail is progressive. I'm not condoning drunk driving, but let's be realistic: often times, there aren't many alternatives.
Facebook Comments
Disclaimer: Please note that Facebook comments are posted through Facebook and cannot be approved, edited or declined by OnMilwaukee.com. The opinions expressed in Facebook comments do not necessarily reflect those of OnMilwaukee.com or its staff.