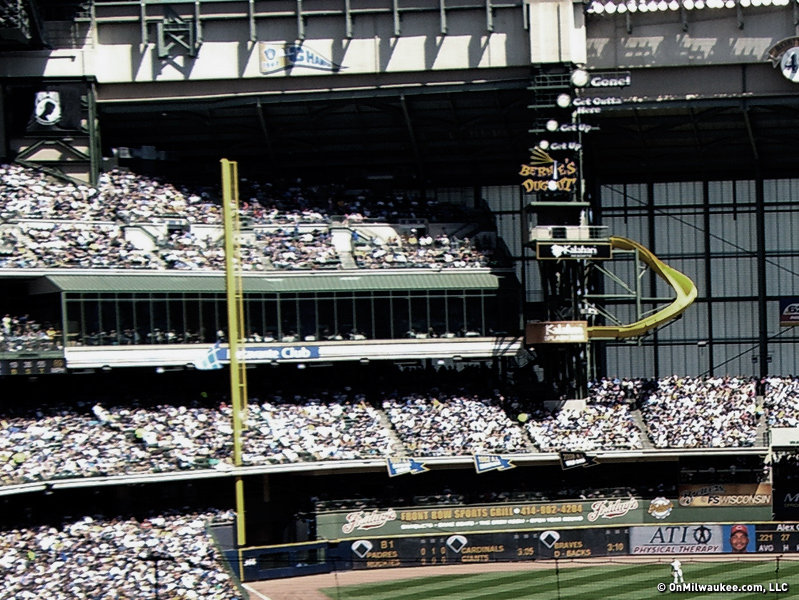 100 things that suck about Milwaukee
We're a glass half full group of folks over here at OnMilwaukee.com. We love Milwaukee and we rarely have any trouble telling you why. Check out our multiple 100 things to do in Milwaukee lists for proof of that.
But we live and work and play here, too -- just like you -- and so it's only natural that we have our pet peeves about our beloved hometown.
We told you about the 100 things we're thankful for, 100 great Milwaukee dishes, 100 things to love about fall in Milwaukee and much more.
That being said, here are some of those gripes -- in no particular order -- and we know we don't have to tell you that you oughta comment on them and add your own using the Talkback feature at the bottom.
Only three domes
Winter weather
Complaining about winter weather
Too many Milwaukeeans affected by poverty
Only second most relaxed city
9 p.m. booze buying cutoff time
Sinkhole ate my SUV
Housing market crash hampered Downtown housing boom
Edison Street red light district replaced by condos and parking
Seemingly arbitrary parking rules appear designed as back door route to revenue
No Downtown movie theaters
Smoking outside a bar in January
We want our Downer Avenue popcorn wagon back!
Bronze Fonz just stands there; not animatronic
Milwaukee Packers games now a distant memory
Decline of Grand Avenue mall
O'Donnell Park catastrophe
Lack of light rail
One of the most segregated cities
Little Park East development
Aging Hoan Bridge
Only 11 days of Summerfest
Absence of World Series trophies
Failure of the Pabst City entertainment district plan
Slow to embrace new ideas
No city-wide Oktoberfest
One-way streets Downtown
One company owns newspaper, two radio stations and one TV station
Speed limit too low on Lake Parkway
Too few indie bookshops
No more winter equivalent of Summerfest
Two hour drive to IKEA
Water quality of local rivers
Overcoverage of Packers, weather
Potholes
No Guinness at Irish Fest
Freeway on-ramps that quickly become off-ramps
Little county/city cooperation
Inferiority complex to Chicago and other cities
Bernie's chalet has no beer
No political balance on talk radio
Dustin Diamond among our biggest local celebrities
Too many surface parking lots Downtown
No Major League Soccer franchise
Still not bike friendly enough
Property taxes too high
Too few record shops
City magazines run by or aimed at aged suburbanites
Limited recycling program
No subway, though plenty of Subways (which don't suck)
Not enough venues for local musicians
No real dim sum experience in town
Homer Simpson sign keeps getting taken down
Lack of snow plowing in alleys
No year-round trolley
Daily paper's annoying ad drop on our porches
Nasty smells in the Valley, Bay View and Walker's Point
No longer world's brewhouse
Too few vegan options
Loss of small theater groups
100 percent less Pizza Man
Still hooked on Oriental Drugs, but no way to get fix
Too much water in our basements
Sewage releases into the lake
Budget cuts affecting Milwaukee County Parks
Polaris has stopped spinning on a regular basis
Can't hail a cab
Prospect Mall is an eyesore
No Chinatown and, therefore, no Chinese New Year parade
Milwaukeeans overly thrifty
Lack of multi-lingual signage for international tourists
Can't shake old stereotypes of Milwaukee
Seagull poop
Zoo closes too early
High drop-out rate among students
Observation deck closed at US Bank building
Only a few neighborhoods offer retail and dining amenities
Too many failed city marketing slogans
"Urban renewal" erased much of the old Third Ward; new development was slow to come
Most old movie palaces razed or shuttered
Have you seen the city flag?!
Inability to navigate roundabouts
Airport not especially international
Too close to keep Cubs fans away, but also too close to get them to stay overnight and pump money into our economy
Only one local band signed to Sub Pop
Riverwest currency not legal tender in Halyard Park, Harambee
Walker's Point rebranded by realtors as Fifth Ward
30 mph speed limit on Lincoln Memorial Drive
Not enough Downtown gas stations
Smell of dead alewives on the beach
Replacing all-caps street signs is an expensive pain in the butt
No Downtown stadium
Limited library hours
Local a.m. TV shows lack verve
Too many uncontrolled intersections
Great bands often sound bad at some local venues
Still sad about the closing of the natatoriums
Where's our Chinese mall, dammit?
Too many creepy Dick Bacon clones at Bradford Beach
Still devastated by Al Jarreau's decision to move away
Facebook Comments
Disclaimer: Please note that Facebook comments are posted through Facebook and cannot be approved, edited or declined by OnMilwaukee.com. The opinions expressed in Facebook comments do not necessarily reflect those of OnMilwaukee.com or its staff.