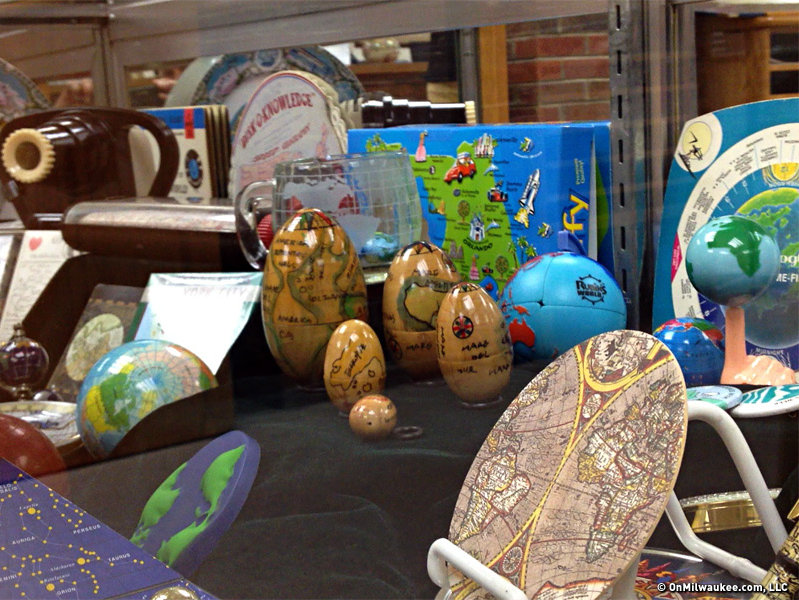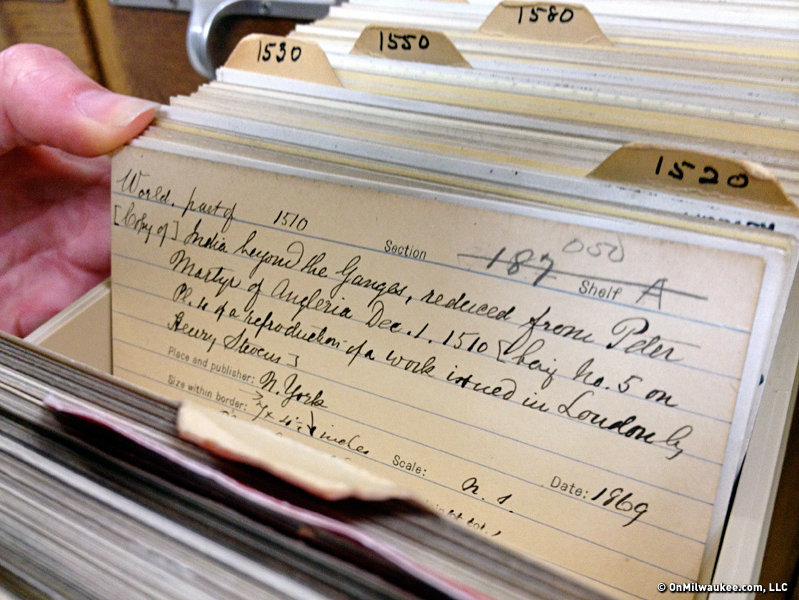 Urban spelunking: World-class AGS collection puts Milwaukee on the map
Call it the worst-kept secret or the best-kept secret – depending on your point of view – but the American Geographical Society Library at UW-Milwaukee's Golda Meir Library is one of the best geography resources in the country.
The collection holds more than a million items, ranging from maps and atlases to pamphlets and journals, globes and photographs of all kinds. Though it is housed in Milwaukee, the AGS collection has roots in New York and covers the entire planet. There is, as you might expect, a little extra focus on Wisconsin.
Recently, Curator Marcy Bidney gave us a tour of the collection, which has maps and globes dating back centuries, as well as up-to-the-minute digital spatial data.
Bidney, who came to AGS Library last October, follows Christopher Baruth, who upon his retirement had been at the library for more than 30 years.
She began our tour with a history of the AGS:
"The American Geographical Society was started in New York in the early 1850s. Their purpose when they started was to be a society of mostly men at the time, who got together to talk about geography. At that point in time, a lot of exploration – trips people were taking and it came out of the desire to compete with the World Geographic Society that had been started at the same time, and then a couple of other foreign geographical societies, and so they decided to start one in New York.
"For a long time, it had a very rich and wonderful history. Some very prominent New Yorkers were members. Franklin Roosevelt was a member, and a lot of the major polar expeditions that happened during that time were performed by members of the society.
"It was about the same time that explorers were going out and collecting things and writing about their experiences, taking photo of the places that they had been, and they were then bringing them back and giving them to the society. Because of that, this collection is really pretty fantastic in the things that we have that reflect the history of the late 19th and 20th centuries as far as geography and exploration were concerned. It came from people who did it."
The collection fills a large space on the third floor of the UWM library and much of the public space is given over to flat files that contain maps. At the entrance is a case displaying some of the rarest and oldest globes in the collection, but the tops of the flat files also are lined with a galaxy of all kinds of globes, including ones from Latvia, Russia and other countries, too, in a variety of languages.
"We buy pretty much everything," said Bidney. "If it's geography related and you have a question or you just want to come and see, we're the place. We aim for completeness because we are one of the major map libraries in the country. If something looks interesting, we buy it.
"We do keep in mind the curriculum at the university and what the students might be studying ... if a particular region is a hot topic at any given time, and we'll try to beef up collections there. We just bought a couple of Syrian/Middle Eastern maps."
Bidney estimates there are about 500,000 maps in the collection, beginning with the earliest, a 1452 map by Italian cartographer Leardo. It is just one of three maps by the maker that are known to exist. The others are in Italian institutions.
The most well-known map these days is the previously lost map of Mexican village Santa Catarina Ixtepeji. The rediscovery of the map in the AGS collection drew international media attention.
Believe it or not, the map, which was known to exist but could not be found, was found rolled up in a desk in Baruth's office.
"We just rediscovered (it) in the collection when my predecessor was retiring while cleaning out this office," said Bidney. "There was a desk that was one of the former presidents of the Geographical Society's – Isaiah Bowman – who was a well-known polar explorer. This scroll was just rolled up in the desk, and it had been in there for a long time. Somebody had pulled it out at one point in time here in Milwaukee, and just figured that it wasn't that big of a deal, rolled it up and put it back in the desk.
"In March of 2012, when Chris was retiring, we pulled it out again and got a second opinion. It turns out that it's a pretty significant document in Mesoamerican cartographic history in a particular part of Mexico."
As hard as that may be to believe, Bidney says it happens more often than you'd think.
"We find things like that – I don't want to say all the time, but it's just … you can open a drawer, and because the collection is so big, for us to know everything that is here is kind of impossible."
The foundation of that problem was inherited when the AGC collection came to Milwaukee in 1978, when AGS was looking to sell the archive and believed the newly constructed UWM library, which had a space ready to accept the collection, would make a good home.
"I can't say that it wasn't well-cataloged, because there's a significantly large card catalog here that we still actively use today," said Bidney. "That is our best record of the early part of the collection. One of the wonderful things that the librarian who started the library did was that she not only cataloged actual maps that came in that were individual maps in and of themselves, or maybe parts of map series, but she cataloged maps that were in books and atlases. That card catalog tells us exactly what we have up until a certain point in time. It's pretty amazing that she did that.
"It was well-documented what we had, but it was terribly disorganized. We really spent the first many years just trying to get things situated and organized. There are still times now that we will just come across some maps that were just put in a drawer because we really didn't know what to do with them at the time when they were trying to make decisions about where they go. It's ongoing."
Page 1 of 2 (view all on one page)
Next >>
Facebook Comments
Disclaimer: Please note that Facebook comments are posted through Facebook and cannot be approved, edited or declined by OnMilwaukee.com. The opinions expressed in Facebook comments do not necessarily reflect those of OnMilwaukee.com or its staff.