Milwaukee All-Star: Keith Stachowiak
Every week in 2015, OnMilwaukee and local design company Too Much Metal join forces to introduce the latest member of the Milwaukee All-Stars – a team of unfamiliar winners living in the city who consistently and diligently make it shine. Each week, a new member will join the team – based on your recommendations – and at the end of the year all will come together in a Rally of the Raddest Milwaukeeans. We're not sure what that means quite yet, so for now, meet …
Keith Stachowiak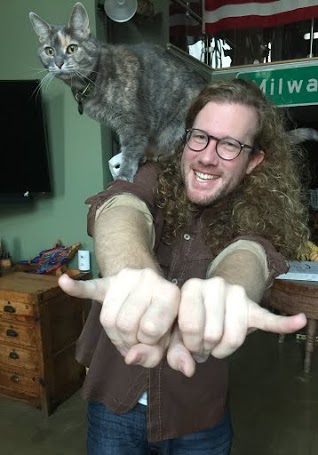 OnMilwaukee / Too Much Metal: How long have you worked at your job?
Keith Stachowiak: I have been a licensed architect since January 2015, but I have been in the field for 8-plus years. However, if you count Lego, I've been an architect since I was 4 years old.
OnMilwaukee / Too Much Metal: Where do you currently work? Have you worked in this field before?
Stachowiak: I work for Uihlein-Wilson Architects and have been here since my undergrad at UW-Milwaukee. I also work part-time building a Superhighway for my cat.
OnMilwaukee / Too Much Metal: What time of year / season is your favorite in Milwaukee?
Stachowiak: I could never live anywhere that doesn't have four distinct seasons. If I had to pick one, it would be winter, which far too many people complain about. I don't - I live a short distance from where I work and within a stone's throw of half a dozen bars. I have radiant floor heating, indoor parking and a good pair of boots.
OnMilwaukee / Too Much Metal: What's your favorite or least favorite smell in Milwaukee?
Stachowiak: When I was growing up, I always loved the smell of yeast from the Red Star plant next to I-94 in the Menomonee Valley. I always associated this smell with Milwaukee, but they left a few years ago. And I miss them dearly.
If there is one thing to appreciate about Milwaukee's combined sewerage system, it's the lack of sewer gas smell, like you find in most dense American cities. You can still find it in certain areas around town – notably in the Valley, where it is no longer masked by the sweet, wonderful smell of yeast.
OnMilwaukee / Too Much Metal: What neighborhood do you live in?
Stachowiak: The best one in Milwaukee: Riverwest. If you haven't had the chance to witness or participate in the Riverwest24, this is a must. Team Pancakes!
OnMilwaukee / Too Much Metal: What's your hope for Milwaukee?
Stachowiak: My hope is that one day we won't be able to identify poor or dangerous neighborhoods in Milwaukee. I hope that everyone will have access to a great education regardless of family income and location. I hope that we will maintain and grow our world class institutions without sweeping our problems under the rug. Also, I hope the bobblehead museum will open soon.
OnMilwaukee / Too Much Metal: When / how did you fall in love with Milwaukee?
Stachowiak: I've lived in Milwaukee my entire life – and I continually find new reasons to love this city. When I was younger, I fell in love with Milwaukee's old buildings. Milwaukee has a better stock of historic buildings and intact neighborhoods than most other American cities. Years later, I find myself working on many of the same buildings I admired as a child.
OnMilwaukee / Too Much Metal: Why do you do what you do?
Stachowiak: Architecture is the closest thing to permanence that we have in life. Many of the buildings I work on have been around much longer than I have and will be here long after I am gone. I am part of a process of shaping Milwaukee and Wisconsin. I like making things that have an impact on people's lives, whether they realize it or not.
OnMilwaukee / Too Much Metal: What's your guilty pleasure?
Stachowiak: Carnitas Taco Truck plate from Café Corazon (washed down with a Tecate). I'm convinced that there is no better meal in Milwaukee, and as a result I have it at least once a week.
OnMilwaukee / Too Much Metal: Name a Milwaukeean you would like to high five.
Stachowiak: John Gurda. That man is a Milwaukee institution. I've shaken his hand a few times. Next time I'm going up top.
Do you know a Milwaukee All-Star? OnMilwaukee and Too Much Metal are looking for true-hearted folks living in the city of Milwaukee who love what they do – and do it with zest and style. Email fred@toomuchmetal.com or molly@onmilwaukee.com with recommendations.
Facebook Comments
Disclaimer: Please note that Facebook comments are posted through Facebook and cannot be approved, edited or declined by OnMilwaukee.com. The opinions expressed in Facebook comments do not necessarily reflect those of OnMilwaukee.com or its staff.