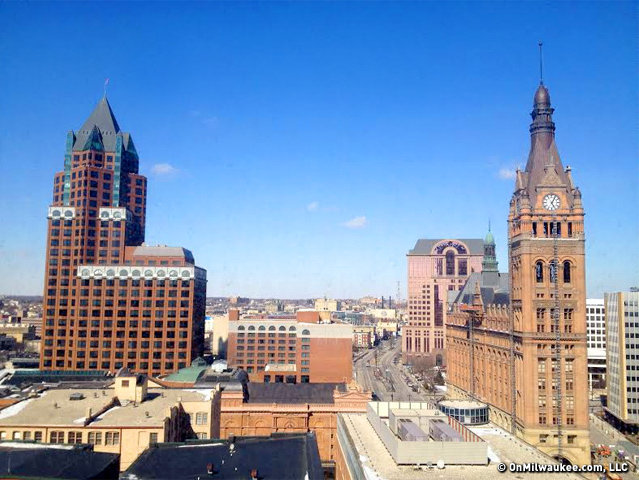 Barrett's State of the City scores some hits and some misses
I have heard or read either 44 or 45 State of the City speeches by mayors in Milwaukee.
The interesting thing is that all of those speeches have come from just three guys, Henry Maier, John Norquist and Tom Barrett. Marvin Pratt may have given one, but he was only the interim mayor for just four and a half months.
Generally speaking these speeches are pretty much a formula. The mayors talk about the good things that have happened in the past year and the good things they are going to make happen in the next year. State of the City speeches pretty much steer clear of bad things or controversy.
Barrett delivered his annual speech this week. I have a great deal of respect and affection for Barrett. I think he is one of the three or four best congressmen this city has ever elected and I have hopes for his tenure as mayor.
Let's take a look at some of the highlights of Barrett's view of our city.
Once he got past the thank you's and stuff, he moved on to substantive things.
He talked at length about his firm belief that strengthening neighborhoods was a major key to the advancement of the city. Barrett has put his money where his mouth is on this and has backed and created a variety of programs designed to keep some neighborhoods strong and to strengthen those that need it.
Barrett then smoothly moved on to the concept of business expansion and development. He cited a number of prideful examples of companies that do business in the city, provide employment for city residents and either are expanding or have expanded.
But Milwaukee is a horrible place to find work if you are a black man and only slightly better if you are an Hispanic man. That unemployment rate of over 30 percent for black men in the city is part and parcel of the horrors of black neighborhoods in the city.
Nearly a third of the population in Milwaukee is black. Hispanics account for about 15 percent and whites are still a majority with over 50 percent.
But if you look at the public school population in Milwaukee, the numbers are a stark contrast. Over half the students in MPS are black. Another 23 percent are Hispanic and only 15 percent are white.
Think about those numbers, Mayor Barrett. You've got to do something about them.
The mayor did play some attention to Downtown Milwaukee. He talked about the wonderful building Northwestern Mutual is putting up on the east end of Wisconsin Avenue.
Then he jumped west to the Boston Store and the building that houses the corporate headquarters of the Bon-Ton department store chain. The city going to create a deal that keeps the Boston Store and the headquarters there until 2018 by giving them tax breaks of over $1 million.
He called the Downtown Boston Store a "valued retailer." I wonder if he's been there in the last few years. If this store, with a few clerks and about even fewer customers, is a valued retailer we are in more serious trouble than we would have ever thought.
He gave a nod to entertainment facilities (read new arena for the Bucks, whom he mentioned) and reiterated that he wanted that built Downtown. And he called for cooperation when it comes to building it, which, if you read between the lines, most likely means he wants any taxes spread out over at least a four-county area.
I also found it interesting how the mayor skipped from the east to the west on Wisconsin Avenue and didn't even come close to talking about the elephant in the room, The Shops at Grand Avenue. What was, in my lifetime, a Downtown diamond has become a Downtown cubic zirconia. Ignoring it isn't going to help.
Barrett also talked about education in the city and promised he would be "engaged in the selection of the next MPS superintendent." Influencing the choice of the next superintendent might sound good, but Barrett's been around long enough to know that the influence a mayor has on MPS is very limited.
If he wants to do something to help reform education let him use his bully pulpit to rally sustained support for figuring out how to restore the stolen funding for MPS and how to turn control of schools over to teachers and principals.
Like I said before, I like Barrett. I hope he succeeds. There is good news in this city, a lot of it.
But somehow, I've got the feeling that we need to ratchet up the speed and vigor at which we go after these big troublesome problems.
Talkbacks
TheyThink | Feb. 27, 2014 at 4:38 p.m. (report)
It's sad to think that 'Ol Dave honestly believes simply forking over more money (or as he put is, "stolen money) will be the fix for MPS, not to mention destroying school choice. We've forked over tens of millions in the form of bloated budgets and Cadillac-level union benefits and pay, has it produced anything? No. It's gotten worse. So why go back to what we know has failed? Barrett's delivered the same SOTC speech year after year after year after year yet the same result ensues. Barrett may well be a nice guy who was a good Congressman, but he's ill-equipped to be a Mayor in a city facing some serious problems and challenges. The nice guy routine doesn't work in cities likes ours.
Facebook Comments
Disclaimer: Please note that Facebook comments are posted through Facebook and cannot be approved, edited or declined by OnMilwaukee.com. The opinions expressed in Facebook comments do not necessarily reflect those of OnMilwaukee.com or its staff.