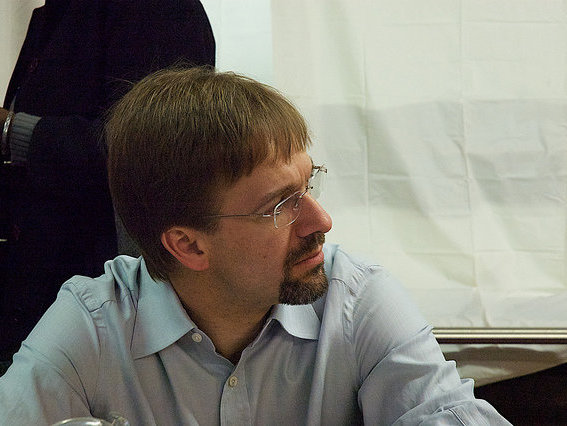 Abele's move seems surprisingly political
I was out of town when the news of Sue Black's firing hit and it almost ruined my vacation because it made me so sad.
Not sad for Black, although I know her well and like her a lot.
But sad for Chris Abele and what he told us he was and what he is turning out to be.
I've known Abele for several years, back to the days when he was the main backer of Milwaukee Shakespeare, one of the best theater companies this city has ever seen.
I liked Abele. He had a sense of humor and didn't take his wealth too seriously. I know his first wife and she is a pixie doll who had a smile for everyone, even though she was the wife of a really, really rich guy.
When Abele decided to run for Milwaukee County Executive I was and early and eager supporter. And the thing I liked most about him was that he was going to be a breath of fresh air from the string of career politicians who have headed local governmental units.
There would be none of that usual petty bull that we saw all the time. Abele saw the big picture and promised a new way of doing things.
And then, out of the blue, he fires his best, most popular and most successful department head.
All because her light shone brighter than his did.
Abele is a very liberal guy. He didn't fire Black because she offended his sensibilities or beliefs. She was a maverick department head who ran what is, by far, the most visible department in the pantheon of stuff the county tries to run.
She complained and moaned in private about the cuts to the parks budget, but in public she went around the bureaucrats and got people to contribute time and money and effort to keeping our parks a jewel.
She was innovative. She was open to new ideas.
Make no mistake, she was a little edgy sometimes and nobody would ever call her easygoing. But she did a lot with dwindling funds and fewer and fewer people.
And she was popular. Real popular. Give them the same amount of money and I wouldn't be surprised if Black could beat Abele in an election.
She was always out in the parks. Always meeting with someone she wanted to help. People saw her and knew her and liked her.
Decades ago, people have said, Richard Nixon briefly considered firing Henry Kissinger because the Secretary of State had become so popular.
That's what the firing of Black sounds like. I'm sure Abele has a bunch of numbers and a bunch of supporters willing to back up his decision.
But unless he's got some evidence of egregious, almost criminal, activity, I'm left to my conclusion.
A lot of politicians I've known have a mean vendetta-fueled streak in them. Tom Ament, Scott Walker, Henry Maier and John Norquist come to mind.
I had high hopes that Chris Abele was going to be different. Now, I'm just not so sure.
ewqetrwqrwwdafcxzxdrwzb
Facebook Comments
Disclaimer: Please note that Facebook comments are posted through Facebook and cannot be approved, edited or declined by OnMilwaukee.com. The opinions expressed in Facebook comments do not necessarily reflect those of OnMilwaukee.com or its staff.