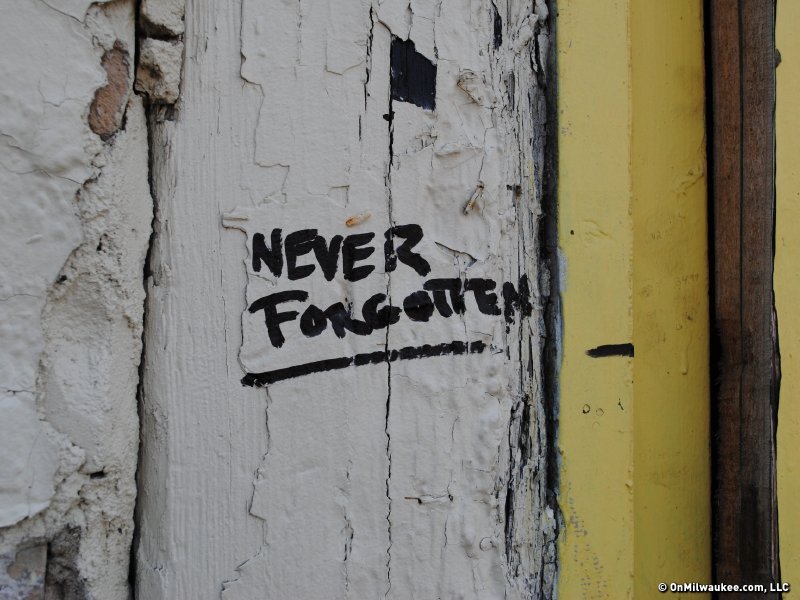 Should we say goodbye to Sydney Hih?
The future of the Sydney Hih buildings are a hotbed of controversy in Milwaukee. The plan was to raze the buildings, and then developer John Raettig came forward with a last-minute proposal to save the space.
The majority of the common council voted to demolish the buildings, however Alderman Bauman got the demolition order postponed until the next council meeting, which will be on July 24, 2012. At that time, the council will again vote on the issue.
Both Ald. Bauman and Ald. Kovac argued that once it's demolished, it can't be rebuilt, and there is no reason why it must be razed immediately.
The iconic Milwaukee buildings, built in 1876, were purchased by attorney Sydney Eisenberg with the plan to create an art community. ("Hih" means "in honor of" in Yiddish, so the building's name means "In honor of Sydney.") It is believed Eisenberg painted the colorful checkerboard pattern on the facade after a trip to San Francisco.
Sydney Hih was home to many local artists, musicians, clubs (including The Unicorn), restaurants (Siam's, Gus's Mexican Cantina) and shops (Betty's Bead Bank, etc).
It was brought to our attention by Fred Gillich, owner of Smac Design and Too Much Metal Showroom, that many people who spent a lot of time working and / or living in the space had very strong opinions about what should be done with the buildings.
"But nobody's asking them," says Gillich.
And so, OnMilwaukee.com did.
We asked people who were once very invested in the buildings what they believed was best for the space. In short, should it stay or should it go?
Of course, it's a complicated situation, and the building is in need of a lot of work and the politics involved are many stories high, but here's what authentic Sydney Hih dwellers had to say about the situation.
Keith Brammer, formerly of Die Kreuzen
Performer frequently at The Unicorn in the '80s
The building always struck me as interesting, but nowhere I would necessarily want to live. However, it did seem to have good, affordable artist-type spaces, something that's disappeared with the gentrification of the Third Ward, etc.
God knows what should be done with it. A park would be nice. We certainly have enough useless, vacant buildings in that area (the one on the corner of Water and Juneau springs immediately to mind).
Fred Gillich
Worked in the space with photographers and bands in the '90s
I like the development project proposed by John Raettig. I'd like to see its history from the 1960s-2000 preserved. I think there can be a balance of aesthetic and practicality – when the conversation is development. If Mr. Raetting were to open the conversation to me or any culture maker who came from that vein, Milwaukee could have a truly visionary landmark. I hope he's that kind of man. But if he does buy the building, well, he can do whatever he wants."
Michael Koch, current member of The Mike Benign Compulsion, had rehearsal space
I was the drummer in Dorian Gray for about four years, and we rehearsed in the Sidney Hih building for at least a year. We, like most musicians there, shared our rehearsal space with another band. I was also in a couple bands that played at the Unicorn: A Movement was there in July 1987, and I was in the Joker's Henchmen for two years, and we played the Unicorn on July 21 and August 19, 1989.
My opinion on the future of the Sidney Hih building is inconsequential, really. I am not an urban planner, a real estate developer, or an architect. In light of its degradation over the decades, the building might not have enough substance to save.
I do have a suspicion as to some of the desire to save the building: What we miss / what we fear we might miss / what we want to save is the sense of community and the artistic cross-pollination that occurred at Sidney Hih. Not only was it eye- and ear-opening to hear the other musicians in the building, but the visual artists and other freaky people populating the building engendered tolerance and negotiating skills. I'm sure I'm not the only person who learned a great deal (of life-lessons) within those walls.
If Milwaukee's scene can foster such collaboration and a vibrant sense of random creativity, then the physical presence of the building might not be so missed.
Sidney Hih and the Park East corridor comprise a vital, valuable batch of land. The balance between new development and saving our architectural heritage is often difficult and questionable.
I am convinced that we have to move Milwaukee more assertively to the forefront of urbanism. To my mind, the expansion of bicycle lanes, the attractive River Walk, the Milwaukee Art Museum, alternative sources of energy (e.g. the wind-powered generator at the Coast Guard station), and the construction of light rail in the city (finally!) are all indicators of good progress in this regard.
As a result, I agree with those commentators in favor of ensuring smooth access between the surrounding areas and Downtown. As they say, the construction of a big-box retailer with a monstrous parking lot would likely engender a divisive impression along the corridor.
Chris Tishler, current member of Five Card Studs, had practice space in the '90s
The memories are endless. Drank gin and Mountain Dew with The Magnolias 'til God knows when in our spot one night after we played with them in The Unicorn. As a favor to Gus from the Unicorn we let Keanu Reeves – weakest handshake I've ever gotten from anyone – and his Godawful band Dogstar practice in our room the day of the first Metalfest, breaking some of our stuff, while we sat across the hall getting hammered with the Dis guys and bitching about it all afternoon (Gus compensated us with a six pack of Leinie's, which only had five beers in it).
Bad Brains used our gear when they did an impromptu set after we did one AFTER we played with them at the old Eagles Ballroom. Our drummer lived there for a month or so and figured out his life. I wrote and played the majority of my music in that building.
Like everyone else, I saw and played with a sh*t ton of bands – some horrible, many incredible, others whatever. It was a craphole. Thing is, we're all part of a longer line of history with that builiding. 

Personally, I think if it was to remain in its current state (which it's been for a while now) solely as a figurehead of historical significance would be a grave mistake.
It's obviously in a huge state of disrepair, the "eyesore" tag fits the bill and aesthetically it's blatantly out of place in the general landscape. Redevelopment? Sure. Great. If it's done right. But who EVER knows what the hell that is anyway.
I love that building. I also am tired of seeing it every day, which I literally do, and thinking that it not only doesn't represent what it used to be and the memories / history it holds, but seeing it potentially becoming some kind of chess piece which may end up collapsing under the weight of politics.
Talkbacks
BCZF | July 8, 2012 at 3:27 p.m. (report)
MMSD treats then flushes into the lake..A lot of it goes to making Milogonite. where do you think it goes? I'd prefer it to go to Waukesha, but there ya go. As long as we continue to produce, we will need to find something to do with it..
MilwaukeeCity | July 8, 2012 at 12:33 p.m. (report)
Priorities people! It's amazing really that our city "leaders" or "sinkers" would put forth all their time and effort into saving a old historic but way beyond repairable building. If the city leaders would have done this 25 years ago maybe you could make a cost/benefit analysis but this building needs to go. I do believe we have more important needs to be fixed first like: Crime, Schools, Roads and to find someway to stop MMSD from flushing my toilet into Lake Michigan where I try to fish and swim.
Facebook Comments
Disclaimer: Please note that Facebook comments are posted through Facebook and cannot be approved, edited or declined by OnMilwaukee.com. The opinions expressed in Facebook comments do not necessarily reflect those of OnMilwaukee.com or its staff.